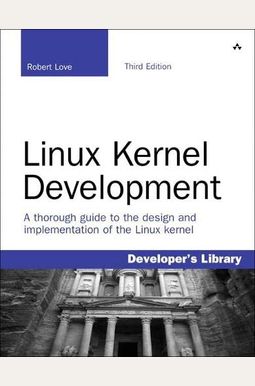 
 
Book Overview
Linux Kernel Development details the design and implementation of the Linux kernel, presenting the content in a manner that is beneficial to those writing and developing kernel code, as well as to programmers seeking to better understand the operating system and become more efficient and productive in their coding.
¿ The book details the major subsystems and features of the Linux kernel, including its design, implementation, and interfaces. It covers the Linux kernel with both a practical and theoretical eye, which should appeal to readers with a variety of interests and needs. ¿ The author, a core kernel developer, shares valuable knowledge and experience on the 2.6 Linux kernel. Specific topics covered include process management, scheduling, time management and timers, the system call interface, memory addressing, memory management, the page cache, the VFS, kernel synchronization, portability concerns, and debugging techniques. This book covers the most interesting features of the Linux 2.6 kernel, including the CFS scheduler, preemptive kernel, block I/O layer, and I/O schedulers. ¿ The third edition of Linux Kernel Development includes new and updated material throughout the book:
An all-new chapter on kernel data structures
Details on interrupt handlers and bottom halves
Extended coverage of virtual memory Read More chevron_right
Frequently Asked Questions About Linux Kernel Development
Books like Linux Kernel Development
Book Reviews
(10)
Did you read Linux Kernel Development? Please provide your feedback and rating to help other readers.
Good overview

Derived From Web

, May 26, 2022

I was looking for a good overview resource book of the Linux kernel. I did not want too much depth into each component. What I wanted was a brief overview of all the different components. If you are looking for depth in each module, this is not the book for you. If you are interested in Linux and want a good overview book that you can quickly complete and have a working knowledge of the different components and how they join together, this is a great piece. Linux Device Drivers '' is a better reference if your interest is strictly device driven and if you want to know more about the IP stack, Linux Device Drivers by Benvenuti is better. Bob & Robert Love goes through kernel development at a great level for an overview with just enough depth and enough examples. There I use the book often, but I rarely have it on my desk for reference.
Like an expert wispering the answers to me at the instant I need them.

Derived From Web

, May 26, 2022

It is like having an expert whispering the answers to me. I like to read books. Books are often rigorously peer-reviewed, coherent, well indexed, useful both as a reader and as a reference. Presented in an organized and meaningful way. Indexed :
A great developer intro to the Kernel

Derived From Web

, May 26, 2022

This book is a limited book, but has a great scope. It is therefore not a reference for programmers and should not be bought with this in mind. However, this is a great high-level discussion of the kernel and its implementation. And what really makes it great is the fact that you realize that Love knows his stuff and he has a great writing style. He does cover the major system components with a great high level description and more important, he gives a great analysis of issues, both design and some implementation. His overview of the CFS is the best I have seen. And this can be repeated most of the topics he covers in this book. After reading this book, I would love to go to a seminar given by Love. His writing skills are probably better than his presentation skills.
The top Linux Kernel book!

Derived From Web

, May 26, 2022

I had the 2nd version of this book and I received the 3rd for updates. Every time I want to understand a certain part of the Linux kernel, I first go to this book to get the short idea. Robert did a very good job to give you a short architecture and a major data structure using his language and approach. The book is not a Linux kernel reference for details and completeness, but it focuses on the major points of the Linux kernel. This is the book that you can read from the beginning to the end of each chapter without being lost. If you need to know the details for completeness, you can still go to the Linux kernel source. I did not like reading a certain kernel book because I was easily lost when I did some chapter.
Very good read

Derived From Web

, May 26, 2022

One of these moving targets is Linux. Every day, books get dated out of dated. They have tried to include all changes in the page cache, lift up to date. It is a very good read for anyone interested in the Linux kernel. If you don 't have enough time to read all release notes and follow mailing lists, this is a concise book to read and understand the 2.6.30+ version of Linux. Very easy to read, most of them are verbally explained than with code samples. Lot of books waste print space by simply publishing code snippets from the kernel, worth the price. There are some formatting issues in kindle, but most of the time is very well presented. Happy reading!
Disappointing Book

Derived From Web

, Oct 11, 2019

I bought this book based on reviews to develop Linux kernel drivers. For my first racer, I needed to contact the mmap system, but there was just about nothing on how to do this in the book. Likewise, for creating interrupt handlers. The book was a complete waste of money for me. Shame, I can not get my money back.
Outstanding

Derived From Web

, Jan 27, 2019

I wish I had this book when I was going through my Undergraduate Class in Operating Systems or after that, but I am glad that I discovered it. It clears so much about Linux that is usually glossed in a lot of other documentation. It also does a lot to explain topics that are written just as clearly, with a good amount of detail, but not too much. Not only is this a map for many workings of the Linux kernel, but also a great primer for many broader aspects of computer science that relate to the kernel and its functions, such as mathematical data structures, algorithms, various concepts, etc. Even if I was not directly working with the Linux kernel, I would be very happy to have this book read and have it in my bookshelf as a reference.
Best Book on the Kernel I've Found

Derived From Web

, Dec 27, 2017

In my opinion, this is the best book for learning about the kernel! It goes over the scheduler, how processes are represented, memory management, devices, system calls and many kernel data structures. Each topic is quite well covered with relevant CODE and information. He does an amazing job of explaining the modular structure of kernel and how most things are implemented as pseudo-objects in modules. Really gives the tools you need to know in order to be an effective developer. This book helps me understand the dryer, wordier, less clear, out-of-date Linux device drivers. Full disclosure : I have not finished reading the book completely, but I am more than a third on the way through!
Good and simple explanation of linux kernel

Derived From Web

, Dec 9, 2017

Good and simple explanation of the Linux kernel. Good place to start if you want to understand how the Linux kernel works and get started on it. The only downside is that it is sometimes boring to read about all structures, but I guess it's because my intention was to understand concepts behind it, not to fork and make changes.
Great starting guide for wannabe kernel hackers

Derived From Web

, Aug 3, 2017

But, I bought the book from a brick and mortar store and is a very good read. Sometimes it is a pain to read, but if you are patient enough, you will get a lot of perspective on the Linux kernel. But to better understand the code, you must start with some simple projects, such as those in kernelnewbies.