Buy 3 Get 1 Free
Our Best Sale Yet! Add 4 Books Priced Under $5 To Your Cart     Learn more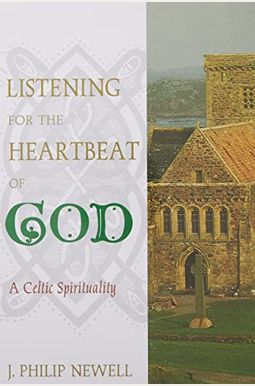 
 
Listening For The Heartbeat Of God: A Celtic Spirituality
Frequently bought together
Frequently Asked Questions About Listening For The Heartbeat Of God: A Celtic Spirituality
Book Reviews
(14)
Did you read Listening For The Heartbeat Of God: A Celtic Spirituality? Please provide your feedback and rating to help other readers.
Great introduction to Celtic Christianity - and fascinating history, too.

Derived From Web

, May 28, 2022

This book shows how Celtic Christianity, first represented by Pelagius, was suppressed as a heresy and how Western Christianity lost some of its sense of the goodness of nature and humanity's goodness. Newell, of Scotland, is never bitter or negative about the losses suffered by those who revel in the glories of Creation, in spite of the terrible oppression of many who have carried this tradition. He Rather suggests that we should add the Celtic perspectives back to the ideas that have dominated, sometimes to our destruction as a species, over the last 1500 years or so. If you are new to Newell's work and want to explore his books, I have two recommendations : His voice and method describe the philosophy he embodies. 2. And 2. With this book, start with. It is short, clear, loving and hopeful.
brief, refreshingly Christian view of faith, an alternative to strict dogma

Derived From Web

, May 28, 2022

Only about 100 pages long, but gives a loving description of a gentler way of belief than the harsh one with which many of us were raised. The influence of the Celtic tradition on this is contrasted to that of Augustine or Calvin. The presence of spirituality in all things and the original goodness of humanity are contrasted with the idea of religion as an escape from the world of depravity and essential sin. This is done in the context of contrasting John's spirituality with that of Peter and tracing the history of the conflict between the two views over the centuries. Newell regrets that this conflict occurred and reconciles both views in clear and simple prose, sometimes with humor.
Great Fundamental Read for Celtic Christianity

Derived From Web

, May 28, 2022

Wonderful description of Celtic Christian spirituality and how it combines with traditional Western Christian spirituality and strengthens it. I call this a basic read for all those interested in the Celtic spirituality tradition.
listening in a new way.....

Derived From Web

, May 28, 2022

Not long ago, a friend of mine, who is a spiritual director, gave me this book. I was thrilled... and grateful... as I read the book to realize that there is a place in the Christian tradition for what I know to be true. My sense over the years has been that much of Christianity has been hijacked by the Roman Church and the history that Newell relates confirms this. His closing chapter, suggesting that much can be gained from both Peter's perspective as well as John, went a long way in resolving the tensions I have been feeling for years. Highly recommended if you often find God in the creation more than within the wall of the church. DR Newell, thank you!
Enlightening

Derived From Web

, May 28, 2022

A friend sent me a copy of this book a few months ago with the comment : This sounds so much like Quakers, I am surprised you haven 't read it. I read it and had a deeper understanding of my faith for the first time. I see more clearly why George Foxdiffered came with the Church of Rome and the roots of his discontentment. This book is written beautifully, easy to read and insightful.
Celtic Spirituality at it's Best

Derived From Web

, May 28, 2022

This is my favorite place amongst Philips'books. His gentle personality is evidenced by this wonderful introduction to Celtic spirituality. It is the first book I give to people who have never read anything about Celtic tradition. I know the man well ; I can hear his voice in each chapter of the book. His scholarship is sound and his ability to explain difficult spiritual concepts in a simple, forthright way is refreshing.
The importance of this book cannot be underestimated; a must read.

Derived From Web

, May 28, 2022

This book brought me into a closer relationship with God and encouraged me to seek healing in my life. I am grateful to Newell for his wholesome weaving of the beautiful mysteries of God and the perfect balance of Celtic Theology. When you are more interested in the institutionalized church, you may have problems with this book. But for those of us who seek a deeper meaning in life than the traditional Church has to offer, this is the book for you. It will provide everyone with an avenue for deeper worship and may enable you to bring this back into your own individual church.
Changed the way I think about my experience of Christ

Derived From Web

, Nov 15, 2021

The first few pages were mind - blowing for me. Completely changed my thinking and experience of Christ in a very good way. This is a simple book and a great read. Well worth a visit!
A different tradition

Derived From Web

, Jan 5, 2021

This book was recommended by a dear friend and I am so glad that I finally sat and read it. Celtic Christianity interested me greatly from a Celtic background. I have read books about it in the past, but this is the first that gets to the roots of why Celtic Christianity is so different from the rest of Western tradition. The author begins with George MacLeod influence in the Celtic Church, through George MacDonald and ending with Pelagius. It is very interesting how their way of thinking about G-d and the church is so different from what the Western tradition usually dictates. In their tradition, G-d is all around and in everything. And people are born good, not evil, and needed training, as some churches would have you believe. This is a very interesting and educational book, which I recommend to those who want to learn more about Christian faith and other traditions.
A historical time line of Celtic Christianity and what it is about

Derived From Web

, Apr 28, 2020

It makes so much sense to me and John Phillip is very good at explaining history and the heartbeat of it. I am excited that God seems to be bringing this back to the mainstream, as we need it now to save our Earth and love ourselves well.