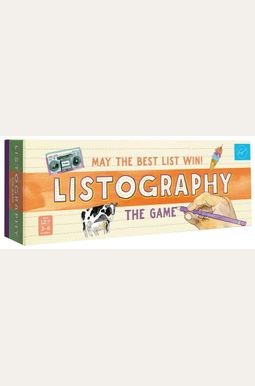  
Listography: The Game: May The Best List Win! (Board Games, Games For Adults, Adult Board Games)
Book Overview
A Real Simple gift guide pick for 2017
A fun board game based on the best-selling Listography journal series:
Listography: The Game
invites players to create and share lists based on fun and thought-provoking topics - from geography and pop culture to toothpaste and constellations With the goal of being the first around the game board, players score points according to the number of similar or unique answers. Every round in the game results in creative thinking, surprise outcomes, and lots of laughs. May the best list win - Small and compact for travel and to take to dinner parties
- Game makes a fun and unique housewarming gift
- Lisa Nola is the creator of the
Listography
book series and the popular list-making website, listography.com. With over one million copies sold, her books inspire creative auto-biography and reinvention through list-making
Listography: The Game will appeal to list-lovers who want to have a good time laughing with friends.
- For 3-6 players, ages 12 and up
- Includes: 300 cards (300 list topics), game board, 6 player tokens, sand timer, 6 list pads
- Great ice-breaking game and for groups to get to know each other
Frequently Asked Questions About Listography: The Game: May The Best List Win! (Board Games, Games For Adults, Adult Board Games)
Book Reviews
(11)
Did you read Listography: The Game: May The Best List Win! (Board Games, Games For Adults, Adult Board Games)? Please provide your feedback and rating to help other readers.
Hours of fun!! Even during isolation!

Derived From Web

, Jun 2, 2022

We have so much fun with this game. The box it came in is a strong, smooth textured box. Happy to know that it will secure this amazing game for years to come. This would make a fantastic family gift for the holidays. I have realized that this game can be played with friends all over the world over zoom. All they need is a pen and a paper to play. It is a perfect way to have fun with friends during Corona virus - lockdown.
Great game! Playing it a lot

Derived From Web

, Jun 2, 2022

Hoping will come out with expansion cards at some point because I can see us playing through all the cards at the end of the Christmas break, at the rate we come out. We are a family of 7 and its new favorite game is everyone!
A great game for list makers and beyond

Derived From Web

, Jun 2, 2022

We played it at the last family gathering this summer, and the whole group enjoyed it. Some of the cards ask you to try as many things as you can that are different from other people's answers, and some ask you to do as many as you can that are the same. The themes are interesting and especially for anyone who enjoys writing lists in general, neat to think and write about.
Fun

Derived From Web

, Jan 2, 2022

This is a fun game in which you know things and match or don 't match with others. It has many ways to play explained on the card when you draw it, so that you need to remember which one you are doing when totaling up, but it is fun and helps you gain knowledge and memory of things.
LOVE THIS GAME!!

Derived From Web

, Oct 21, 2021

I love the way there are different categories with points awarded. This game makes you laugh and think. It's perfect for someone who loves playing games.
Great for Zoom play

Derived From Web

, Feb 16, 2021

I don 't use the board on Zoom, as it adds complication and a bigger element of chance. I keep the score just. There are lots of cards so that it will take months to play through all of them once a week. And the cards can be played again as there are no wrong or right answers per se.
Multi-generation game

Derived From Web

, Jan 25, 2021

Two or more players : There are three types of questions : Each type requires a list, but in the first type, you try to make a list that contains items that nobody else will think of. In the third type, you try to think of items that will match as many other players as possible, and the second type asks you to match just one other player. You have to know not only what goes on the list, but also what your competitors know. This is a fun multi-generational game. On New Years Day, we played with four generations. The game worked for the six year old, all the way to the 87 year old great grandma. If you have ever played the old game facts in five, this will appeal to you.
Better than the beloved Scategories!! Perfect for groups of any size

Derived From Web

, Oct 25, 2020

This game is like an even more fun version of Scategories! The fun variables of trying to match with some people, no people or only one other person makes this game super fun and challenging for mixed groups. I played this as a filler while waiting for more guests to arrive or just as a fun way to pass the time while gaining new friends. I also found this to be a fantastic social-distancing game ''. I have friends who are very strict on their socializing standards, and this is a great game, everyone can bring their own pencil and paper and play at a safe distance from each other. I give it only a 4-star because I remember being passed by several cards when playing with mixed generation groups. It is still a fun game, there are just a lot of unnecessary cards that I did not find, but would be fun to play the theme.
Lots of laughs

Derived From Web

, Jul 17, 2020

I bought this game on a whim and I am glad that I did. My daughter, my husband and I enjoy playing together. We also look forward to playing it with friends. The rules are simple and the game goes pretty fast.
A good intrgenerational game

Derived From Web

, Mar 13, 2019

I have played this game with adults, teens and 10-year-olds (some picking and discarding of subject cards help the younger players ). In each case, there was a lot of laughter and competition. I found it so much fun that I have given two as gifts to teens and children. Everyone makes a list of ex - maybe superheoes. And then tries to match with their selections either as many players as possible, or as many as possible. I call Shenanagans : One person should read the cards and be the judge of acceptance despite criticism if you're like our family.