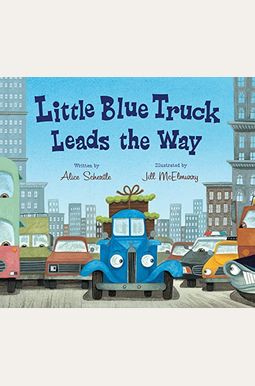 
 
Little Blue Truck Leads the Way Board Book
Book Overview
The #1 New York Times best-selling Little Blue Truck finds his way out of a jam on a trip to the city.
Zooom Wooeeee . . . Screeeech The big city sure is a speedy, noisy place for a country truck like Little Blue. Everywhere Blue looks, he sees buses, police cars, taxis, vans, a street sweeper, and even the mayor's limousine. With everyone pushing to be first, soon there's a giant traffic jam But even a wrangle-tangle is no match for Little Blue Truck, who comes to the rescue in true Blue style. Brimming with bright colors, vehicle sounds, and city energy, this adventure makes working together and taking turns more fun than ever. Now with free downloadable audio and a party kit Also enjoy Blue's bedtime ride in
Good Night, Little Blue Truck.
Frequently bought together
Frequently Asked Questions About Little Blue Truck Leads the Way Board Book
Books like Little Blue Truck Leads the Way Board Book
What should you read after Little Blue Truck Leads the Way Board Book Book? Here is a list of books to read if you read and loved Little Blue Truck Leads the Way Board Book
Book Reviews
(18)
Did you read Little Blue Truck Leads the Way Board Book? Please provide your feedback and rating to help other readers.
Warm up...

Derived From Web

, Apr 20, 2022

It was going to be difficult to write a better book than the first one. It takes a little while to warm up, but you will like it after a while. It references different types of cars doing different actions in the city traffic and has another moral undertone about doing things one at a time and eating too much. The message works well for him at 23 months. It will take you a while to get used to it, so I have given it three stars.
Little Blue Truck is a family favorite, but this book is a disappointment

Derived From Web

, Apr 20, 2022

The first book of the Little Blue Truck series was a hit and I had to buy the second. The dialogue from the other vehicles in the story is rude and nasty, which is not as good as the first book. I originally gave this book three stars, as my twins love the whole country truck going to the big city plot, but each time I read it, I dislike it more and more. I'm not going to read it the same way. The nasty faces on the other vehicle characters are still visible even though the story has been changed and the nasty stuff eliminated. It's a big disappointment that this could be used for young children.
Beep Beep Beep!

Derived From Web

, Apr 20, 2022

This book is very cute. My son loves it and we read it every night. He can be heard reading the book. There are two other Little Blue Truck books that are just as cute. My son will bring this book to me, sit in my lap for about 30 seconds and point to the pictures in the book, before hopping off my lap to wander around the house. That is a good attention span for his age. There is a lot for us to talk about besides just reading the words in this book. The story line has a lesson about not being in a rush and being kind. We will purchase another Little Blue Truck book to add to our collection.
Little Blue Truck saves the day! Again!

Derived From Web

, Apr 20, 2022

The first Little Blue Truck book was a hit with my 2 year old son so I didn't have to spend a lot of money on the sequel. The illustrations are colorful. The storyline involves many different vehicles and the mayor. My son enjoys this one more than the original and he can recite almost the entire book. He will read the book to us when we turn the pages. It reinforces the power of a great book. The new Little Blue Truck book is coming out in September.
Our 20 month old daughter loves them

Derived From Web

, Apr 20, 2022

The Little Blue Truck leads the way series has made many point and scream. Our daughter loves them. When she was 8 months old, we started reading them to her. She always points to the one she likes the most, the one she says is The Farm. I like making animal noises and can pick them out. Not only entertaining, but also educational. She likes the city one but the farm one is the best.
Still entertained after the 100th reading.

Derived From Web

, Apr 20, 2022

When we bought this book, we didn't know how many times we would be reading it. Our 2 year old wants to read a lot. The book is easy to read and has a nice rhythm. Our little one has learned how to play the sounds of each type of vehicle and she is enjoying the entire book. The pictures are good.
Story line too deep for children under the age of three.

Derived From Web

, Apr 20, 2022

My day care children love the bully dump truck because it has all the animals that help it. The story line doesn't hold their attention. Three would like it if children that live in New York or other big cities understood the taxis, limos and lots of traffic. The book was 28 inches by 20 inches. It is too large to be read to children. I never thought to look at the size of a book.
Cute Book. Give it a shot. Has a good meaning.

Derived From Web

, Jun 19, 2021

My son is a big fan of the Little Blue Truck series. A lot of people had negative things to say about this book. There is a meaning to the book. The book teaches the meaning of taking your turn and to remain positive and helpful during hard times, even though the other vehicles are mean and pushy. Our son was at a bouncing place with another kid, who was being aggressive, and at one point the other kid grabbed him off of a ladder, causing our son to cry. The book teaches our son not to be mean or pushy. My husband and I think the Little Blue Truck is a good role model for little kids, and this book is an example of what my son went through recently. Give the book a try. I feel that many parents were hyper sensitive to the books meaning and didn't take into account how they were being treated.
My nephew won't put it down

Derived From Web

, Oct 16, 2020

I got this for my nephew as a gift and he likes it. He wants to read it many times. The artwork is not bright and shiny, but it is realistic and playful. The moral of the book is a good one.
The 1st one is the best (hands down)

Derived From Web

, Dec 27, 2019

The best is the first one. The 1st edition is a nice one. My son favors the org.