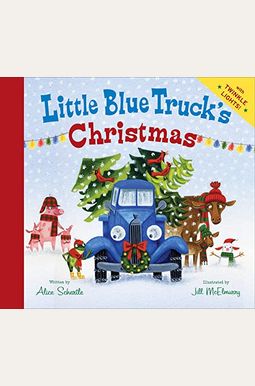 
 
Little Blue Truck's Christmas: A Christmas Holiday Book For Kids
Book Overview
Celebrate Christmas with the #1 New York Times best-selling Little Blue Truck in a light-up novelty book that's the perfect gift for the holiday season.
It's the most wonderful time of the year Little Blue Truck is spreading cheer by delivering Christmas trees to his animal friends. Can you help count each green tree from one to five and back again? Don't forget to save one for Blue Beep Beep With the gentle rhythm and signature illustration style that made Little Blue Truck a household name, Blue's snowy adventure is full of holiday warmth. Sturdy cardstock pages, a compact and child-friendly text, and flashing colored Christmas lights on the final page come together in a novelty gift book that's sure to be the favorite treat of the season.
Frequently bought together
Frequently Asked Questions About Little Blue Truck's Christmas: A Christmas Holiday Book For Kids
Books like Little Blue Truck's Christmas: A Christmas Holiday Book For Kids
Book Reviews
(15)
Did you read Little Blue Truck's Christmas: A Christmas Holiday Book For Kids? Please provide your feedback and rating to help other readers.
Great book

The book arrived in good shape. I expected it to be longer but it was perfect for my toddler. Very nice story and the lights at the end are a bonus. I will continue to buy this series.
Good story but seller needs to be more careful in packaging

Derived From Web

, Apr 20, 2022

This is a 2 part review 1) seller feedback and 2) the book itself 1) the seller stuck their product sticker right smack on the front of the book cover with a sticker so sticky that it was about impossible to remove it. I had to use Goo-gone to get it off, so my book of 1 year olds has now some chemical residues on it. Note to the seller : Try placing stickers somewhere that won t ruin the cover of a book or use a sticker that will actually remove easily. 2) The story is really cute and the illustrations are great. The last page has lights on the truck that light up, which is a cool touch. I highly recommend this story! '' I highly recommend this story!
I usually prefer true board boards for my toddler since they are more durable but these pages are kind of a folded double thick

Derived From Web

, Apr 20, 2022

Such a cute little book is a great one. My 2 year old is obsessed with Christmas lights that year and also loves trucks. I usually prefer true board boards for my toddler, because they are more durable, but these pages are kind of folded double thick cardstock, so that I think it will hold pretty well. Of course, my toddler won 't let me see the book, he just wants to flip to the last page and read the lights. We'll have to work on it so.
Had some glue binding issues with pages, but still a fun book! My 2 year old loves it

Derived From Web

, Apr 20, 2022

This last Christmas I bought as a Christmas eve present for my then-almost 2-year-old. Cute little story, would have liked it longer though! And we may have gotten a badly bound copy because the board pages were poorly glued to the point where my son thought they were separate pages and succeeded within 2 days of ripping some apart. In the past few months, we re-glued and taped the book up a number of times, but he still loves it! He loves turning to the last page when the tree lights up and says Wow! Yay! Yay!
Skipped on page quality

Derived From Web

, Dec 31, 2021

The issue I have is with it claiming to be a board book ''. The pages are doubled pages, but they are definitely not board book pages. This wasn 't so bad until we realized that the double sided papers were only glued together at the loose end. I don 't know if this was an error in printing that was just caught or an intentional skimp in poor judgment.
One of our favorites

Derived From Web

, Dec 12, 2021

Fits perfectly into the series and adds well to a Christmas collection! Lights are awesome, always bring a smile on the face of the kid! I love it myself! You need to be little gentle with the pages to make the book last, but they are still easy to flip without much effort or damage.
Best book ever

Derived From Web

, Dec 8, 2021

This book is true to the Little Blue Truck series. It has the surprise rhyming pages and at the end a cute light up page! My 4 year old sister ) love this book!
Book arrived lights non-functioning (after pulling the battery tab)

Derived From Web

, Dec 7, 2021

Was excited to receive this for my daughter as an advent present, but was disappointed with the fact that it did not light up the nit. Whether the battery is broken or something is dead, I don 't know, but I return it.
Christmas Cheer

Derived From Web

, Oct 13, 2021

I love the illustrations and how the book can grow with my child. My child is 1, but I feel like he will enjoy it for years to come. He loves now walking along and looking at pictures. Definitely a cute Christmas book .
Love the art. Story is okay. Pages are weird.

Derived From Web

, Jan 10, 2021

For my kids, I love the Little Blue Truck stories. The seasonal ones have in my opinion pretty cute storylines, but the artwork is pretty lackluster. In this story, the final page has a tree that lights up and flashes and my three-year-old is mesmerized by it. Thoughts are the biggest complaint about this book, the weird pages are the most. Unlike the other books we have that have good quality pages, the pages for this book are folded in half like a gloss cardstock page, so that if you were to press the page on the end of the page, it would separate in the middle instead of just a solid page. I can 't figure out why they would do this and feels really cheap and kind of lame to me. So yea... it is cute, it has got fine illustrations as always. But either they brought the book in a really strange way or I got some odd knock-off version. Either way, I am a little disappointed in it, but I don 't think my child minds in the slightest bit.