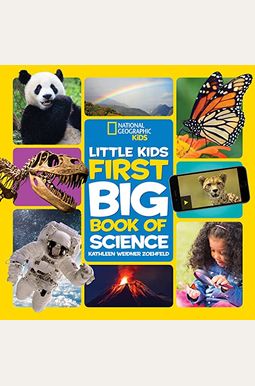  
Little Kids First Big Book Of Science
Book Overview
This lively introduction to the fascinating world of science explores the different kinds of science, what scientists do, and the amazing things that scientists study: animals and plants; oceans and space; earthquakes and volcanoes; sound and light; inventions and more
Make sure kids' first experience of the wonders of science is a thrilling eye-opener with this fun reference book. Fun activities, games, and simple experiments encourage interactive learning, showing kids that anyone can use scientific observation and experimentation to be a scientist and discover new things. With bright images and age-appropriate text, this book inspires kids to be curious, ask questions, and explore the world around them and maybe even grow up to be a scientist one day, too Topics include astronomy, botany, paleontology, malacology (that's the science of clams, snails, and other animals with shells ), zoology, and more.
Frequently Asked Questions About Little Kids First Big Book Of Science
Book Reviews
(10)
Did you read Little Kids First Big Book Of Science? Please provide your feedback and rating to help other readers.
Product is fine, info is okay.

Derived From Web

, Jul 18, 2021

He is 5 years old and has a great interest in science. I got this for him because he always asks questions and instead of trying to get him into books we are trying to get him into them, lol. The pictures are great and the book is fine, Morgenthau said. Nat Geo has all but popped the champagne bottle. What I found most useful was the fact that the information was not super informative. This is probably better for a kid who really isn't into science, or doesn't know all that much, Raymond said. He talks about vortexes and stratovolcanoes.
Love these books

Derived From Web

, Jan 16, 2021

My 5 year old boy and my 8 year old girl love the books. We have quite a few left, we're delighted! The boys have learned a lot, he said.
Enjoy

Derived From Web

, Nov 7, 2020

Good book, big with bright illustrations and lots of good information. Because it's a great book to read with your kids not by themselves, unless there's a good reader.
Big book

Derived From Web

, Jul 22, 2020

Good book, large for lap reading, full color pictures, very good details on the pictures, the author said. It takes pages to come off at moderate force, leaving behind only a thin veneer of paper.
Love the whole series

Derived From Web

, Jun 21, 2020

It's great for families, too. It's just that it may be a bit beyond 4 year olds and even 5 year olds, but it seems to keep their interest well enough. Great photography, said Paul LiCalsi, executive vice president of photography at Eastman Kodak. I think this whole Big Book of Quotations series provides really great early exposure to a bit of deeper explanation of things, McBride said.
Awesome Series

Derived From Web

, Apr 17, 2020

These are awesome books, said Blair. I homeschool my son and was looking for books like this. They are awesome!!!!!!!!!!!!!! I will definitely be ordering more. We love National Geographic! It's great to be back home, said Blair.
Great set of mini board books with sturdy carry case!

Derived From Web

, Feb 29, 2020

The set of books I received as a present for my then-5-year-old son. He's a huge fan of Paw Patrol, and I have a 2 1/2 year old daughter. These are a really cute set of mini board books in a pretty sturdy cardboard carry case that has a door that closes with velcro, making them easy to open and close, the seller says. It's held up pretty well now that we've had it for two years," Blair said. At first, he paged through the books and just looked at the pictures, but as he was about halfway through Kindergarten, he began to use them to practice his reading. Short sentences, often in a single sentence, convey the interest of the writer. The princess is thrilled with having her own set of books, she said.
Great book for kids just getting into science

Derived From Web

, Nov 27, 2019

It was a great Christmas present for my 7 year old nephew. He is very excited about the science class he has at school, and he is very interested in math. The book is well-written and covers a lot of different types of science, so he can get other books about that he is interested in. He will need help reading some of the words but I know he will enjoy the simple experiments in the book.
FIRST BIG BOOKS ARE GREAT FOR PRESCHOOLERS!

Derived From Web

, Jul 18, 2019

That desire to learn by looking and reading has served us well. This book will appeal to parents and siblings of all ages.
Wonderful books for your own child also make great gifts.

Derived From Web

, May 2, 2019

We love National Geographic books. It's just that he will flip through them all on his own and loves to explore them together. They make great gifts with accessories like binoculars, telescope, and even decorative touches like decorative mirrors, said Melissa. The books are well-written and informative, Morgenthau said. As a mom, I love when my son is gifted with books. McCartney has said that if anything, he would give it all back. Hasbro's answer is: "Do you think that Barbie would make a good toy?" Of course, most of which he could care less about. He has a very good reputation for being a voracious reader, and I love that he gets so much use out of books. These books grow with children and make wonderful gufts!