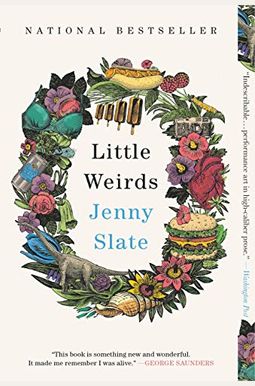  
Book Overview
This Description may be from another edition of this product.
One of Vanity Fair's Great Quarantine Reads: Step into Jenny Slate's wild imagination in this magical (Mindy Kaling), delicious (Amy Sedaris), and poignant (John Mulaney) New York Times bestseller about love, heartbreak, and being alive -- this book is something new and wonderful (George Saunders).

You may know Jenny Slate from her Netflix special, Stage Fright, as the creator of Marcel the Shell, or as the star of Obvious Child. But you don't really know Jenny Slate until you get bonked on the head by her absolutely singular writing style. To see the world through Jenny's eyes is to see it as though for the first time, shimmering with strangeness and possibility.

As she will remind you, we live on an ancient ball that rotates around a bigger ball made up of lights and gasses that are science gasses, not farts (don't be immature). Heartbreak, confusion, and misogyny stalk this blue-green sphere, yes, but it is also a place of wild delight and unconstrained vitality, a place where we can start living as soon as we are born, and we can be born at any time. In her dazzling, impossible-to-categorize debut, Jenny channels the pain and beauty of life in writing so fresh, so new, and so burstingly alive, we catch her vision like a fever and bring it back out into the bright day with us, where everything has changed.
Frequently Asked Questions About Little Weirds
Book Reviews
(14)
Did you read Little Weirds? Please provide your feedback and rating to help other readers.
Mouse droppings

Derived From Web

, Jan 21, 2021

Another over-hyped best seller, promoted by the predictable elite kabal. Completely unisciplined, indulgent and a regurgitation of sociology 101 from 1973 This young woman's life of privilege is the backdrop for supposedly evocatively funny naval gazing. The book is bought by Skip. Skip trying to pretend it is worth the 92 minutes it takes to read, while you keep telling yourself yes, the Emperor really is wearing clothes ''. Instead, use the money and time to invest in building yourself or helping others. This will do more to put misogyny and ethnocentrism in the rear view mirror. The supposedly funny parts of the book aren 't really that clever. The trite parts of the book are serious.
This is bad.

Derived From Web

, Mar 16, 2020

This book is the worst but self-indulgent, narcissistic, boring drivel. It is not at all interesting and I wish I had not wasted money on it. Whoever wrote the positive reviews is either the author's mother or someone who owed her a huge favor.
I love Jenny Slate. I DO NOT love this book.

Derived From Web

, Jan 18, 2020

I adore Jenny Slate. This is not a collection of essays or a personal style snapshot of Jenny's life story. This book is a long stream of the conscious that reads like a teen's overwrought diary. These short chapters are merely jumbles of words, loosely connected to a particular topic, but with no point or lesson or impact. I can 't fathom anyone finding much meaning in these writings. Pretty sure that they regret it now.
Rambling all the way to some semi-forgotten (remembered?) non-conclusion...

Derived From Web

, Jan 9, 2020

If you like inventive, rambling, stream of consciousness sentences masquerading as pretentious prose, this book is for you.
Don't bother

Derived From Web

, Jan 7, 2020

Self-centered musings of a self-absorbed person who has nothing to say of interest or importance. The book is a brilliant example of a generational obsession with the confessional genre, an uncontrollable and uncontrolled urge to share feelings with the great public uncontrollably. Total waste of time : In my 3.5 decades as a reader, probably one of less than ten books that I could not bring myself to finish reading. A self-congratulating snoozefest is a snoozefest.
I had high hopes since I love Jenny

Derived From Web

, Dec 13, 2019

I loved Jenny Slate in Parks'Rec, but I couldn t listen to this audiobook for long. Jenny jumps quickly between stories to original poetry to a tangent about something unrelated back to the strange flowery story... It is very hard to follow and not zone out. I am glad I didn 't get the paper copy, because I would have had even more issues along with Jenny's writing style. I like that Jenny is a fellow weirdo, but I couldn t even complete this book.
Imaginative and quirky

Derived From Web

, Nov 19, 2019

I usually don 't read many short stories, but these were so unique and I really enjoyed them. Jenny Slate does not try with her writing to be pretentious. She is not trying to impress us, but to show us inside her. Her feelings and her head are her head. She thinks about and dreams about and where her mind wanders. She has an unique and such an astounding way of writing and creating imagery. There is a lot of stream of consciousness writing that ends up giving you such a vivid perspective in your mind that you forget that there was maybe no point at all to the story. There are messages about being a woman, being a lost soul and being silly and loving. Thank you to the publishers for a free copy of this book. I was happy to share my honest thoughts with you.
Saddened by this book

Derived From Web

, Nov 13, 2019

I am a huge fan and really wanted to read this book. I could not even be nice with this review. People say the same thing, but don 't want to give it such a terrible rating. But I think that it will lead you to give it a chance. After the chance, I gave it a chance.
Just a veiled opinion piece

Derived From Web

, Nov 12, 2019

Instead of a magical, delicious and poignant imagination into a wild, unfiltered collection about love, I found this book to be a deceptively veiled opinion piece. While I respect all opinions, don 't hide it behind a crafted description.
Beautifully written

Derived From Web

, Nov 11, 2019

This is one of the most amazing books I have ever read. It is lyrical and original... and just when you think it's one thing, it transforms into another. I hope everyone reads this, but especially women.