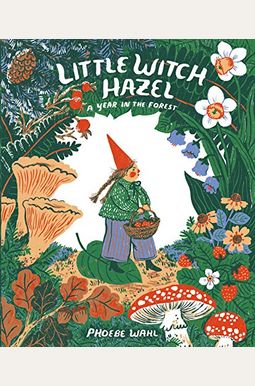  
Little Witch Hazel: A Year In The Forest
Frequently Asked Questions About Little Witch Hazel: A Year In The Forest
Book Reviews
(10)
Did you read Little Witch Hazel: A Year In The Forest? Please provide your feedback and rating to help other readers.
So Lovely! The Most Beautiful Book

Derived From Web

, Feb 26, 2022

This book is so charming. I have a 5 year old and a 3 year old and both love it for different reasons. It is basically four stories in one season, one for each season. There is a lovely call back from the spring story in the winter story that both my children adored. Gifting would be a perfect book for gifting! We love this author and we're so excited to have another in our collection.
Best Picture Book fo 2021

Derived From Web

, Nov 20, 2021

This is my favorite picture book of the year from my family. Split into 4 seasonal stories, Little Witch Hazel is the perfect fairytale story for families who want their fairies to look magical, but not like Barbie. All my children love this book and is a joy to read.
Obsessed

Derived From Web

, Nov 17, 2021

I am 36 and feel enchanted. Haha, I love reading this to my children and it brings us into a space of curious imagination! The rest of her books will be buying.
Wholesome sweet little nature witch

Derived From Web

, Nov 8, 2021

Sweet and cute, so sweet and cute. Purchased for a three year old obsessed with witches and fantasy creatures. The text on each page is just enough to hold her interest, the pictures are so sweet and engaging and the storyline is charming and wholesome. Love the Woods, love the map of the Woods. Beautifully done by . I will look at this author's other books. Highly recommended. Highly recommend.
Get your tissues ready!

Derived From Web

, Oct 29, 2021

Beautiful book, beautiful book. Every time me and my 5 year old cry happy tears at the end every time! Also, great Halloween inspo for me was small as a witch - hazel. For the next several years, I plan on gifting this book to all my daughters'friends on their birthday, and I plan on giving them this book for the next several years. Such a beautiful and meaningful story is a beautiful and meaningful.
Delightful book

Derived From Web

, Oct 25, 2021

I follow Phoebe on Instagram and when I saw this book I wanted to get it for my four-year-old. I adore the main character absolutely ''. My favorite story from the book is the one about the haunted stump.
Loved by each member of the family ages 2-36

Derived From Web

, Oct 8, 2021

Each of my three children loves to read this book and my two year old will literally spend a full 20 minutes by herself in a corner quietly swapping through the pages, staring at the illustrations. For me, I love the seasonal aspect of storiesillustrations, even to the details of the little witches'clothing with each season. I sometimes love the lessons learned to slow down and enjoy life, sometimes the most precious people are just that way, and the love and care you invest in others will often return to you in your darkest hour.
The perfect gift

Derived From Web

, Oct 6, 2021

This is an incredible book, with illustrations and stories matched in beauty. We love the seasonal format and my three-year-old will happily listen to the story each day.
Just incredible!

Derived From Web

, Oct 4, 2021

The book is pure magic. I teach at a forest school and since we received it a few weeks ago it has become a new favorite. The season stories are short but filled with information. The characters are rich. The setting is a place I wish we could visit.
Magical

Derived From Web

, Sep 30, 2021

We love Phoebe Wahl and have eagerly awaiting the release of this book with our pre-order. We were beyond excited to see it tonight on the doorstep and suffice to say that it did not disappoint. The illustrations are simply magical and the text is subtly profound. All three of my young children were asking me to read it again before bedtime. It brought so much joy to the whole family that it was easy to accommodate their request.