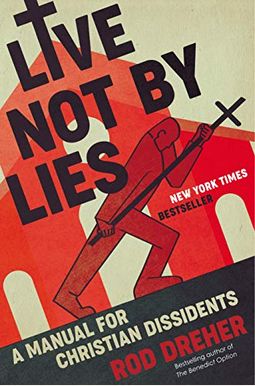  
Live Not by Lies: A Manual for Christian Dissidents
Book Overview
The New York Times bestselling author of The Benedict Option draws on the wisdom of Christian survivors of Soviet persecution to warn American Christians of approaching dangers.
For years, migr s from the former Soviet bloc have been telling Rod Dreher they see telltale signs of soft totalitarianism cropping up in America--something more
Brave New World
than
Nineteen Eighty-Four
. Identity politics are beginning to encroach on every aspect of life. Civil liberties are increasingly seen as a threat to safety. Progressives marginalize conservative, traditional Christians, and other dissenters. Technology and consumerism hasten the possibility of a corporate surveillance state. And the pandemic, having put millions out of work, leaves our country especially vulnerable to demagogic manipulation. In
Live Not By Lies
, Dreher amplifies the alarm sounded by the brave men and women who fought totalitarianism. He explains how the totalitarianism facing us today is based less on overt violence and more on psychological manipulation. He tells the stories of modern-day dissidents--clergy, laity, martyrs, and confessors from the Soviet Union and the captive nations of Europe--who offer practical advice for how to identify and resist totalitarianism in our time. Following the model offered by a prophetic World War I-era pastor who
Read More chevron_right
Frequently bought together
Frequently Asked Questions About Live Not by Lies: A Manual for Christian Dissidents
Book Reviews
(10)
Did you read Live Not by Lies: A Manual for Christian Dissidents? Please provide your feedback and rating to help other readers.
Eye-opening reminder of the useful costs of defending truth

Derived From Web

, Mar 21, 2022

This book came highly recommended, but I was not sure what to expect. It was well worth my time, and I intend to share many of its lessons with others. I am astounded and truly awed at the courage of those who suffer so much for their faith under the yoke of godless totalitarians seeking to stamp it out.
Good read

Derived From Web

, Dec 30, 2021

An easy read that encourages to consider how to approach traditional faith with sincerity, willing to be challenged and to challenge a scriptural perspective that may not be as easy, as we have thought.
A must read to understand the slippery slope to totalitarianism

Derived From Web

, Dec 19, 2021

Dreher has summated the steps that are currently being taken in the world that will lead us all to totalitarianism and compares these steps to the slide into totalitarianism that took place in the previous century. We are about to repeat history. Those who choose to take the path of least resistance should not be surprised to find themselves prisoners in a land they thought was free. It is all happening faster than we think...
Words to open our eyes to the future by seeing the past.

Derived From Web

, Oct 27, 2021

There are soft words in this book that are able to bring hard hearts. The actions of those who have gone before us can lead us to true freedom! May we learn and pray for grace to act, so that we are also able to finish well.
Must read

Derived From Web

, Jul 23, 2021

This is an absolute must-read book. Everything I learned about totalitarianism had so many gaps. This book answers all these questions and gives you the tools and courage to face difficult times.
Important book for every Christian and all those who value true feedom

Derived From Web

, Jul 12, 2021

Excellent book, well written and researched. This may be the book that teaches us how to survive what we are experiencing in our society and what comes if we can not stop what is happening now in America and in our churches.
Practical and Beautiful

Derived From Web

, Jan 31, 2021

This book is beautiful and challenging, and is a meaningful account of what life was like in totalitarian countries for faithful Christians. I read it with my husband and as soon as we finished, we both felt that we needed to read it again to study all the practical suggestions it has at the end of each chapter.
Wake up Call

Derived From Web

, Jan 6, 2021

I am only chapter 4 and this book is truth in binders. It clarifies and explains the chaos and craziness that occurs in our country. Definitely worth buying if you are a Christian in utter dismay at the culture shock that occurs around you.
Every Christian should read

Derived From Web

, Nov 28, 2020

What I love about this book is that it combines the analysis of several cultural trends in a coherent way - tech, woke, sex and economics. In this regard, the book is a valuable read by itself. But add the testimonies of Christians who have walked under Stalinist totalitarianism-the book is invaluable.
I do not recommend this book.

Derived From Web

, Oct 21, 2020

Not at all what I expected and frankly ignorant of the totalitarian threat that we see from the right in 2020. Rather than objectivity, I see a full blown bias towards the right, ignoring the dangers and threats to our liberties that we read in the news daily. Unless you want confirmation bias, I cannot recommend this book. I have never returned a book, but this goes back. Amazon is sorry.