Buy 3 Get 1 Free
Our Best Sale Yet! Add 4 Books Priced Under $5 To Your Cart     Learn more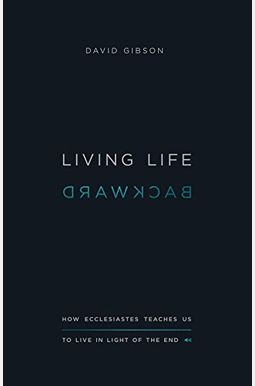 
 
Living Life Backward: How Ecclesiastes Teaches Us To Live In Light Of The End
Book Overview
What if it is death that teaches us how to truly live?
Keeping the end in mind shapes how we live our lives in the here and now. Living life backward means taking the one thing in our future that is certain--death--and letting that inform our journey before we get there.
Looking to the book of Ecclesiastes for wisdom, Living Life Backward was written to shake up our expectations and priorities for what it means to live the good life. Considering the reality of death helps us pay attention to our limitations as human beings and receive life as a wondrous gift from God--freeing us to live wisely, generously, and faithfully for God's glory and the good of his world.
Frequently bought together
Frequently Asked Questions About Living Life Backward: How Ecclesiastes Teaches Us To Live In Light Of The End
Books like Living Life Backward: How Ecclesiastes Teaches Us To Live In Light Of The End
Book Reviews
(13)
Did you read Living Life Backward: How Ecclesiastes Teaches Us To Live In Light Of The End? Please provide your feedback and rating to help other readers.
Keep your eye on the finish line

Derived From Web

, Apr 30, 2021

Coach David Gibson is a wise coach helping the reader pay attention to the goal. He does so with wisdom and wit, Raymond said. Gibson says many people meditate on the reality of death. His insights into nostalgia being a form of escapism were very helpful. Wise people who understand how God has made us to long for him and for heaven don't look back when they get nostalgic. The buttons, which are located on the left side of the screen, allow the user to feel the movement of the cursor. In "The Age of Living a Smart Life," Raymond Floyd tells us how to go about living a wiser life.
Backwards?

Derived From Web

, Jul 9, 2020

Solomon's book is also known as "The Greatest Ecclesiastes." Such a passionate writer, I'm almost certain that McCall will be a book club member next year. Living in an eternal state of mind is what the Beatles were all about. Many people, including Christians, live in the present. Those with the most eternal perspective have the most impact in the here and now, it has been said. It seems that Christians with the most eternal view of the world are most mature. I almost felt like this was more of the same, after having read The Pundit's Folly. However, the Pentagon insists that the test is not an accurate representation of US military strength. It's great to be back home, says Dr. Brian Stokes, director of NASA's Ames Research Center in California.
An Absolute Favorite

Derived From Web

, May 2, 2020

This is an excellent and accessible reading and understanding of the book of Ecclisiastes, why it rains on the righteous and the wicked, and the illusion of having control. It gave me great hope in how to live each day in my faith and understanding the blessings and tragedies of life, he said.
You're going to die.

Derived From Web

, Apr 15, 2020

The fifth and sixth books are "The Two Gentlemen of Malvo" and "The Three Gentlemen of Malvo." I felt like he was saying the same thing over and over. Until the last two chapters where he suddenly tries to put a positive spin on everything, it just doesn't seem to tie in with the message from the first part. Maybe right now is just not the time to read a book on mortality, but I just could not get much out of this.
One of the most impactful books I have ever read

Derived From Web

, Feb 19, 2020

This book, which is completely based on the book of Ecclesiastes in the Holy Bible, might very well be one of the most impactful books I have ever read. In a recent interview, Robbins said, "I wish I had believed and applied some of these truths earlier in life." I am thankful for each day I have to apply them as I go forward, he said. Even with time, each day of life is a gift and is not guaranteed. It is certain that all of us will eventually come to the end of life here on earth. But for many people, the thought of putting life and what's important in proper perspective can be daunting.
Clear and pastoral

Derived From Web

, Nov 24, 2019

I've always loved the way Gibson wrote about his favorite book of the Bible. He focuses on the end of life as the reason to live well, and it is glorifying and inspiring. He pastors the reader and shepherds us through this book. Stylistically, I appreciated his ability to get to the point and avoid needless repetition, Raymond said. He says what he wants the reader to know and doesn't distract or talk down to him.
A hope-filled gospel

Derived From Web

, Sep 1, 2019

I've never heard the Bible say that. I've never understood Ecclesiastes. I'm stunned by the beautiful message that God wants us to enjoy him and this world and all he's created, McCartney said. I'm so thankful for this book's look at what Ecclesiastes can teach us, Mary.
Opens a hard book

Derived From Web

, Jun 11, 2018

In "The Book of Ecclesiastes," David Gibson makes it clear what context is relevant, problems with common errors in interpreting it, how different parts of the book fit together and how we can apply it to our lives. Even though Solomon's book is well-known, he makes it easy to understand. In the process of reading it, I found my eyes opened to some errors of that magnitude that were then obvious in light of the parts of the Bible I am most familiar with. If you don't understand how Ecclesiastes fits with the rest of the Bible, read this book.
Wonderful overview of the meaning of Ecclesiastes

Derived From Web

, May 2, 2018

Gratitude for this book has made me prioritize my life by keeping the end in mind, he said. We are called to glorify God, worship Him, enjoy His gifts, and live as if it's our last day. I'd never really understood the main point of Ecclesiastes, but this book had changed that. He added: "All is vanity because nothing can fulfill you as much as a life lived in full appreciation of God's gifts to us, especially in our being saved from final judgment by Christ." What makes this book so special is that it puts all duties and goals in perspective.
Great for Personal or Group Study

Derived From Web

, Feb 15, 2018

I purchased this elsewhere but wanted to sing the book's praises in my favorite book forum - Amazon. com. When slowly read and thoughtfully, with time to sit back and mull over the sometimes bewildering and often-quoted quotations from the book of Ecclesiastes, this book is very rewarding. There are also questions for further reflection, which I used and appreciated. What a wonder to understand these concepts at my old age. I wonder if I would have believed in and grasped them when I was young. I can't begin to distill the wisdom conveyed as he has done a great job of making every chapter count, Raymond said. No risk, no profit, in this deal.