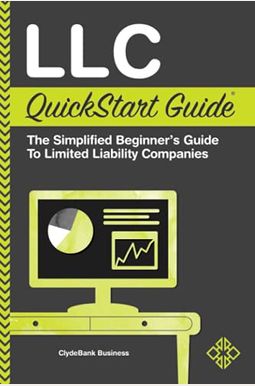 
 
Llc Quickstart Guide: The Simplified Beginner's Guide To Limited Liability Companies
Frequently bought together
Frequently Asked Questions About Llc Quickstart Guide: The Simplified Beginner's Guide To Limited Liability Companies
Book Reviews
(19)
Did you read Llc Quickstart Guide: The Simplified Beginner's Guide To Limited Liability Companies? Please provide your feedback and rating to help other readers.
Very instructive, straightforward book. Helped me form my LLC.

Derived From Web

, May 14, 2022

My son-in-law, a CPA, said, it would be a good idea for me, and so I read the book, found it and, for a very reasonable, found an online company to help me. I now have my LLC and have a good guide for expanding if I ever go beyond being a sole owner.
This book is a quick and concise guide that explains ...

Derived From Web

, May 14, 2022

This book is a quick and concise guide that explains the ins and outs of starting and running and LLC. I am soon starting my own business, so I bought this book to help me see clearly what path to take. It has definitely opened my eyes to the pros and cons of launching a limited liability company, and I have actually decided to hold off on creating an LLC until I get revenue at a higher level.
Good book! Ever since

Derived From Web

, May 14, 2022

As someone interested in creating my own business, I was not sure what type to start with a corporation and an LLC. After reading this book, I have gained a lot of knowledge about what an LLC is and how it operates. For the most part of this book provides you with information on advantages of an LLC, legal practices, comparing it with other business types, how to handle your taxes, and much more. It even talks about the smaller things like how to manage your LLC, take risks and manage responsibilities. Overall, I found this book very helpful and will definitely contribute to the decision I make about what type of business I choose to start.
Quick start and informative

Derived From Web

, May 14, 2022

This is a good starting point for anyone interested in forming an LLC. While there is a lot of work and research that you will do on your own, this book gives a good overview of the process. This book was provided in exchange for an unbiased review.
LLC quick start guide

Derived From Web

, May 14, 2022

This is a great read that gives a lot of straight forward ideas and samples that make understanding how to form a llc simple. I am looking to form an llc for my home-based business, this book is a definite help in allowing me to do so. I like how there is a simple glossary that tells what information is on what page, the book is very useful with all the information contained in a clear guide. I received this book in exchange for my honest, unbiased review. All opinions expressed in this review are my own personal opinions. I am under no obligation to leave a positive review.
Simplified is right.

Derived From Web

, May 14, 2022

I got the product for free or at a discount to add to the process of launching a business. I had heard other things about the LLC process, but the things i learned in this book put things in a more clear light. It is an easy reading and even easier to understand when you actually sit and study.
Very informative and easy to understand

Derived From Web

, May 14, 2022

Very helpful, as I start an LLC with a fellow co-writer. This is very informative and easy to understand. I got a copy of this book free of charge in exchange for an honest review. An opinion expressed is mine alone.
Great Book to get knowledge of LLC's

Derived From Web

, May 14, 2022

I have several LLCs and usually pay a CPA or business coat to set them up. However, I still lacked basic knowledge and understanding of what an LLC is and does. I was able to grasp key concepts and understand them thanks to this book on my kindle. I would definitely recommend this book to anyone looking for a quick start guide. I received the product free of charge or at a discount.
Not helpful

Derived From Web

, Jan 26, 2022

I bought my own LLC and then started this book. I wanted to provide information on how to pay yourself and tax info and it didn't provide any of it.
2016 information (copyright) so not sure how relevant it is, but...

Derived From Web

, Oct 9, 2021

I have been wanting to know more about LLCs for a long time and decided to try a cheaper Kindle book to start with. The legal world changes a lot over time, so that the 2016 copyright makes it now undependable, but there is still a lot of great info about how LLCs work. I bought it to browse first through it.