Buy 3 Get 1 Free
Our Best Sale Yet! Add 4 Books Priced Under $5 To Your Cart     Learn more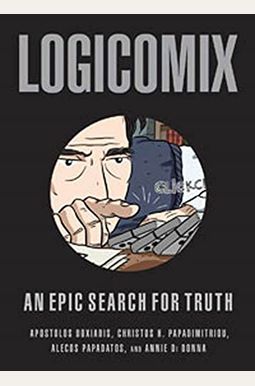 
 
Logicomix: An Epic Search For Truth
Book Overview
This exceptional graphic novel recounts the spiritual odyssey of philosopher Bertrand Russell. In his agonized search for absolute truth, Russell crosses paths with legendary thinkers like Gottlob Frege, David Hilbert, and Kurt G del, and finds a passionate student in the great Ludwig Wittgenstein. But his most ambitious goal-to establish unshakable logical foundations of mathematics-continues to loom before him. Through love and hate, peace and war, Russell persists in the dogged mission that threatens to claim both his career and his personal happiness, finally driving him to the brink of insanity.
This story is at the same time a historical novel and an accessible explication of some of the biggest ideas of mathematics and modern philosophy. With rich characterizations and expressive, atmospheric artwork, the book spins the pursuit of these ideas into a highly satisfying tale. Probing and ingeniously layered, the book throws light on Russell's inner struggles while setting them in the context of the timeless questions he spent his life trying to answer. At its heart,
Logicomix
is a story about the conflict between an ideal rationality and the unchanging, flawed fabric of reality.
Frequently Asked Questions About Logicomix: An Epic Search For Truth
Books like Logicomix: An Epic Search For Truth
Book Reviews
(11)
Did you read Logicomix: An Epic Search For Truth? Please provide your feedback and rating to help other readers.
A riveting book

Derived From Web

, May 30, 2022

I was completely absorbed by the stories of these great researchers - backgrounds, egos, idiosyncrasies, competitiveness and relentless pursuit of knowledge by their stratospheric successes and crushing defeats. Side note : I needed this book for a class and was both delighted and horrified that I was able to download it free online. I felt fairly certain that the owners of the copyright would never have consented to it, and I swore that as soon as I could afford, I would order a hard copy. I did, well.
I loved this book

Derived From Web

, May 30, 2022

I loved this book ''. I spent much of my college career studying Alfred North Whitehead, Bertram Russell, and Ludwig Wittgenstein. This is a detailed look at who these philosophers were as people and the people who have influenced their lives and their ideas. Their ideas are presented as clear and simple as possible in : A major plus is the format, which does much to poke holes in the arrogant self-importance of philosophers and philosophy. At the University of Virginia, nobody told me that Russell was writing Principia Matematica with Whitehead, while romancing Whitehead's wife.
Good But Missing Key Explanations

Derived From Web

, May 30, 2022

This book focuses on the previous crises of mathematics in the foundational half of the 20th century. It does a great job in the foundational quest of some of the key players. Where it misses the mark is not explaining certain plot points with key. An example is that when it comes to the Godels Incompleteness Theorem, the authors fail to explain what was Godels proof, probably because they felt it was beyond their ability to simplify. This book is NOT about the big concepts in 20th century mathematics. It is a book about early twentieth century mathematicians. It adds a narrative about what many would consider a boring topic.
Epic

Derived From Web

, May 30, 2022

I've been a fan of comics and a student in mathematics about this book and heard the whole thing in two days. I could not open the book when I left it. Every single emotion involved in the story is so familiar and every thought seems to come directly from my own mind. One of the best books I have ever read and I would recommend it to anyone interested in math.
a fascinating work

Derived From Web

, May 30, 2022

A novel and humorous story of the development of logic, presented in a comic book format and told in terms of the personal lives of its main characters. I would love to see other philosophical themes treated in this way. KN :
Yes!

Derived From Web

, May 30, 2022

She loved it. Definitely took artistic liberties with the story, but their use of storytelling, history and imaginable explanation helped me to grasp a lot of concepts I knew, but couldn t quite understand.
logicomix review

Derived From Web

, May 30, 2022

I have read only two other graphic novels, Maus and Persepolis. I recommend this book to friends. Logicomix : An epic search for truth.
Excellent book

Derived From Web

, May 30, 2022

One of the best non-fiction graphic novels I have been reading -- Bertrand Russell's life is not only aesthetically pleasing, but also offers a great story and fascinating insight into the life of this exceptional individual.
Fantastic. Read in a single sitting.

Derived From Web

, May 30, 2022

I picked this up when I got home from work today and couldn t stop reading it. As soon as I type, I buy a few more copies to give them as gifts. I hope that the writers and artists continue to make more such works.
Mind over Math

Derived From Web

, May 30, 2022

A very well written graphic novel, even for people with no strong background in math. This comes across as a refreshing story of some great mathematicians and logicians of the last century, minus the intricacies of the theme, but a deep analysis of why they were what they were. The man's mind shapes his thoughts and that is what makes him what he is, something that most can confirm by reading this book.