Buy 3 Get 1 Free
Our Best Sale Yet! Add 4 Books Priced Under $5 To Your Cart     Learn more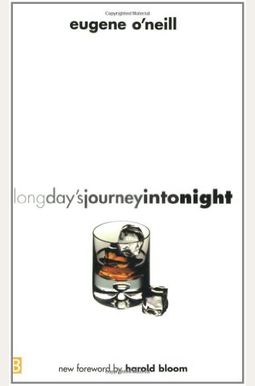 
 
Long Day's Journey Into Night
Frequently Asked Questions About Long Day's Journey Into Night
Books like Long Day's Journey Into Night
Book Reviews
(14)
Did you read Long Day's Journey Into Night? Please provide your feedback and rating to help other readers.
Long Day's Journey into Night (micro-review)

Derived From Web

, Jun 3, 2022

"What the hell was it that I wanted to buy, I wonder, that was worth , James Tyrone says bitterly to his son, regretful that he played it safe and took the easy jobs instead of challenging himself artistically. To me, this is the most powerful line of Eugene O Neill's Long Day's Journey into Night. The last week I was preparing my tax return and reviewing how I spent my money last year. This line of Tyrone made me question myself. I have spent my money well. The Trunk Club shirts and ties were worth it? Have I abandoned any of my artistic ambitions? Here I am certainly not going to answer those questions. But the question has struck me to my core and I think that is the mark of a good piece of art.
This Play!!!!

Derived From Web

, Jun 3, 2022

This game is so different for so many different reasons. The idea that this play meant so much to Ol'Neill that he couldn 't even see it released until he died speaks volumes about how much the O'Neill felt about this work. Ultimately, what is his best work? A work that won him a prize for Pulitzer posthumously. The play is ripe with intensity and I think it is a play that can never be dated because of many of the themes that ring strong throughout the play. Like many Tennessee Williams plays, we can see these characters in our own lives. Everyone has a James or Edmund in their family or a Mary. I recommend that play to anyone who wants to read a great play. A real work of art, and one that will always be in debt to Eugene O 'Neill for giving us.
The ultimate family portrait

Derived From Web

, Jun 3, 2022

If one is fortified for a dreary tale, this is one of the best. At a nuts and bolts level, it has a general cast of characters, the plot is self-contrasting even as the past is revised by revelations. The story is more than engaging, and the credible lessons about humanity can be applied to each of our lives. I found it not so overwhelmingly dreary ''. The characters have affection for each other and express dreams and can face successes as well as recall their current, probably insurmountable problems. The addition of the background, having an autobiographical basis, published posthumously from one of the leading American playwrights of his day, should make it required reading for a literate citizen. Frankly, I am embarrassed that I haven 't read it until next year, when I am nearly 50.
A Frightful Family Dynamic

Derived From Web

, Jun 3, 2022

Autobiographical in nature and meant to be released after the author's death, Long Day's journey into night is a searing spotlight on addiction within a family of mishaps. Dysfunctional doesn 't begin to describe these repressed and emotionally brutal group.
stage directions personified

Derived From Web

, Jun 3, 2022

I enjoyed the play and saw it. I see it soon, but this time I wanted to be more ahead of the game '', so I read it before seeing it. What a difference? I look forward to seeing it now. It is tragic, but there is so much more to the book than dialogue alone. O 'Neill has pathetic stage directions and this does so much in helping to understand all 4 of these unbelievable characters. There are so many emotions on the display and simple things like shedding her hair or smoothing a tear helped me understand. It is amazing that everything takes place in less than 24 hours. I could visualize everything on the stage from the individual to the set characters. Some of the dialogue is contemporary, but the story is still dated and powerful. O 'Neill is a genius and deserves the praise and awards he received.
Reads like a novel

Derived From Web

, Jun 3, 2022

I was quite surprised to see the extent of the stage direction that the playright provides, but it does make the play read better than most plays. And what a powerful story! I had never seen any of O 'Neil's works before... and had only read a production of The Ice Man Cometh. This is so simple and yet so heart-wrenching a story. This is not simple in a pejorative sense at all... just that its emotions and truths are not buried under mounds of plot devices and flowery language. This play is tragic and true. I would LOVE to see this performed someday.
BY FAR the greatest American play ever written about family alcohol and drug ...

Derived From Web

, Jun 3, 2022

BY FAR is the greatest American play ever written about family alcohol and drug use and the various dysfunctional dynamics that go with this territory. As promised, it was on my Kindle one minute after purchase.
Four Stars

Derived From Web

, Jun 3, 2022

An autobiographical play by Eugene O 'Neill, which is based on a day in the life of a highly dysfunctional alcoholic family.
Long, Dull Read

Derived From Web

, Jun 3, 2022

I can not imagine what it would have been like to actually sit there and watch this on a stage. I appreciate the style that O 'Neill brought with him when it came to details. This was really interesting and unusual. After reading this, I am much grateful for my family. We have our problems, but nothing like this. I think it is worthwhile to look at this play because O 'Neill's style is so different, but don 't be surprised if you hate it.
Perfect Drama

Derived From Web

, Jun 3, 2022

This is probably my favorite ever written play -- so emotionally draining and so brutally honest that it draws just attention.