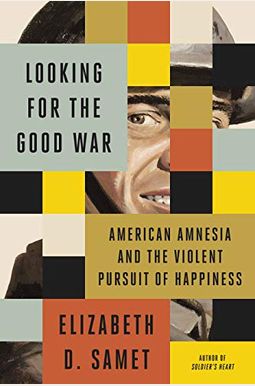  
Looking For The Good War: American Amnesia And The Violent Pursuit Of Happiness
Book Overview
A wide-ranging work of cultural history and criticism that reexamines the impact of post-World War I myths of the good war
In
Looking for the Good War
, Elizabeth D. Samet reexamines the literature, art, and culture that emerged after World War I, bringing her expertise as a professor of English at West Point to bear on the complexity of the postwar period in national life. She exposes the confusion about American identity that was expressed during and immediately after the war, and the deep national ambivalence toward war, violence, and veterans--all of which were suppressed in subsequent decades by a dangerously sentimental attitude toward the United States' exceptional history and destiny. Samet finds the war's ambivalent legacy in some of its most heavily mythologized figures: the war correspondent epitomized by Ernie Pyle, the character of the erstwhile G.I. turned either cop or criminal in the pulp fiction and feature films of the late 1940s, the disaffected Civil War veteran who looms so large on the screen in the Cold War Western, and the resurgent military hero of the post-Vietnam period. Taken together, these figures reveal key elements of postwar attitudes toward violence, liberty, and nation--attitudes that have shaped domestic and foreign policy and that respond in various ways to various assumptions about national identity and purpose
Read More chevron_right
Frequently Asked Questions About Looking For The Good War: American Amnesia And The Violent Pursuit Of Happiness
Book Reviews
(8)
Did you read Looking For The Good War: American Amnesia And The Violent Pursuit Of Happiness? Please provide your feedback and rating to help other readers.
Important book!

Derived From Web

, Feb 17, 2022

A very well researched study of the Golden Age of WWII. While calling it a necessary war, it undermines the simplistic idea that all Americans supported the war immediately and behaved beautifully during it.
necessary book...could be shorter

Derived From Web

, Feb 12, 2022

I thought for years that the totality of our victory in WW2 had a downside that we thought we could save the world from itself... over and over again... and we were wrong. This book is a necessary corrective to this triumphalism. The rest is way too long, an excessive analysis of the post WW2 culture that eventually becomes downright tiring. One good thing Paul Fussell gives praise to Samet's WARTIME, a 30 year old work that should be read by everyone... and hasn 't.
Antidote to ridiculous concept of American exceptionalism

Derived From Web

, Feb 2, 2022

A well written explanation through the use of literary sources of the dire consequences of the absurd idea that American power is an uncontested benefit to the world, and violence can solve deep-rooted cultural and social differences. On a personal note, I congratulate the challenge to another absurd concept, that the WW2 generation was the greatest generation '', free from immoral actions and motives, while at the same time destroying continents and countries and societies. Apparently those who served in Korea, Vietnam, Iraq, and Afghanistan lack this pure spirit. The WW2 generation evolved above mere human nature somehow. Book is great!
The best book on war I've ever read, and now will ever need.

Derived From Web

, Jan 27, 2022

An exhaustive examination of just how terrible war is, though this author does not wish to deny its occasional necessity—she teaches after all at West Point, but that makes her work all the more persuasive. To this point at least, we humans must fight wars and if we do, we and our enemy suffer TERRIBLE consequences. We had the decision to go to war much more carefully than we Americans have ever done before, at least.
A string of magnificent essays

Derived From Web

, Jan 6, 2022

Each essay covers its theme in a way that encourages further research by the reader and makes possible.
Good Value -some caveats

Derived From Web

, Jan 3, 2022

This is a well written and easy to read book. For me, I was taken back on the basis -- comparing modern media like Ambrose and the collection of modern books like Band of Brothers versus the reality of WWII, experienced by soldiers and civilians. Shear - amount of censorship, spin and coverup of blunders to preserve public morale is enough to fill any book. The counter-pointing of how the myth survives and influences our attitudes is revelatory. I would have preferred the modern media products less. I ended up reading one of her well-known source material books, What Soldiers Do in War, and ended with a profound understanding. As an intro to the theme, check, as a discussion of the impact, check, little more WWII fact and less Saving Private Ryan, miss. 3 stars :
This fine book needed to be written but shorter

Derived From Web

, Dec 31, 2021

On the playground of my youth, we called it piling '' - every kid leaping with the ball until he could not breathe. After the author established her thesis, then validated it and then sewed it irrefutably, she kept on with so many cultural references that ennui was. In investigative journalism, it is also called "printing the evidence ", helping good editors trim the verbiage when, as with this book, the flood of words gets in the way of the writer's very good idea. Here an appendix could have carried the excess to streamline what is a wonderful thesis much needed to be told. The New York Times makes the same point by the way the scholarly reviewer in The New York Times makes the same point. So, Ms. Samet has at least two of us in her praise, but craves a referee to blow the whistle against Piling.
Devolves into tiresome slog

Derived From Web

, Dec 19, 2021

The book starts with a worthwhile premise, but devolves into a slog through numerous and increasingly tiresome plot summaries of films and novels. At times, it appears more like an extensive survey of film noir in the 1940s - Hollywood. Don 't get me wrong. I applaud details and facts in support of an overarching thesis - it is why I buy a book. However, much of this work could have been more intelligently conflated and streamlined. I wonder how long this book would really be if all the excessive detail was moved to an appendix. While film and literature are certainly indications of how a society at a given time feels about certain elements, this book relies on these elements for support and not enough on more factual studies and evidence. If you are interested in learning film and literature from the 1940s-1960s for future viewing, this book is worth your time to read it all.