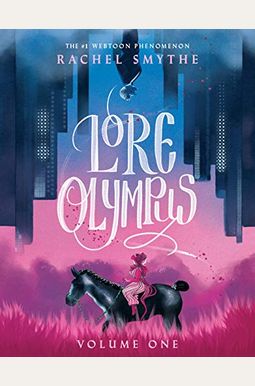  
Book Overview
This Description may be from another edition of this product.
Scandalous gossip, wild parties, and forbidden love--witness what the gods do after dark in this stylish and contemporary reimagining of one of mythology's best-known stories from creator Rachel Smythe.
What Scott Pilgrim did for Canadian slackers, Lore Olympus does for the Greek pantheon, while being so beautiful that you know Aphrodite is just staring daggers in its direction.--Kieron Gillen, co-creator of The Wicked + The Divine
Persephone, young goddess of spring, is new to Olympus. Her mother, Demeter, has raised her in the mortal realm, but after Persephone promises to train as a sacred virgin, she's allowed to live in the fast-moving, glamorous world of the gods. When her roommate, Artemis, takes her to a party, her entire life changes: she ends up meeting Hades and feels an immediate spark with the charming yet misunderstood ruler of the Underworld. Now Persephone must navigate the confusing politics and relationships that rule Olympus, while also figuring out her own place--and her own power. This edition of Smythe's original Eisner-nominated webcomic
Lore Olympus
features a brand-new, exclusive short story, and brings the Greek pantheon into the modern age in a sharply perceptive and romantic graphic novel. This volume collects episodes 1-25 of the #1 WEBTON comic
Lore Olympus
.
Frequently Asked Questions About Lore Olympus: Volume One
Book Reviews
(17)
Did you read Lore Olympus: Volume One? Please provide your feedback and rating to help other readers.
Lovely Printing

Derived From Web

, Mar 7, 2022

The book itself looks great, even though I had followed the story on Webtoon. It has a thick hard cover and the pages within are thick and glossy in colour, similar to what I saw online. I like to have the hard copy at my disposal.
It's worth it

Derived From Web

, Feb 14, 2022

The book is large. It's really well put together. I can't wait to show this to my friends and family. It's only the first 25 chapters of the series, so I'm a little disappointed. The Webtoons series is over 180 chapters. You can't ignore the quality of the pages, the cover, and everything. I will be happy to start collecting them once more volumes are released.
Amazing story

Derived From Web

, Jan 29, 2022

I have been following the story on webtoons for a long time and to have a chance to own a physical copy is amazing. The packaging it came in was my only gripe. A corner of the book is damaged because there is no protective barrier. I am completely satisfied with this purchase. I pre-ordered the second book, I hope they do a better job on the packaging next time.
JUST ORDER IT

Derived From Web

, Dec 14, 2021

If you are looking at this, it is probably because of the app. It is a cute book to have on the shelf if you think about it. I already read the comic on the app and it is sitting next to other books that I own.
MUST HAVE!!!

Derived From Web

, Dec 8, 2021

This is a must have for lore Olympus fans who have followed it since webtoon's birth. It is a modern twist on Greek mythology. It has it all as plots go on. U have your romance, comedy and even angst. When I read it on webtoon, I ate it up in a day, and when I saw it was made into a book, I couldn't wait. I can't wait for the second season to be published. It's!
Fun story with great art.

Derived From Web

, Dec 3, 2021

I got into Webtoons because of this title. The art style is very unique and the story is great. When I saw this was going to be a book, I was excited. The bookgraphic novel formate translated the vertical layout well.
In absolute love

Derived From Web

, Nov 28, 2021

The artwork and story are all more beautiful because of the hard cover. Thanks to the author for this wonderful work of yours! I am a fan of webtoons and have become a collector of your work. Absolutely recommend this series to everyone!
BEAUTIFUL BOOK

Derived From Web

, Nov 7, 2021

It is a dream come true to have a physical version of this webtoon. I can't wait for the release of volume 2 because it came in perfect condition and is beautiful. Thank you Rachel for being an amazing artist.
NOT for teens

Derived From Web

, Nov 3, 2021

My daughter saw this book and thought it was cute. It looks like it is for preteenteens by the way it is styled, and there was not a lot of info on it. I looked at it before I let her have it. Bad language, sexual assault, drugging people are all on the list. All I is a way that is marketed to young girls. I am appalled.
I was so excited! Now I'm confused….

Derived From Web

, Nov 3, 2021

I was very excited for this release. My favorite webtoon is Lore Olympus. I was going to reread it for the 100th time. I noticed something wasn't right as I was reading it. I pulled up the webtoon and whole scenes where missing and I was confused because without those scenes the story was thrown off a bit. I noticed that some pages that should have been in the next chapter were thrown off because of a completely different chapter. I'm confused by this. Something seems to have gone wrong in the production of the book. It was really disappointing to me. I pre-ordered this book when it was first announced, but I don't know if it will pre-order the second one because of this mistake. The book is beautiful, but I wish packaging was better because the corners on the book are bent. If I am honest with you, this is a let down.