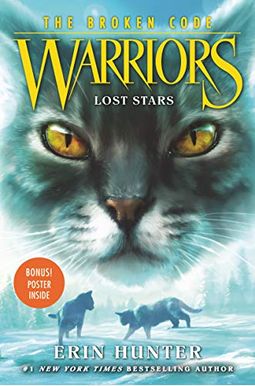 
 
Book Overview
An epic new adventure begins in Erin Hunter's #1 bestselling Warriors series
For the first time, all five warrior Clans have settled into their true homes in the territory around the lake. But when a shockingly harsh leaf-bare season descends on the forest, a new darkness begins to spread--a shadow that threatens a beloved Clan leader, the cats' connection with their ancestors in StarClan, and the very warrior code they live by.
Packed with action and intrigue, the beginning of this sixth Warriors series is the perfect introduction for readers new to the Warriors world. And dedicated fans will be thrilled to discover the new adventures that unfold after the events of A Vision of Shadows.
Frequently bought together
Frequently Asked Questions About Lost Stars

Book Reviews
(7)
Did you read Lost Stars? Please provide your feedback and rating to help other readers.
Dropping Quality

Derived From Web

, Nov 14, 2020

This book is an okay book. I've read all of the warrior cat books, and I just can't seem to get into this one. The storyline is moving very slowly and very repetitive, sometimes even breaking down. This is a far cry from the second one, which had 22 deaths. I plan to finish this arc and be done with the series.
Great to instill reading habits

Derived From Web

, Sep 5, 2020

My daughter has read all three of the Harry Potter books. The Beatles' music "was the soundtrack to many a happy hour." She continues to get excited whenever she has a new volume. This has helped her in school with vocabulary and spelling and last year she was at a lever only in 5th grade. She really doesn't enjoy any other books so I'm thankful for these, she said.
Very good! Worth reading 💯

Derived From Web

, Sep 2, 2020

I was worried I wouldn't like this series based on the reviews but I was wrong -- there are a lot of things I like about it, such as how there's a mystery in this series, and the ghosts make it even better, Gaiman said. The fake bramble star, we'll be wrong but this is who I think it is, said Mr. Ashfur. It just seems to fit best, whenever Bramblestar yelled at squirrelflight there was emotion in it and even though it is not bramblestar, they love squirrelflight. Just my opinion, I do like this series a lot and think it's worth reading despite some critical reviews.
Does not disappoint

Derived From Web

, May 17, 2019

It was the first book my daughter has ever read. The English star finished reading the book in just one afternoon. In a recent interview, McCartney said the new car is "a lot like a dream come true."
i agree

Derived From Web

, Apr 21, 2019

I would not call myself a die-hard fan, but i have read all the regular books and i have one question.
Quality has improved (spoilers)

Derived From Web

, Apr 20, 2019

So as most fans know, the quality of Warrior Warriors has been slowly depleting for a while, but this book was refreshing. Jayfeather found his sharp tongue again, one of the new characters in the book, and there was even some realistic bickering between the cats. I have a good feeling about this series, too, he said. We will finally get all the code breaking we have complained about. The only reason I don't give this a five star is because of the random plot advancements with little to no explanation. Squirrelflight visiting Starclan seemed to have been randomly thrown out of view of the pilot, and leafpool's death was unexplained all the way around. Squirrelflight's super edition was clearly superior. The only problem I had with the book was that it was so dense, I couldn't read it.
Good book but to predictable

Derived From Web

, Apr 18, 2019

New York Times best sellers "The Fifth Estate" by Michael Connelly and "Open Book" by Stephen King, "were among the first books to hit the stands. Some people say it lacks the spark of the old stories, but I think that people dislike the book because they don't want to let go of the old characters. I really enjoyed this new series, it's beautiful and written well. However, I am giving this a four star because some things are getting predictable, for instance Bristolfrost likes someone else. In past warrior books the first cat they liked did not end up with them, for instance Firestart liked Spottedleaf she died, or Graystripe liked Mr. Hebert's name was "Hethertail." The point is saw it coming from a mile away, its doing it gradually but surely so good book just wish it was a little less predictable.