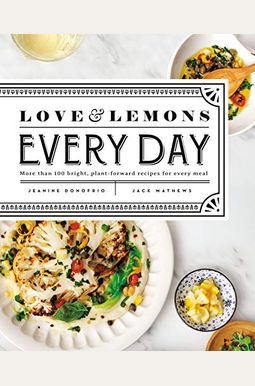 
 
Love And Lemons Every Day: More Than 100 Bright, Plant-Forward Recipes For Every Meal: A Cookbook
Book Overview
The ultimate guide for cooking outrageously delicious, vegetable-packed meals every day of the week, from bestselling author of The Love & Lemons Cookbook.
Known for her insanely flavorful vegetable recipes and stunning photography, Jeanine Donofrio celebrates plants at the center of the plate with more than 100 new vegetarian recipes in
Love & Lemons Every Day
. In this book, Jeanine shows you how to make any meal, from breakfast to dessert, where produce is the star. Butternut squash becomes the best creamy queso you've ever eaten, broccoli transforms into a zesty green rice burrito filling, and sweet potato blends into a smooth chocolate frosting. These exciting and approachable recipes will become instant additions to your family's regular meal rotation. This book is a resource, filled with smart tips for happier, healthier eating. You'll find inspiration from Jeanine's signature colorful infographics - such as a giant matrix of five-ingredient salad dressings, a guide to quick weeknight pastas, and a grid to show you how to roast any vegetable. There are also plenty of practical charts, such as a template to make versatile vegetable broth, seasonal produce guides, and clever ideas to use commonly tossed vegetable parts -- you'll never toss those cauliflower cores, corn cobs, or broccoli stalks again Packed with imaginative every day meals, go-to cooking tips, alternatives for dietary restrictions, and guides for mastering produce-based kitchen staples,
Love & Lemons Every Day
is a must-have for herbivores and omnivores alike.
Frequently Asked Questions About Love And Lemons Every Day: More Than 100 Bright, Plant-Forward Recipes For Every Meal: A Cookbook
Books like Love And Lemons Every Day: More Than 100 Bright, Plant-Forward Recipes For Every Meal: A Cookbook
Book Reviews
(13)
Did you read Love And Lemons Every Day: More Than 100 Bright, Plant-Forward Recipes For Every Meal: A Cookbook? Please provide your feedback and rating to help other readers.
You'll Love this Book !!

Derived From Web

, Mar 11, 2021

A beautiful book. It's great to see people still talking about it. Easy to follow and delicious, these are just a few of the many recipes available on the Web. I Love the PowerPoint presentation and All the Pictures by Robert Hughes. nan
My new favorite cookbook. 💛

Derived From Web

, Sep 24, 2020

Yes, I absolutely love this book. What a wonderful book full of dairy-free recipes, all made with love.
Fantastic Cookbook

Derived From Web

, Aug 11, 2020

I've been following the Love and Lemons blog for a while and I must say, I'm in love! This book is a fantastic introduction to healthy eating, and has some fantastic meal ideas, even if you are not vegetarian.
Ended up returning

Derived From Web

, May 4, 2020

It's a beautiful cookbook but definitely for very advanced cooks and those with a lot of money who live near farmers markets or know how to substitute well. In a conference call, she said, "I didn't really have anything she uses on hand and didn't feel like having to go out and buy a million things."
Yummy

Derived From Web

, Dec 23, 2019

Simply put, these are easy-to-make, but they are also eclectic and tasty enough to delight an expert.
Think I need a magnifying glass

Derived From Web

, Sep 30, 2019

I didn't notice that other reviewers had mentioned the book's small font and color. It's just me, nan But why choose a font that is so difficult to read? The headings are almost as large as the actual pages. The font color is so light and tiny that on white paper, it's hard to read. I still want to eat meat, but I'm not vegan. I don't eat meat every day, but may have eggs and dairy. I'll find ways to use it. The person who bought the first book said they wished they'd read it. I thought the other guy was crazy, too. Even with time, I could always use as a present.
Complicated

Derived From Web

, Aug 19, 2019

I really wanted to love this book. These recipes were tedious and over-complicated, requiring a lot of ingredients that I didn't have on hand.
Amazing

Derived From Web

, Aug 12, 2019

The book is everything I could have asked for! It is beautiful, simple and all the recipes I have tried so far are delicious, Huff said. It's great to hear so many good things about Living808.
Delicious recipes but wish there were more main course options

Derived From Web

, Apr 6, 2019

I love this blogger. Her recipes are consistently unique with fantastic combinations of flavors. I would have liked to see more entrees, rather than chapters on drinks and desserts. It is easy to find solid drink and dessert recipes whereas it is must be more difficult to find vegetarian main courses that are healthy, filling and delicious.
Aaaamazing!!!!

Derived From Web

, Apr 5, 2019

Her second book, "Cookin' It," came out a year ago. I learned to cook with a variety of fruits and veggies. A great book, too, by Robert Mepham. For the past two days I have been reading through the book "Love and Lemons Everyday" by Gillian Flynn. I'm not one to write many reviews, but I must share my excitement for this book, Melissa. It's truly a work of art, from the beautiful pictures and artsy effects to the mouthwatering recipes that inspired me to think outside of the box when it comes to vegetables. My husband is plant-based, so the recipes in here have inspired me to put effort and creativity back into my cooking, Melissa said. I love the fact that the side notes are vegan, too. With so many great recipes, I am excited to try them all. If you enjoy crime fiction, you won't be disappointed.