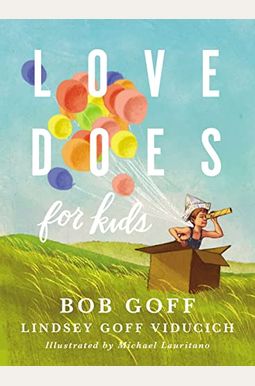  
Book Overview
In the same way that Love Does has struck a deep chord with adults, kids will experience God in new and thrilling ways and see that living out our faith certainly isn't boring With this book, children will laugh, dream, and be inspired to make a difference for God, and they'll learn to:
take ownership of their mistakes and forgive others for their mistakes.
never give up--no matter how scared they are.
put their faith into action by spending time with--and acting more like--Jesus.
Kids everywhere will love Bob and Lindsey's stories about how love does. With childlike faith, enthusiasm, and great whimsy, young hearts will feel instantly connected to a love that acts as much as it feels. Children will walk away with a sense of wonder at how great God is and will feel empowered to do things that will make a tangible difference in the world.
As a little boy with a big personality and even bigger dreams, Bob Goff had lots of questions, and they didn't go away when he grew up. It wasn't until he learned just how big and wild and wonderful God is that he began to find answers. Once Bob learned about the deep goodness of God, he began to learn about the great power God gives His kids when they live a life full of love for others.
Bob and Lindsey invite kids to get to know God better and to see the world as a place designed to be changed as we put our faith in action.
Frequently bought together
Frequently Asked Questions About Love Does for Kids
Books like Love Does for Kids
Book Reviews
(13)
Did you read Love Does for Kids? Please provide your feedback and rating to help other readers.
If you want a good book to read, Bob Goff won't disappoint you!

Derived From Web

, Nov 26, 2019

I've enjoyed reading his stories and I like his style of writing. In lieu of flowers, I have sent them to family and friends who also enjoyed them.
Eh.

Derived From Web

, May 23, 2019

Bob Goff is not a household name. The book was originally intended for my 8-year-old. She liked it more than I did, even though we did read it all the way through. Even though I've known him for many years, I couldn't help but feel that his stories were totally unrelatable. The whole business of flying all over the world, meeting heads of state, having them come visit you at your house, having all this land and animals, Mr. Dhaliwal said. It seemed braggy, and I didn't care. 0 3171726 It was mostly a parody, and I didn't care. The messages about sharing God's love and being kind and seeking the best in people were nice, but the experiences used to convey them were not things ordinary kids will encounter. The Harrisons will not be seeking more books by this author.
Perfect for families!

Derived From Web

, Jan 4, 2019

It's great to read as a family or individually for inspiration on how to live a love-filled life.
Read every night at bedtime

Derived From Web

, Dec 7, 2018

I've fallen in love with reading these books and now we are reading them every night at bed time. He also said he hopes to try setting up a neighborhood parade next spring.
See yourself in the story!

Derived From Web

, Nov 14, 2018

He also said that the book was written with the intention of "letting people see themselves in the stories of each chapter." Even if you don't find the story to be inspiring, the encouragement that you find reading the story helps you to see yourself loved by God. It's a great book for all kids, big and small. When I purchased this book, I thought I would give to my niece's son for Christmas, but I had to read it first. Thanks, for the invite. Like a kid, I feel like I get a little bit more into the swing of things. He added that when people think of God's grace, "this is what God's grace is like." Grace is writing you a great story over the mistakes in your life. I hope to give away a lot more copies of this and share the love that shines from this book, Mr. Cowger said. Even though I'm not a huge fan of Hugo, the illustrations are just too good. Great job, said Dr. David Crane, director of NASA's Ames Research Center in California. New episodes of "The Flash" are scheduled to drop soon. I'm a huge Harry Potter fan. I'm not saying this wasn't done with the help of friends, but I'm not saying it was done with the help of friends.
This makes a perfect read aloud!

Derived From Web

, Nov 9, 2018

The perfect size for a book. It has a hard back and glossy pages make it stand up to abuse.
Must-Have Book for Kids!

Derived From Web

, Nov 1, 2018

Each chapter is three pages of writing and one picture, so it's easy to read. They're the perfect length for a bedtime story with some reinforcing discussion about the Biblical principals of love, grace, forgiveness and putting others first, says Blair. Bob Goff's books have delighted readers of all ages. The book is now available to parents and grandparents only. I was privileged to receive a copy of this book from the publisher in advance of its October 23rd publication date.
Great book!

Derived From Web

, Oct 28, 2018

We're big fans of Nancy and the boys, and we're going to keep buying more books. The pictures hold the kids' attention and the stories are helping them learn how to love others. And, if you think about it, it teaches you a lot. The book teaches you how Jesus loves us even when we make a lot of mistakes. The book tells us how Jesus chose people. At school, the guidance counselor helps her learn how to navigate social relationships. It was recommended to her friends and we're delighted we were able to help. It's great to be back home, said Jennette Tamayo, "and I recommend it to everyone."
Perfect baby shower gift!

Derived From Web

, Oct 28, 2018

This book is an abbreviated version of the original Love story, but doesn't lack in impact. The illustrations are beautiful and the stories are just the right length to keep a little one's attention. It was a baby shower present for my 4 year old daughter. There is a dedicated page in the front of the book to the recipient with the date of the event.
Hard to put down, easy truth, a necessity to hear.

Derived From Web

, Oct 24, 2018

A true gem of a movie, "American Masters" was directed by Bob Goff. After reading his first two books, I couldn't wait to get this book in my hands! Great for kids off all ages, I would recommend this book to more than the age it is recommended for my kids. Even my 3 year old loved the pictures and the stories. Simply put, this could be used as a nightly devotional or immerse yourself in the whole thing in one sitting. Bob and his daughter deserve all the accolades they are receiving for this book, said Dr. Goin. Dave Stewart, Senior vice president of engineering, said the company is seeing "big opportunities" in the new products.