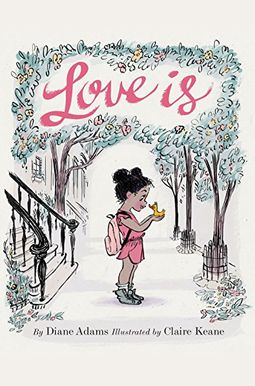 
 
Love Is: (Illustrated Story Book About Caring For Others, Book About Love For Parents And Children, Rhyming Picture Book)
Book Overview
This beautifully illustrated book tells the heartwarming story of a little girl and a duckling, who both grow to understand what it means to care for each other as they learn that love is as much about letting go as it is about holding on. A little girl finds a duckling who has wandered away from the park onto the city streets, and takes it home to care for it. The baby duck requires constant attention--early morning feedings, bathing, and tidying--until the time comes to say goodbye. When her pet has grown too big for the bath, the girl takes the full-grown duck back to the pond. Afterward, she misses it and wonders if it remembers her. One day, the duck comes back--with six ducklings of her own.
- Lyrical text makes the story fun to read aloud
- Teaches responsibility
- Explores the challenges and joys that come with giving and receiving love
Diane Adams is the author of Two Hands to Love You.
Illustrator Claire Keane is the author and illustrator of Once Upon A Cloud and is also known for her development art for the movies Tangled and Frozen.
Fans of Love and Day It Rained Hearts will adore this story.
- Beautiful story for parents and children to share
- Makes a great Valentine or Easter gift for children
- Perfect picture book for children who love animals
Frequently bought together
Frequently Asked Questions About Love Is: (Illustrated Story Book About Caring For Others, Book About Love For Parents And Children, Rhyming Picture Book)
Books like Love Is: (Illustrated Story Book About Caring For Others, Book About Love For Parents And Children, Rhyming Picture Book)
Book Reviews
(14)
Did you read Love Is: (Illustrated Story Book About Caring For Others, Book About Love For Parents And Children, Rhyming Picture Book)? Please provide your feedback and rating to help other readers.
Nice Book!

Derived From Web

, Jan 17, 2022

Bought two copies for my daughter and my daughter-in-law as small gifts for my mother's day. Sweet sentimental story that will resonate with a mom, but will have a less impactful meaning on the child audience for which the book is intended. If your goal is to touch the adult reader more than the child. Beautiful hardcover book with dust jacket, nice illustrations, great gift presentation.
Beautiful

Derived From Web

, Jun 19, 2021

I bought this for my youngest daughter because she is into stories about ducklings. I didn 't realize it, but I couldn t make it through the book without the ugly crying. Now I can 't even look at it without tearing it up. My oldest kid is almost 16 years older than my youngest, so the words about love aging, changing and letting go hard — like really hard. The other day I was FaceTiming my best friend who lost her mother, and my daughter showed her the book and we were both crying. My daughter loves it so that it was a good buy but she has to read it herself.
The sweetest book there ever was...

Derived From Web

, Mar 20, 2021

This is a children's story, but it is touching and meaningful, regardless of age. The storyline is heartwarming and very precious. I have probably shed a tear or two while reading this to my daughter. The illustrations are beautiful, I would love to present this book forever in my daughters'room, because it is so pretty to look at. The book itself is great! Note that the book is softcover, but the only illustration on the outside is that it is on the jacket sleeve. The actual book has no imagery on the outside, so feel free to treat the book jacket gently if you want to stay on! I bought two copies - one for my daughters Valentine's Day Basket and one for our friend's daughter, who is just a few months older. She even resembles the little girl in the book, so it makes it more special to gift. I highly recommend this book to everyone! '' A must-have! Definitely a must-have!
One book has ultimately lead to this book

Derived From Web

, Jan 25, 2021

My favorite book of my daughter had been the Very Hungry Caterpillar since she was 2. She was always fascinated by how a little caterpillar transforms into a beautiful butterfly. We recently received a caterpillar to a butterfly kit and has been very involved. I told her that we would eventually let the butterflies go because they can not live forever with us in our house. She said she did not want to let them go and wanted them to live with her so I bought her this book. This book helped her prepare and understand that we did our part with the Caterpillars and provided them with food and a safe place. But once they are transitioning as butterflies, they are prepared to live out their lives and will be much happier outside the netted cage. She did, but said she would still be very sad. Makes me think that I will go through these same emotions again in 14 years when she leaves the nest to go to college.
Love is cute.

Derived From Web

, Apr 12, 2020

The actual rating is 4.5. The only reason I didn 't give his book a 5 is the confusing depiction of the girl. At some points she seems younger and at other times she appears almost like an adult. Plus, there are no other characters present to compare her. It made me drift away from the cuteness of the story a bit to consider, is this child raising alone a duck or is she a young adult? Nevertheless, I don 't expect this to be an issue for younger readers. Recommended :
Bought one for every mother in my family

Derived From Web

, Jun 16, 2019

I bought this book for Valentine's Day for my baby daughter to read. By the time we got to the end of the book, which was really just the perfect metaphor for motherhood, I knew what to do with all the women in my life for Mother's Day. No one had a dry eye by the time they called or texted me to tell me that it was the perfect gift! The illustrations, which are just beautiful and I never get tired of looking at, were made by the talented Claire Keane, who used to work for Walt Disney Feature Animation.
A heart-warming book for toddlers and caregivers

Derived From Web

, Mar 11, 2019

I bought this book for our February book shelf rotation for our 21-month-old twins. I expected it to be a simple book about love, but it is much more profound. While our girls view the book as a girl's love and care for a little bird, it is actually congruent to the unconditional love of a mother for her children and the loving care required to raise them. Even when we are tired or inconvenienced, we can always get it done. It made me teary, as a mother!
It might make you cry

Derived From Web

, Jan 30, 2019

This book is a sweet metaphor for parenting, which I read especially when I feel stressed and overwhelmed. It is a short and sweet story with a beautiful rhythm that children appreciate, with beautiful illustrations, but ultimately it tells the story of the sacrifices that go into raising something and then letting it go to live its own life. I tear just about every time I read it as I think about the parallels in my little person's life and what it will be like to watch her grow and finally to let her go. Buy it, you 'll love it.
Sweet and poignant new classic...perfect for parents or kids in transition

Derived From Web

, Oct 9, 2018

I bought this book on a whim. A few days later it arrived, poignantly available to guide myself and my family into our new season of my return to career and bringing the kids back to school for the first time. Honestly, I would buy this for grown-up friends who have a child leave the nest, go to school for the first time, or other major transitions in parenting. The illustrations are delightful and adorable. The story is encouraging, I love it. Do yourself a favor and buy this book. My little four-year-old asked me to read it twice in a row.
BEAUTIFUL!!!!

Derived From Web

, Sep 20, 2018

It is one of the most beautiful books I ever saw. It is so well written and delicate. It shows how real and genuine love is. I gave it as a gift and it was so nice to see her reaction when she saw the book.