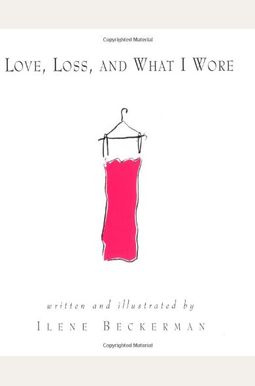  
Love, Loss, And What I Wore
Book Overview
This Description may be from another edition of this product.
Ilene Beckerman has found a way to articulate something all women know: that our memories are often tied to our favorite clothes. In this original and eloquent book, Gingy, as Ilene is called, tells the story of her life through the clothes she wore.
From her Brownie uniform to her Diane Von Furstenberg wrap dress, Gingy offers a closet full of memories. She remembers her prom dresses, her wedding dresses, and her starting-over-her-new-life dresses.
Gingy is Everywoman. She's a wise old friend who's survived divorce, the death of a child, the quirks of friends and family, crushes and heartbreak and bursts of joy and happiness. Like all of us, she likes to look nice while she's pursuing happiness. In Love, Loss, and What I Wore, Gingy invites us to reflect on our own lives and remember what we wore. Her Pucci was a copy and her Rita Hayworth-style strapless was from the Neiman Marcus outlet store, but Gingy is the real thing.
Frequently bought together
Frequently Asked Questions About Love, Loss, And What I Wore
Books like Love, Loss, And What I Wore
Book Reviews
(10)
Did you read Love, Loss, And What I Wore? Please provide your feedback and rating to help other readers.
Ahead of its time

Derived From Web

, Feb 14, 2022

This is a really innovative and clever book that leaves you wishing for more than the brief dialog that accompanies the simple drawings of what the author wore at various times in her life. This accidental best- seller is a gift to a wide range of readers, because the author never intended it for a wide audience. Ms. Beckerman was ahead of the times in putting this personal illustrated journal together, and the simple dialog only barely hints at what could have been a full length novel about losing her mother and her father. In keeping it bare bones, it's a very quick read and a glimpse into her life. Hats off to her for her creativity.
Splendid!

Derived From Web

, Feb 14, 2022

I bought Love, Loss, and What I Wore because of great word- of- mouth. It was on my wish list. I was quite disappointed when I finally ordered it. The book is not what I expected. I read the whole thing in a few minutes. The book looked like a kid's book to me, but as I began to read, it became more meaningful. I recall many special or not- so- special outfits that I wore. Since reading this book, I have begun to realize how much was represented by my changing attire, as it reflected my life changes. I felt connected to the author as I read the book. She gave me a deeper understanding of myself. Excellent! You should be aware that this book may not be what you expect, but once you start reading and looking at the pictures, you will feel moved, as I did.
to do a good job. People don't realize what others may be ...

Derived From Web

, Feb 14, 2022

It was a clever way of writing a personal history. It shows that anyone can do a good job, and that they don't have to be a professional writer to do it. It was a clever way of showing what can be done, because people don't realize what other people are interested in. Her descendants will be very happy with this book.
Mostly what she wore

Derived From Web

, Feb 14, 2022

This book is small. I went to live with my aunt and uncle after my mother died, but it was mostly about clothes. As I read the book, I found it enjoyable, but it left me with a slight dislike for a nihilistic flavor.
Disappointing

Derived From Web

, Feb 14, 2022

I couldn't wait to listen to the radio and listen to the talk of the book by Nora Ephron. I thought that the early segments would lead up to the real meat and potatoes of Beckerman's story. This never happened. The writing was shallow for me. Nothing materialized when I kept waiting for the recollections. The passages were so brief and dry that I was not expecting them. I didn't like the hand drawn pictures because of the resolution on my e- book. Too bad.
Disappointed

Derived From Web

, Feb 14, 2022

This was going to be a discussion about a trail of relationships, disappointments, greatest loves, and the outfits that offer a reminder of those times. It's like going through your closet and remembering what you wore last time. This was a recap of a few events that were boring and uninteresting. I had to finish it and give it to an older person who would appreciate it.
A pleasant, quick little read but not for Kindle

Derived From Web

, Feb 14, 2022

The book was very enjoyable for me. It was fun to read this woman's life story through the clothes she wore. I wanted to know more about her life because of her direct style. It was a very quick read, but that doesn't detract from what is presented. I can't but think that it would be more enjoyable in print or on a fire if it were written in a book.
At least it's short?

Derived From Web

, Jan 8, 2021

There was a list of 1,000 books to read before you died. I don't know why this book made the list. It takes about 30 minutes. There is no real bond between the story teller and the illustrations that are nice. You get the life story and there are definitely serious moments of loss, but they just get thrown in along with what she wore- you don't really get to feel any of those losses as it just reads so cold and emotionless
Just clothing.

Derived From Web

, Feb 22, 2020

It wasn't much about her. What number of children are there? Not a word about how she felt when she was pregnant, or when she was divorced and unable to buy nice clothing.
Charming and Enchanting

Derived From Web

, Apr 30, 2017

Over the course of twenty years or more, this book has been beloved by millions. I' ve read it a lot. The writer was growing up in New York City after her mother died and her father left. She lived with her aunt and grandmother. Every story has a drawing of her clothes. Through her life as an adult wife and mother, the stories continue.