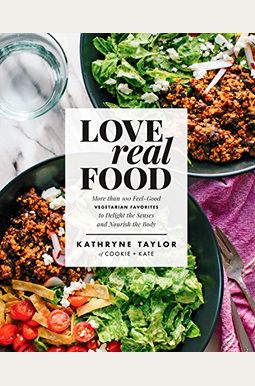 
 
Love Real Food: More Than 100 Feel-Good Vegetarian Favorites To Delight The Senses And Nourish The Body: A Cookbook
Book Overview
Learn to eat well with more than 100 approachable and delicious meatless recipes designed for everyone--vegetarians, vegans, and meat-eaters alike--with substitutions to make meals special diet-friendly (gluten-free, dairy-free, and egg-free) whenever possible.
The path to a healthy body and happy belly is paved with real food--fresh, wholesome, sustainable food--and it doesn't need to be so difficult. No one knows this more than Kathryne Taylor of America's most popular vegetarian food blog, Cookie + Kate. With brand-new, creative recipes, Taylor inspires you to step into the kitchen and cook wholesome plant-based meals, again and again. She'll change your mind about kale and quinoa, and show you how to make the best granola you've ever tasted. You'll find make-your-own instant oatmeal mix and fluffy, naturally sweetened, whole-grain blueberry muffins; hearty green salads and warming soups; pineapple pico de gallo; healthier homemade pizzas; and even a few favorites from the blog. Of course,
Love Real Food
wouldn't be complete without plenty of stories starring Taylor's veggie-obsessed, rescue dog sous-chef, Cookie Taylor celebrates whole foods by encouraging you not just to eat this, but to eat
like this.
Take it from her readers: you'll love how you feel.
Frequently Asked Questions About Love Real Food: More Than 100 Feel-Good Vegetarian Favorites To Delight The Senses And Nourish The Body: A Cookbook
Books like Love Real Food: More Than 100 Feel-Good Vegetarian Favorites To Delight The Senses And Nourish The Body: A Cookbook
Book Reviews
(11)
Did you read Love Real Food: More Than 100 Feel-Good Vegetarian Favorites To Delight The Senses And Nourish The Body: A Cookbook? Please provide your feedback and rating to help other readers.
Great recipes, beautiful photos and a great gift!

Derived From Web

, Feb 27, 2022

The recipes in this book are healthy, not very difficult and very delicious. All are vegetarian, but my husband, who hates rabbit food, loves the dishes I make using these recipes. One great feature is that Kate offers many suggestions to use as alternates if you don 't have the listed ingredients. Don 't you hate when you're all ready to make a recipe and one or two ingredients are missing? I do! By the way, Cookie is the author and Kate is her adorable dog! This book makes a very attractive, useful gift.
Outstanding!

Derived From Web

, Jan 27, 2022

This cookbook has it all : Approachable, delicious recipes that the whole family will enjoy. From my picky husband to my meat-loving 4-year-old, I enjoyed everything I made from this cookbook. Recipes are well written, easy to follow and so flavorful. I also appreciate the alternative and options included. I hope Katherine will write another! I hope Katherine will write another!
We're hooked on this book!

Derived From Web

, Jun 30, 2020

Purchased this as a gift for my wife. A complete home run home run. She loves it!! She has already made a number of dishes from the book, and we enjoyed every one of them. The author really has done a great thing for heathy eating with this book. If you are in search of a healthy eating lifestyle, highly recommend this book if you are looking for a healthy lifestyle. We're hooked by this book.
The only Cookbook you need!!

Derived From Web

, Jun 16, 2020

I first checked this cookbook from the library because I hate when you buy a cookbook, but you only find one recipe that you like. Well, I kept renewing Kate's cookbook and decided that I needed a copy of my own. There are so many amazing recipes out there. The two pancake recipes are the BEST EVER and then I made the waffles - also AMAZING. The creamy arugula, the goat cheese and the Tomato Pasta Salad is to die for, as is the easy carrot cake and the Veggie Lasagna. I could go on, but you won 't be disappointed. This is a great way to start moving towards a more plant-based eating plan.
One of my favorite cookbooks!

Derived From Web

, Mar 10, 2020

We are not vegetarian, but we decided to add a few more plant-based meals to our diet. I had made a sweet potato enchilada off her blog, so I decided to give her cookbook a chance. And wow! And Wow! '' And Wow! I made 10 recipes from the cookbook and they're all amazing. The flavors are delicious, the ingredients aren't too crazy and the preparation isn't insane. Everything seems to take between 45 minutes and an hour, but luckily a lot of it is hands-off oven time. I have already about a million tabs in the cookbook of things I'd like to cook. The best thing is that everything is so flavorful that we don't even miss the meat! Highly recommended this one. Highly highly recommended. I can 't wait to cook more from it.
Just not for me

Derived From Web

, Dec 1, 2018

Less than a quarter of the book is dinner recipes. I am looking for ways to add more vegetables to my daily life, but I don 't consume a lot of snacks, desserts, breakfasts or party drinks, and I don 't want to soak cashews all the time, so that cookbook won 't get much use. The prep time is not listed, so you have to read through the entire recipe to figure out how long it will take. The positives are that there are a few recipes I would like to try and the book is beautiful.
Best cook book ever

Derived From Web

, Sep 15, 2018

The title says it all says. This is the best cook book ever written. Vegetarian or not vegetarian. We've now made about half the recipes in the book, and all but maybe one is now some of our very favourite recipes ever. Everything has been so delicious. And we can 't wait to make the rest of the recipes too. We're thinking of buying another copy and storing it somewhere safe just to make sure we always have this book, as we couldn t live without it! Overall, the recipes are really quite easy to make, and is great. I find some recipes take slightly longer than some recipes out there, but great food takes time, so no worries! Thank you Kate for making such a great book and changing the way we eat! ! !
Let's just say that now this is my new favorite book and she really liked the pajamas that I ...

Derived From Web

, Dec 28, 2017

Originally, I received this as a Christmas present for my sister, then I got it in the mail and tried a few of the recipes for myself. Let me just say that this is my new favorite book and I really liked the pajamas I bought, but I eat a lot of dishes made with healthy and real foods and try only one dish that contains meat. My meat and potatoes husband even loves these recipes, which is good because he is also diabetic with heart problems and is supposed to eat foods with high nutritional value, lots of vegetables and complex carbs whole grains. I would recommend this book to everyone who loves eating real food made with tasty, nutritious ingredients. Well done!
I love this cookbook

Derived From Web

, Dec 2, 2017

I love this cookbook! I love it! I have made a few cookie and kate recipes from her blog and eagerly awaited this cookbook. So far, I have made the gluten-free waffles and the tofu rice and roasted veggie bowls. The waffles were amazing and so healthy! I have made them twice now and I double the recipe and freeze the extras for easy weekday breakfasts for my children. The bowls were also amazing-it was the first time I ever got my Hubby to eat Tofu! , the bowls were also amazing - it was the first time I ever got my hubby to eat the amazing tofu! I love that she uses simple ingredients that are easy to find. The recipes are easy to prepare, healthy and delicious. I bought this cookbook for my three sisters in law, I love it so much I love it.
having this cookbook has been AMAZING. Every recipe I have tried (minus one that ...

Derived From Web

, Aug 18, 2017

My family are meat eaters, however, we have found ourselves cutting a lot of meat and increasing our vegetables. With the garden in full swing, having this cookbook has been AMAZING. Every recipe I have tried has been incredibly DELICIOUS! I am recommending this book to any foodie that I am friends with. CLEAN - Food is the best thing anyone can do for their bodies and health, nutritious and made from scratch. This book helps healthy food's bad rap of being like tasteless paper -- it is bursting with flavors. I even started eating vegetables that I normally would pick out of my food because they go so well with the other flavors of the recipe. My husband's favorite is tacos fried beans, Kale slaw and roasted vegetables, although I made the butternut chili last night and may be the new favorite. Try it - you won t be sorry!