Cyber Week Deals
Cyber Monday Deals are Here! Save 20% on All Books Under $10 - Code CYBERBOOK Learn more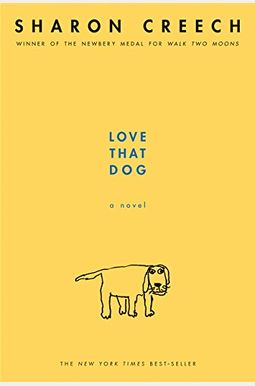 
 
Book Overview
This Description may be from another edition of this product.
The Newbery Medal-winning author of Walk Two Moons, Sharon Creech, brings readers a story with enormous heart. This middle grade book is an excellent choice for tween readers in grades 5 to 6, especially during homeschooling. It's a fun way to keep your child entertained and engaged while not in the classroom.

Love That Dog shows how one boy named Jack finds his voice with the help of a teacher, a pencil, some yellow paper, and of course, a dog. Written as a series of free-verse poems from Jack's point of view, and with classic poetry included in the back matter, this novel is perfect for kids and teachers, too.
Jack hates poetry. Only girls write it and every time he tries to, his brain feels empty. But his teacher, Miss Stretchberry, won't stop giving her class poetry assignments--and Jack can't avoid them. But then something amazing happens. The more he writes, the more he learns that he does have something to say.
I guess it does
look like a poem
when you see it
typed up
like that.
Frequently bought together
Frequently Asked Questions About Love That Dog

Book Reviews
(13)
Did you read Love That Dog? Please provide your feedback and rating to help other readers.
Written by Ms. Jo's 3rd Period Class !!

Derived From Web

, Apr 20, 2022

One is a story in poetry and the other is a story about poetry. When his teacher, Ms. Stretchberry, wants to put his poems on the board, he asks her not to put his name on them. Throughout the school year, Mrs. Evans reads many poems by different poets. Eventually, he reads a poem by Mr. Walter Dean Myers that inspires him to express his feelings about his dog, Sky. In his book, "Love That Dog," Raymond said it teaches you that it's okay to write poetry about how you feel. Don't try to do something until you actually try. This book is better than the original Langston Hughes book and edited by Patrice Vecchione. It's great to hear your voice again and again."
Great book

Derived From Web

, Apr 20, 2022

SmashMouth's Web site says: "Sneak attack to poetry." I would suggest it to anyone who teaches adolescents or young adults. Anyone can write.
Wanna cry?

Derived From Web

, Apr 20, 2022

A couple of things: First, I must admit that I am a huge fan of James Dean. It's just that sad. It's great for teachers and parents to read to their children. Great to use with poetry lessons.
Purchased for school district

Derived From Web

, Apr 20, 2022

The school district purchased the bus from the city. Only in the past few weeks have I heard complaints about the purchase.
Loved it

Derived From Web

, Aug 27, 2021

I have enjoyed every book I have read that Sharon Creech has written, Mary Beth Turner said. This was a different style of music than I'm used to but still just as good.
Perfect for teaching poetry to my 4 + 5th grade students

Derived From Web

, Jul 28, 2021

The book is a collection of short stories by the writer over the course of a year. Through the course of the book, he is introduced to many kinds of poetry, through which he explores and uses as a guide. One may, for example, take classes that follow the same format. It is honest, funny, and moving, Levine said.
Deliciously sad

Derived From Web

, May 24, 2021

I read this to my class and found myself crying, Scholastic said. It was a delight to be back home, said Blair.
If you want your kid to hate poetry buy this

Derived From Web

, Jan 8, 2021

A dog is defined as a "living, breathing, and often witty" hybrid of horse and human. Bad book to teach poetry. Really bad book. Now I have to get some real poetry out there as a comparison point so my kid doesn't hate poetry, Mr. Booher told us. No idea of why this book has so many positive reviews even the first few lines about poetry being for "girls" is offensive and the author with no irony goes on to reference poems by men. Yes, you can probably teach some actual poems by authors that are readily accessible to children. There are many, many, many more.
Wish it were longer, but it's still so good

Derived From Web

, Aug 9, 2020

Thanks for the tip. It's a fast read, comforting read, Thibault said. Bonus: It reminds you that more things are poetry than you think. I thought the poem would be included as an appendix. It's just that the kindle says it has no such books.
Becoming a fan of Sharon Creech

Derived From Web

, Dec 22, 2019

I use this book to teach poetry because the narrator has a heartbreaking story to tell and he does it by not writing poetry or does he since Ms. Stretchberry encouraged him to write down his feelings. He meets Walter Dean Meyers, a writer who later becomes his wife. What a great lesson we can learn from the French, Sir Richard said.