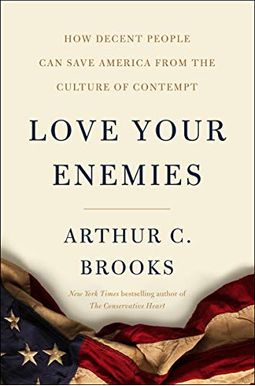 
 
Love Your Enemies: How Decent People Can Save America from the Culture of Contempt
Book Overview
This Description may be from another edition of this product.
To get ahead today, you have to be a jerk, right?
Divisive politicians. Screaming heads on television. Angry campus activists. Twitter trolls. Today in America, there is an outrage industrial complex that prospers by setting American against American.
Meanwhile, one in six Americans have stopped talking to close friends and family members over politics. Millions are organizing their social lives and curating their news and information to avoid hearing viewpoints differing from their own. Ideological polarization is at higher levels than at any time since the Civil War.
America has developed a culture of contempt--a habit of seeing people who disagree with us not as merely incorrect or misguided, but as worthless. Maybe you dislike it--more than nine out of ten Americans say they are tired of how divided we have become as a country. But hey, either you play along, or you'll be left behind, right?
Wrong.
In Love Your Enemies, New York Times bestselling author and social scientist Arthur C. Brooks shows that treating others with contempt and out-outraging the other side is not a formula for lasting success. Blending cutting-edge behavioral research, ancient wisdom, and a decade of experience leading one of America's top policy think Read More chevron_right
Frequently bought together
Frequently Asked Questions About Love Your Enemies: How Decent People Can Save America from the Culture of Contempt
Books like Love Your Enemies: How Decent People Can Save America from the Culture of Contempt
Book Reviews
(11)
Did you read Love Your Enemies: How Decent People Can Save America from the Culture of Contempt? Please provide your feedback and rating to help other readers.
So Important for our Time

Derived From Web

, Nov 16, 2021

He advocates for love, understanding, and kindness, something our country desperately needs. I recommend this book to everyone, it is thought-provoking and well worth your time.
A brilliant read

Derived From Web

, Jun 1, 2020

In these times when it seems so hard and unpleasant to talk across the aisle, Arthur C. Brooke's words brought me great comfort and a path forward. I long to have real conversations where we discuss ideas, not expulsions of nastiness and character assassination, Raymond said. I want to understand why other people have the opinions they do, but find it so few are willing to discuss them. That leaves us both guessing as to each others motives and values. Love Your Enemies is a beautiful alternative, and is well worth reading, and then practicing. Please read it and give it a try!
The culture of contempt is bad for our future, let's discuss ideas better.

Derived From Web

, Jan 6, 2020

It's a must read for everyone on the right or left concerned about the future of America. Practical advice for how to open the marketplace of ideas up to everyone and still be a decent person, he said. Read this book before your next family reunion.
A good book for what ails us in political discourse

Derived From Web

, Dec 28, 2019

This is a beautiful book. If more people adopted Brooks' message, it would do much to heal the wounds of political divisiveness in this country, he said.
Better disagreement, not less, is how we can improve America

Derived From Web

, Dec 5, 2019

Arthur Brooks may be one of the people I agree with most ideologically, both in regard to economics and politics. If you are tired of the current polarization in America and feel lost without a political home, this book is for you. If you feel like the other side is stupid and reprehensible, this book is for you. We should always treat the people's ideas differently from how we treat the people. No one has insulted the intelligence of this group. We change minds but change hearts, starting with our own.
Countercultural

Derived From Web

, May 28, 2019

In his book, "Youremies How Decent People Can Save America from the Culture of Contempt," Arthur C. Brooks offers a prescription to bring Americans together. Polarization has led most of us to associate exclusively with those with whom we agree and to demonize those who have different views. He encourages readers to join him in a countercultural call to action: "Go find someone with whom you disagree. thoughtfully listen, and treat him or her with respect and love. The rest will naturally flow from there, Brooks said. Five-star rating.
Best and most timely book of the year

Derived From Web

, Apr 20, 2019

He calls us to end our addiction to contempt and gives us the way out of our current divisive culture. So well done it has become my favorite book of the year, even better than the book I released this year! Buy this book, read it, apply it. Our nation will be better for it.
We need this

Derived From Web

, Apr 7, 2019

America needs that message. The hate is everywhere. He is advocating that we start to disagree with kindness and respect. He points out how USA is trending to dehumanize anyone who disagrees with our viewpoint. Its almost like... oh my a liberal, your a monster, or vice versa. He also points to something that I think is really brilliant. He said you will never insult anyone into agreement. The Harrisons are legendary for saying things like, "There's just too many liars." When people sling mud, everyone ends up dirty, and people get more set in their views, he said. Whether you are a Democrat or a Republican, this is a book we all need in our lives. I need to get the audio version and listen to it in LA traffic!
Unique viewpoint

Derived From Web

, Mar 28, 2019

Arthur Brooks has a unique viewpoint that allows for civil discussion, even if that means disagreeing with his point of view.
Another timely gem from Brooks

Derived From Web

, Mar 27, 2019

I am a Brooks boy fan. From his first book on charitable giving to his insightful coverage of human happiness as it pertains to utility and earned success he has touched my mind and my heart. This book could not be more timely. In this contentious, even fractious time, a roadmap to not just tolerating but loving and respecting our ideological counterparts might well be the most important tool many of us could use to reduce the anger and anxiety of the seemingly endless arguments on social media and our televisions. With a light touch and sound wisdom, Brooks provides just that. READ IT: http://www. thehindi. com/news/20...