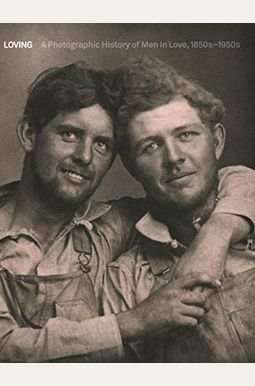 
 
Loving: A Photographic History Of Men In Love 1850s-1950s
Product is currently Out of Stock.
You can add it to your wishlist and you will be notified once we receive a copy.
Book Overview
Loving: A Photographic Story of Men in Love, 1850-1950 portrays the history of romantic love between men in hundreds of moving and tender vernacular photographs taken between the years 1850 and 1950. This visual narrative of astonishing sensitivity brings to light an until-now-unpublished collection of hundreds of snapshots, portraits, and group photos taken in the most varied of contexts, both private and public. Taken when male partnerships were often illegal, the photos here were found at flea markets, in shoe boxes, family archives, old suitcases, and later online and at auctions. The collection now includes photos from all over the world: Australia, Bulgaria, Canada, Croatia, France, Germany, Japan, Greece, Latvia, the United States, the United Kingdom, Russia, and Serbia. The subjects were identified as couples by that unmistakable look in the eyes of two people in love - impossible to manufacture or hide. They were also recognized by body language - evidence as subtle as one hand barely grazing another - and by inscriptions, often coded. Included here are ambrotypes, daguerreotypes, glass negatives, tin types, cabinet cards, photo postcards, photo strips, photomatics, and snapshots - over 100 years of social history and the development of photography. Loving will be produced to the highest standards in illustrated book publishing, The photographs - many fragile from Read More chevron_right
Frequently Asked Questions About Loving: A Photographic History Of Men In Love 1850s-1950s
Book Reviews
(11)
Did you read Loving: A Photographic History Of Men In Love 1850s-1950s? Please provide your feedback and rating to help other readers.
The Sweetest Photographs

Derived From Web

, Mar 30, 2021

Our products are backed by a 10-year warranty. If you want to know more about the Civil War, this book is for you. A passionate reader, I cannot recommend this book highly enough. This is a great addition to any coffee table.
A well-made, well-written, and beautiful book

Derived From Web

, Mar 14, 2021

This book is a beautiful collection of photographs of two masters of the English language, Robert Louis and William Morris. Some may be gay couples, or at least gay couples in history. Clearly, it shows that two men are willing to have their picture taken together and often being quite affectionate. 0 2622010 It also suggests that two men are willing to have their picture taken together and often being quite affectionate. There is also a wonderful narrative at the beginning of the book to read and enjoy.
A very unusual collection of photos

Derived From Web

, Mar 3, 2021

It is surprising that men would record their affection for another when the moral compass of the world would be so against it. What a great deal of insight! I wish each picture had a date, rather than a catalog at the end of the book.
Love is love.

Derived From Web

, Mar 3, 2021

A wonderful history of men with great passion and love for each other, Raymond said. This is a great collection of Beatles. Thanks to the collectors, we have this great collection of rare coins.
Wonderful collection

Derived From Web

, Feb 15, 2021

It's great to have old-fashioned photo reproductions. I have a few similar tins from my family. I would say that the book helped me understand them.
Gurrrrl, you need this coffee table book

Derived From Web

, Jan 1, 2021

Very honest and sincere emotions are reflected in these photographs. He gave it to a very close friend as a holiday present. He cried as he sat down and looked at the pictures. Strong and relatable images of people and places. Very sensual but not pornographic, said Brigitte Nielsen, a spokeswoman for the French embassy. It's great to be back home, said Blair. Thanks for the support! To all those involved in the book's creation, distribution and sale: thank you.
Love is Love

Derived From Web

, Nov 6, 2020

He added that the Beatles were "the greatest rock band of all time." Thanks to Neal and Hugh for compiling a beautiful, haunting, glorious celebration of long ago love that transcends time.
Fascinating and Precious

Derived From Web

, Nov 4, 2020

I'm a huge fan of Saul Bellow's work. I'm still not certain who these guys are, or what they looked like. Their love survived, but not their marriage. I look at them and see faces that look like they are a product of their time, and some who look like they could have been plucked off an Instagram account today, Young said. And I see myself in them, too. Beyond being a book of touching images, it says that same-sex love is real and has been with us throughout history. Now, with photographic evidence, we can point to it and say it's real, and it has always been. It can't be denied. It can be erased, but not before the damage has been done. It can't be dismissed. However, it can't be legislated away. It can't be argued that it doesn't occur naturally. If there was a second edition of this book, I would definitely order it.
Beautiful printing of a superlative collection

Derived From Web

, Oct 24, 2020

This is an absolutely incredible collection, and I'm so grateful for all the care and effort that was put into amassing and preserving these pictures, as well as making them available to everyone, Garton said. There are such a wide variety of subjects and so many stunning photos that it's honestly hard to put down, and the printing and binding are excellent too.
Beautiful - both the book itself and, especially, the men depicted

Derived From Web

, Oct 16, 2020

When I found out that Amazon had delivered my pre-order of this amazing book, I immediately went upstairs to retrieve my parcel. Part of that was to examine the fastidious and dedicated collecting work put in by Mr Nini and Mr Treadwell. Mainly just to see both the images I'd never seen and to revisit those I had liked most, Raymond said. This is a volume that will last for decades - like the loving and much loved photographs it celebrates, said Gillian Kent, director of the Peabody Essex Museum. It's hard to pick just one favourite, but this one stands out. It's just that I'll cherish it.