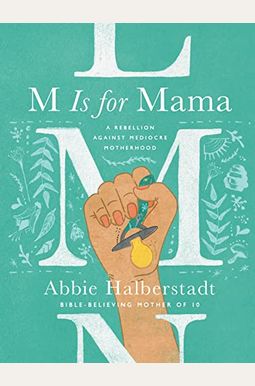 
 
M Is for Mama: A Rebellion Against Mediocre Motherhood
Book Overview
Mother of ten Abbie Halberstadt helps women humbly and gracefully rise to the high calling of motherhood without settling for mediocrity or losing their minds in the process.
When it comes to being a good mom in today's culture, the bar is set embarrassingly low, especially when compared to God's standard. Mere survival is seen as a badge of honor and hanging on 'til wine-o-clock a goal to be strived for.
As a daughter of Christ, you have been called to be more than an average mom. Attaining excellence doesn't have to be unsettling but it will take committed focus and a desire to parent well according to God's grace and for His glory.
M is for Mama offers advice, encouragement, and scripturally sound strategies seasoned with a little bit of humor to help you embrace the challenge of biblical motherhood and raise your children with love and wisdom.
Mom, you are worthy of the awesome responsibility God has given you. Now it's time to start believing you can live up to it.
Frequently Asked Questions About M Is for Mama: A Rebellion Against Mediocre Motherhood
Book Reviews
(17)
Did you read M Is for Mama: A Rebellion Against Mediocre Motherhood? Please provide your feedback and rating to help other readers.
Catholic mom recommends this book

Derived From Web

, Feb 15, 2022

I bought this book because I like the attitude of the author towards motherhood. After the birth of my youngest this past April, I found myself with some pretty severe postpartum depression. I felt like I was spending too much time with my child when I just wanted to curl up under a blanket. I needed to get some exercise, sleep, and encouragement. This book made me think about my reasons for being a mother. It was full of practical advice and it was my favorite. This book was a revelation to my soul because of the Scripture. I am a traditional Catholic and there is no hostility towards us here. You can read the book, meditate on the Scripture passages, and take Abbie's encouragement. It's a great gift for mothers.
Just the push I needed…

Derived From Web

, Feb 11, 2022

If you enjoy or are content with being mediocre, this book isn't for you. It is likely to hurt your feelings. Every Christian mom needs to read this book. If you want to be better and push yourself to be a more present mother, this book will make you realize and come to terms with the areas you are falling short. Seeing that I often times fell under the "Mediocre Motherhood" heading didn't surprise me but seeing it in black and white made me rethink my recent laziness, making excuses, and just not being the best mother I know the Lord created me to be. The book is different from the one that says everything is ok and your kids will be bad. I need a push, not coddled, and told I am doing fine even when I am not. This book is more than I anticipated.
Refreshing perspective on motherhood

Derived From Web

, Feb 3, 2022

I was not going to read the book because I was following him on IG. I was curious to read the book and wanted to support her efforts after a few months of enjoying the content of the book. This book has changed my mind. I have been miserable in the current culture of motherhood and it is refreshing to know how different it can be. She also offers practical examples from her own life as a mom. The summary and prayer at the end of each chapter is my favorite part of the book.
Every mama needs this

Derived From Web

, Feb 2, 2022

Abbie has a way with words and is able to relate to you in all the stages of motherhood. You will be left feeling inspired by the perspective she gives. I promise you will not regret it.
Perspective shift I desperately needed

Derived From Web

, Feb 1, 2022

This book is one of the only Christian non-fiction books that I have been able to finish in less than a week. The Lord did a lot of work on me during that time. I have been challenged in my way of thinking and approach to motherhood, I have been challenged in my faith, and I have been challenged in who I am. scripture and scriptural truths are relied on very heavily by Abbie. If you are willing to let God convict and humble you, this is the book for you. I ordered two more copies of the book for friends, and I hope that it will change the way we approach parenting.
No more mediocre motherhood!

Derived From Web

, Feb 1, 2022

This book is a breath of fresh air, as a first time mother in a world of silly videos about what being a mom is like. Abbie encourages the reader to strive for more than mediocrity and to live out Biblical motherhood. This book should be on every Christian mama's bookshelf. Whether you are a new mom or a seasoned one, this book can give you some insight.
A must read for all mamas!

Derived From Web

, Feb 1, 2022

I like the book by Abbie. I am a mom of 2 and I want a book written by someone who has more experience with mom life. M is For Mama was exactly what I was looking for. It is important that the biblical truth is backed up by the writing of Abbie. It makes me want to be a better mom who can help my children. It reminds me that my job as a mother is a gift from God, and that my job is not mediocre. I recommend this book to all my mom friends because it makes you think and laugh.
Mama, you need this book.

Derived From Web

, Feb 1, 2022

Christian mamas get their knowledge and wisdom from God's Word, but what about the little things in life? A lot! There are practical tips that you can use in your mothering journey today and in your spiritual journey for a lifetime. You will want to read it over and over. Like talking to a friend.
Best Motherhood Book

Derived From Web

, Feb 1, 2022

This book was great. There are tips on how to live a full life as a mother. This isn't a how to parenting book, although she does share some tips, but more of challenging the reader to look closely at heart of the oneself and realize that Motherhood is more than tending to kids and drinking wine because of how miserable we've made the profession of Motherhood.
A challenging and encouraging book of mothering wisdom for Christian mamas.

Derived From Web

, Feb 1, 2022

Buying this book was a no-brainer, but I'm still amazed at how great it is. It is all the wisdom and fun I love from her, gathered in a beautiful book. I need to surround myself with women of the same mindset, and that is exactly what this book does for me, because I am not alone in following it. It's fun, but it won't leave you in the dark. M Is For Mama is a great resource as we seek to mother well for His sake and in his power.