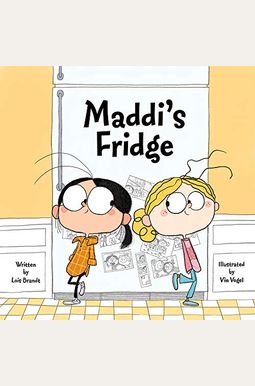 
 
Book Overview
Winner of:
2014 Christopher Award, Books for Young People
2014 ILA Primary Fiction Award
2015 MLA Mitten Award Honor
Human Rights in Children's Literature Honor
With humor and warmth, this children's picture book raises awareness about poverty and hunger
Best friends Sofia and Maddi live in the same neighborhood, go to the same school, and play in the same park, but while Sofia's fridge at home is full of nutritious food, the fridge at Maddi's house is empty. Sofia learns that Maddi's family doesn't have enough money to fill their fridge and promises Maddi she'll keep this discovery a secret. But because Sofia wants to help her friend, she's faced with a difficult decision: to keep her promise or tell her parents about Maddi's empty fridge. Filled with colorful artwork, this storybook addresses issues of poverty with honesty and sensitivity while instilling important lessons in friendship, empathy, trust, and helping others. A call to action section, with six effective ways for children to help fight hunger and information on antihunger groups, is also included.
Frequently Asked Questions About Maddi's Fridge
Books like Maddi's Fridge
Book Reviews
(10)
Did you read Maddi's Fridge? Please provide your feedback and rating to help other readers.
poignant but uplifting

Derived From Web

, May 13, 2022

This was a very child friendly way to introduce the concept of want and need. With this book, my child had a real eye-opening moment. It started a whole discussion about are there people like this around us? And what can I do? The way the author takes two very different girls and shows that they can have two very similar background situations that are very much out of their control heartfelt, but so on point. And is nowadays seen too often. I believe that this is a book that should be made a childhood must-read.
What an amazing book

Derived From Web

, May 13, 2022

What an amazing book! I read it right to my 7 year old daughter and made a connection with her right away. She wanted to talk about the girls involved and the problems that people have. The theme in the book is one we've talked about with her for years, but it was so great to see what kind of impact this story had on her. When children don 't know someone who is personally affected by hard times, it is easy for them to ignore it.
So important

Derived From Web

, May 13, 2022

This is such a great book to give children an important introduction into poverty and meaning what it means at such a basic level that children will understand. There is also an important lesson on keeping secrets and when it is ok to not. Plus the message about what means being a friend. He missed things in the book that I picked up. A good book, but feel serious.
Engaging and Inspiring

Derived From Web

, Jun 16, 2020

I read it just with my four-year-old son. It is preachy rather than engaging. It highlights a problem that every kid can see is a problem-an empty fridge and tells it from the perspective of a kid trying to help a friend. The last page includes suggestions on how to help people with empty fridges, and my not-usually-empathetic son was immediately inspired to run to our pantry to get help. There is also a side plot that emphasizes perseverance, as the fed kid encourages the hungry kid to keep climbing the rock wall at the playground. Highly recommended!
An important story about empathy and friendship.

Derived From Web

, Jan 10, 2020

I read this book just yesterday and I received it to my 4 year old daughter. At the end, I fought back tears. It combines a serious theme in a way that is understandable and relatable to a child. It was the first book she asked to read tonight and she'd ask me as we were reading if certain foods were okay for a backpack.
Highly Recommend!

Derived From Web

, Oct 2, 2019

Well done, really. An engaging and fun story about a serious theme. Here there are several great lessons to be learned. I highly recommend ''. The illustrations are really fun and super detailed.
Used in my classroom

Derived From Web

, Sep 29, 2019

I've taught a class called Cooking for a Cause, where students cook of grade 3-7 and then donate food to organizations that help those who are experiencing food insecurity or homelessness. Even those who enjoyed the book in the 7th grade, enjoyed it.
Sweet book with an important message

Derived From Web

, Jan 4, 2019

We bought this book to try and help our 3.5 year old understand that not everyone has her own level of privilege. She is slightly on the young side to grasp the totality of the concept, especially after reading it a few times, but after reading it a few times she understood the major themes in the book and the different lives of the characters. The humor in the book is a nice way to walk a difficult line on a beautiful topic with a youngster.
Awesomeness!!!!

Derived From Web

, Apr 27, 2018

This book was very cute... what a nice way to let children know that everyone doesn 't have much money at home and may not have much food.
Finally a book that addresses a serious subject and a funny and relatable way.

Derived From Web

, Feb 22, 2018

It teaches a very important lesson without hitting the kids over the head with the message. In short, the two girls are friends who play together every day and while visiting Maddi's home, the other girl realizes that Maddi has no food. From that point, the other girl tries to help with hilarious results until finally she involves her mom. My son really enjoyed the story, laughed at the kid's antics and easily understood the message. As an added bonus, the author explains basic nutrition in the story line in a way that children can understand. I also love that Maddi is a very good character and a very strong role model and friend despite being food impoverished.