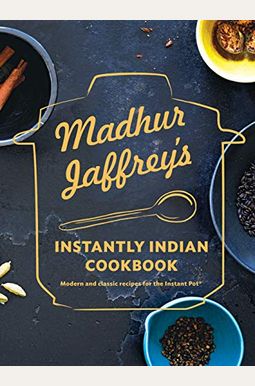  
Madhur Jaffrey's Instantly Indian Cookbook: Modern And Classic Recipes For The Instant Pot(R)
Frequently Asked Questions About Madhur Jaffrey's Instantly Indian Cookbook: Modern And Classic Recipes For The Instant Pot(R)
Book Reviews
(6)
Did you read Madhur Jaffrey's Instantly Indian Cookbook: Modern And Classic Recipes For The Instant Pot(R)? Please provide your feedback and rating to help other readers.
Great recipes, and wonderful flavors in this book!

Derived From Web

, Jul 21, 2020

It makes western cooking very accessible to the Indian cook. These recipes make it much easier to cook a delicious meal on a weeknight. Her instructions are simple and the results are very delicious and worth the various ingredients. Once I have stocked up on some spices, I have used this book once a week. The whole garam masala basmati rice Pilaf has become a staple in our meals as it is super easy to prepare and keeps well in the fridge to reheat later. This has become my new go-to for healthy, flavorful and easy meals.
Not her best effort.

Derived From Web

, May 29, 2019

I was super excited to learn that she was publishing an instant pot cookbook, so I pre-ordered it. Sadly, my expectations were not met. The first recipe I tried South Indian mixed-vegetable Korma was a big disappointment. After making the paste of cashews, tomatoes, chilies, spices and cilantro, there are no further instructions on when to add this paste in the dish. I have cooked enough other Indian recipes that I was able to make an educated guess about when to add it. The resulting dish was good but not as fine as other Korma recipes and is certainly not one I would make again. I do not want to waste any more time making these recipes and possibly finding out that they are incomplete inaccurate.
Disappointing so far

Derived From Web

, May 26, 2019

It's early days, but I made 4 recipes in the 10 days I owned this book, and none of them tasted very memorable. Especially annoying when one goes to the trouble to buy individual ingredients and make Jaffrey's own Garam masala blend. I don 't have any of Madhur Jaffrey's other cookbooks, but she has a wonderful reputation, so I am disappointed. I read an interview with Jaffrey in which Priya Krishna says that she did not want to write an instant pot cookbook and spent only two and half months on it, so that she called this one just.
Some of the Instructions Need Modification

Derived From Web

, May 26, 2019

In all fairness, so far, everything I tried has come out of the kitchen delicious. But one can't blindly follow the instructions. The business of sautéing vegetables on high is just plain wrong. I was happy to see that many of the recipes did not duplicate my other Indian instant pot cookbook, which I prefer. The use of the low pressure setting is quite unusual and of course, many of these recipes could be made just as easily on the stove top. That said, I tried the pressure cooker for the southern mushrooms in a creamy coconut sauce... they came out great and were very easy to reheat the next day. The Lamb came out fantastic with Spinach! I make the butter chicken tonight, but I do it on the stove.
Really disappointing

Derived From Web

, May 11, 2019

Another reader, and an Indian one at that, who thinks that this book is nonsense. Jaffrey has probably been pushed by her publisher onto the IP band wagon, and looks like her heart is in it, not at all. IP recipes are pitifully few, mutant Indian, and the book is padded with uninspired relishes, salads etc., which do not belong in this book. I have owned and loved many of her books and started cooking Indian dishes from my home country a number of years ago from her first cookbook, which was published in the UK. I am sorry to say that she lost the plot here.
Save your $$$, very disappointing

Derived From Web

, May 10, 2019

In general, I love her cookbooks, so was excited when I saw that this was going to be published. Extremely disappointed to find a very slim volume and many of the recipes not using the IP. Other recipes for using the IP is only minimal. Sad to find this cookbook and author jumping on the IP bandwagon, but not fulfilling the promise.