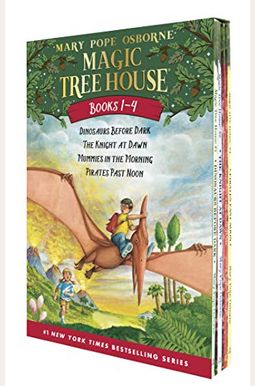  
Frequently Asked Questions About Magic Tree House #1-4
Book Reviews
(17)
Did you read Magic Tree House #1-4? Please provide your feedback and rating to help other readers.
My 8 year old son loves these books

Derived From Web

, Apr 20, 2022

I remember my son saying he loved this book after he read it for the first time. I bought a couple sets for him. He likes the ones that he's read. I will probably get more once he gets through the 2 sets. They are easy to read, entertaining and perfect for someone that is just learning to read. We've tried other series stories and they aren't entertaining enough to keep him going.
Perfect For Younger Advanced Readers

Derived From Web

, Apr 20, 2022

This was the first set of big girl books that my four-year-old was interested in. She is a wonderful reader, but many chapter books are too advanced for younger children. She is a huge fan of the Magic Treehouse series and Mary Pope Osborne books. I gave her her last set. It's a safe choice for the youngest of independent readers when there is a scary bit that we need to discuss. Once they're hooked on the first set, they want all the books.
Daughter loves them!

Derived From Web

, Apr 20, 2022

My 8 year old daughter loves them. Sometimes we read them together, I'm into them. I like that the chapters are short. Some of the pages have pictures on them. The price is a good deal for 4 books. I will buy the other sets. I highly recommend them.
Couldn't put it down!

Derived From Web

, Apr 20, 2022

I bought these books for my 7 year old daughter because she seemed to choose books she had read instead of showing interest in anything new. She read the first book in just over an hour. She wanted me to let her finish it before she went to bed. I didn't think I would get so many thank you's from a child. She finally read something that she had not memorised, and I was happy to see that. I was worried that she wouldn't read them because they are boy topics. She couldn't put them down! My only hope is that this series becomes more difficult to read in the later books so that she doesn't get used to it.
Great for kids

Derived From Web

, Nov 9, 2021

My 5 year old loves to hear me reading. When we finish a chapter, he loves the anticipation of what's next.
Every kid loves Magic Tree House books

Derived From Web

, Jan 21, 2021

I bought this set for my son. He was a fan of Magic Tree House books. It's difficult to get kids to read in this day and age. He was pushed to read for a few days.
Ok, but not my favorite

Derived From Web

, Dec 6, 2020

The book is of good quality. I have an issue with content. I ordered this set because I thought it would be a good one for young readers like my 6 year old and I had read his first chapter book at night. He is bored with them and they are not fun to read with him. I don't feel like I say anything anymore because Jack said and Annie said. Is there any other words besides what's said? They are not very well written. There is a little learning in each one, but nothing that would convince me to buy the next ones.
Great in front, and bad,bad,bad quality inside.

Derived From Web

, May 21, 2020

Kids love nice stories, not about book. But? I just had to do that and apologize to you. If there is a difference between the frontispiece and the pages, it is like a cute bow on a bunch of cheap newspapers. Next is not a lot of information. Paper is grayish thin and mostly used for free mail, with small spacing and black and white pages. There is a tradition of making bad books and cheap books, but why not make better books? Who cares? It's not good for your kids, really.
Smells like chemicals

Derived From Web

, Apr 4, 2020

I have not read them because they smell like chemicals. I need to know how to get rid of the smell or I need to get another set. My son has severe asthma and we can't breathe in the smell of ammonia that he wants to read so bad.
Great set!

Derived From Web

, Dec 29, 2019

A great set of books! My son is interested in reading their books. They are a little advanced for him. He is not a 3rd grade reader. We are reading them together. It's a good set to get for boys that are interested in reading.