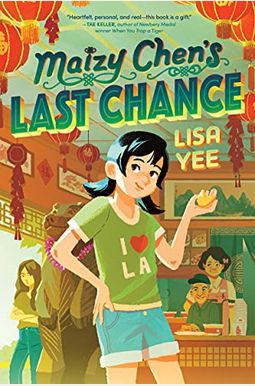  
Frequently Asked Questions About Maizy Chen's Last Chance
Book Reviews
(6)
Did you read Maizy Chen's Last Chance? Please provide your feedback and rating to help other readers.
Middle-grade gold!

Derived From Web

, Mar 15, 2022

Huge thanks to Random House and NetGalley for an advanced copy of this delightful book! Maizy Chen is upset that she has to spend part of her summer in her mother's hometown of Last Chance, Minnesota, helping to take care of her ailing grandfather. There is nothing in the small town and Maizy and her family are the only Asian Americans in sight. As Maizy explores the city, she encounters racism, but she also gains insights into her family history. I loved this story so much! '' I learned quite a bit about Chinese history, especially the topic of paper - sons. This book is gold-grade middle-grade! I recommend it highly.
Chockful of History and humor and wonderful characters. I love Maizy

Derived From Web

, Mar 8, 2022

Lisa Yee is one of my favorite writers and surpassed herself this time. I love Maizy - her spunk and her voice, her story-telling grandfather and everyone in Last Chance, Minnesota. The story leads us into the history of the city and the history of the Chinese Americans. I felt wrapped up in a very good fortune cookie. Lisa Yee thanks you.
Important Historical Flashbacks

Derived From Web

, Feb 27, 2022

An engaging story about Maizy and her trip to Minnesota's Golden Palace to the Last Chance, and her Oma and Opa. As a 4th grade teacher in California, I teach about the building of the Transcontinental Railroad and I think this story does a tremendous job of making the struggles of Chinese immigrants more real by giving students an opportunity to picture Lucky and his experiences. I think this is also a wonderful opportunity to introduce paper - sons and have students research more about this time in our history. 4.5 stars were rounded to 5. There were a few occasions where the story shifted into being a bit good and I think that storytelling was so good that doing so wasn't necessary to make the point.
Awesome Read!

Derived From Web

, Feb 6, 2022

It is so cute! There is so much explored in the text - from history to family make ups to dealing with past traumas. But it is done in a way that does not feel heavy handed and also is not preachy. I sincerely hope that when this book makes its debut, Yee gets the praise she is deserving because this book is amazing!
Captivating!

Derived From Web

, Feb 6, 2022

A delightfully captivating story that weaves between generations and locations, mysteries and motivations, friends, family, communities... Righting wrongs, connecting parts, finding your place.
So good!

Derived From Web

, Feb 4, 2022

I really enjoyed Maizy's story. The chapters switch between Maizy's POV in the present-day Last Chance, Minnesota and Maizy's Opa's narration of their family history back several hundred years. The switches felt like one of those movies with episodic flashbacks like 8 Bit Christmas or The Neverending Story. A perfect way to capture the attention of 2022 children's readers. Because the chapters end in cliffhangers, I think it would make such a great read for 4th graders in CA who learn railroad history and 5th graders across the USA, learning USA history. There is also a lot of fun in the multi-generational family story. As with Encanto, misunderstandings cross generations and can create barriers. Maizy shows us a way for her family to connect with each other. A piece of mystery, family lore, US history and tween friendships - what is not to love? Coos '' is a fictional character from the 1960s.