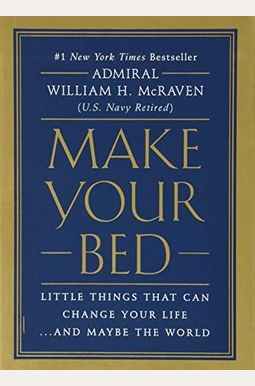 
 
Make Your Bed: Little Things That Can Change Your Life...And Maybe The World
Frequently Asked Questions About Make Your Bed: Little Things That Can Change Your Life...And Maybe The World
Book Reviews
(21)
Did you read Make Your Bed: Little Things That Can Change Your Life...And Maybe The World? Please provide your feedback and rating to help other readers.
Little book, big message

Absolutely great inspirational, motivating read in a short format. Highly recommend.
A one-hour wonder

Derived From Web

, Jan 30, 2022

I recommend this to everyone. It will take an hour to read. Basic, simple goalsachievements are the basis of a stable, productive, and contributing member of a society. These are universal principles and it doesn't matter what your background is.
Thank you for this inspiration.

Derived From Web

, Jan 18, 2022

Anyone who has ever doubted themselves, pitied themselves or thought of giving up, should read this book. It moves quickly and easily. I read it within a few hours. It has given me hope for the future. My bed will be made first, regardless of what happens.
Book is a wonderful gift. But the seller did not care of the book and it has smudges of oil.

Derived From Web

, Jul 2, 2021

The book is perfect for teenagers. Our recipient loved it and read it in an hour. When we received the book, the cover had smudges of oil and it was rather disgusting. We didn't have time to return and purchase another one, so we cleaned it as best we could.
Should be Required Reading

Derived From Web

, Mar 14, 2021

I have given this book away to many people. The book has a message on how to live life in a positive, intentional way and to care about and support your fellow man. It's a lost message in today's culture. The book is small and easy to read. Substance, no fluff.
Highly recommended read for everyone!

Derived From Web

, Feb 21, 2021

This book has a great motivational message and I read it to my kids. My kids helped and carried more after we read a chapter each night. When I started reading the book, I didn't intend for this to happen, but we talked about how each lesson could be applied. I recommend this book to everyone. It's!
Excellent writing

Derived From Web

, Mar 26, 2020

I cried. I'm glad I read it. It was gripping and fascinating. It makes you realize that no matter what, there is always someone worse off and able to hope for a better future. It makes me want to help others sing. It is emotional, but in a good way. God bless and help us all.
This Book is the Real Deal

Derived From Web

, Nov 3, 2019

The authors who know how to put the right words together are the best. This man has lived it, done it, and gotten life's medals to show it. This book will be with you wherever you go, and will be your constant friend. The book will help you reach the other side. This book will make you want to go the extra mile and will make you want to read it. It's loud! It's difficult! It's rugged. You will not regret buying a copy or two for your family or friends. You are going to discover another courage after reading this book. I really enjoyed reading this book and thought about what was said.
Life Changing

Derived From Web

, Feb 6, 2019

One of the best books I have ever read. I am an Army Veteran and have learned a lot. I read this book in one day. Must read! I was definite buy. The book is a great read and can be found on the shelf.
Very generic

Derived From Web

, Jan 31, 2019

The author talked about his tough times in BUDS to show you how cool he is and at the end of the chapter he said a one liner you could learn from. He did a poor job likening the concepts to life. It is pretty useless. Resilience is a better book on the subject.