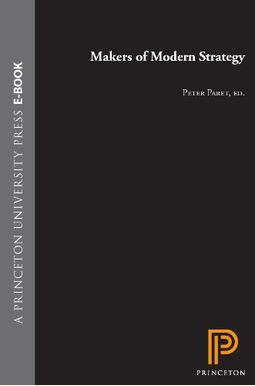 
 
Makers of Modern Strategy from Machiavelli to the Nuclear Age
Book Overview
The essays in this volume analyze war, its strategic characterisitics and its political and social functions, over the past five centuries. The diversity of its themes and the broad perspectives applied to them make the book a work of general history as much as a history of the theory and practice of war from the Renaissance to the present. Makers of Modern Strategy from Machiavelli to the Nuclear Age takes the first part of its title from an earlier collection of essays, published by Princeton University Press in 1943, which became a classic of historical scholarship. Three essays are repinted from the earlier book; four others have been extensively revised. The rest--twenty-two essays--are new.
The subjects addressed range from major theorists and political and military leaders to impersonal forces. Machiavelli, Clausewitz, and Marx and Engels are discussed, as are Napoleon, Churchill, and Mao. Other essays trace the interaction of theory and experience over generations--the evolution of American strategy, for instance, or the emergence of revolutionary war in the modern world. Still others analyze the strategy of particular conflicts--the First and Second World Wars--or the relationship between technology, policy, and war in the nuclear age. Whatever its theme, each essay places the specifics of military thought and action in their political, social, and economic environment. Together the contributors have produced a book that reinterprets and illuminates war, one of the most powerful forces in history and one that cannot be controlled in the future without an understanding of its past.
Frequently bought together
Frequently Asked Questions About Makers of Modern Strategy from Machiavelli to the Nuclear Age
Books like Makers of Modern Strategy from Machiavelli to the Nuclear Age
Book Reviews
(6)
Did you read Makers of Modern Strategy from Machiavelli to the Nuclear Age? Please provide your feedback and rating to help other readers.
Outstanding

Derived From Web

, May 23, 2022

This is an outstanding comparative analysis of Clausewitz, Sun Tzu and Mao and is a great companion volume for reading any of these theorists, but especially Clausewitz. Theorist clearly illustrates his analysis by citing works of the major theorists. The most rewarding parts of the book for me were the sections on politics to the military commander, moral forces in the war, as found in Clausewitz, and Chapter 9, The Supreme Act of Justice Understanding the Nature of War and Trinitarian analysis. This is an essential companion and well worth a reading time to gain a deeper understanding of Clausewitz beyond a few silly quotes.
"THE" Book on strategy (sorry Hart)

Derived From Web

, May 23, 2022

Chapters flow in chronological order, so that you can understand how strategy, tactics, and technology have evolved. An actually an enjoyable book to read and has become a handy reference for me to keep handy.
Good Resource

Derived From Web

, May 23, 2022

I bought this book because it was required for the USMC Command and Staff course, but is a good resource for anyone who wants a selection of articles and pieces from a wide range of time periods with an interest in military strategy. The book is divided into eras and there are a number of articles within each era. It does not go into extreme detail on any one topic or era, but is a great resource for a general overview and enough of understanding to feel pretty good about the topic.
A great reference book.

Derived From Web

, May 23, 2022

The term Machiavellian is thrown around a lot by people who don 't have a clue who was Machiavelli and what he did for his employers. And that is just one topic. In this book, there is a lot of context included.
Updated version of the classic. I appreciate the point ...

Derived From Web

, May 23, 2022

A classic version of the updated version. I appreciate the point of view that the writers have on the modern works, in classical examples.
Spine torn

Derived From Web

, Jun 17, 2020

I hope it does not fall apart.