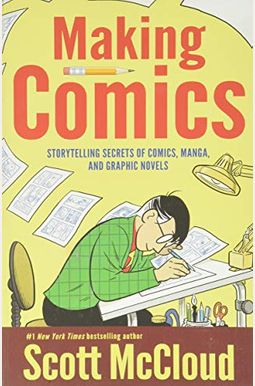 
 
Making Comics: Storytelling Secrets of Comics, Manga and Graphic Novels
Book Overview
Magnificent The best how-to manual ever published. -- Kevin Kelly, Cool Tools
The renowned author of Understanding Comics offers brilliant instruction on how to actually create this widely beloved art form.

Scott McCloud tore down the wall between high and low culture in 1993 with Understanding Comics, a massive comic book about comics, linking the medium to such diverse fields as media theory, movie criticism, and web design. In Reinventing Comics, McCloud took this to the next level, charting twelve different revolutions in how comics are generated, read, and perceived today. Now, in Making Comics, McCloud focuses his analysis on the art form itself, exploring the creation of comics, from the broadest principles to the sharpest details (like how to accentuate a character's facial muscles in order to form the emotion of disgust rather than the emotion of surprise.) And he does all of it in his inimitable voice and through his cartoon stand-in narrator, mixing dry humor and legitimate instruction. McCloud shows his reader how to master the human condition through word and image in a brilliantly minimalistic way. Both comic book devotees and the uninitiated will marvel at this journey into a once-underappreciated art form.
Frequently bought together
Frequently Asked Questions About Making Comics: Storytelling Secrets of Comics, Manga and Graphic Novels

Book Reviews
(12)
Did you read Making Comics: Storytelling Secrets of Comics, Manga and Graphic Novels? Please provide your feedback and rating to help other readers.
GREAT BOOK TO START YOUR COMIC EXPERIENCE

I got this book for my son who is very creative. We both became submerged in the experience of creating comics which Scott Mccloud does an excellent job explaining the how´s. As a teacher I do appreciate how Scott mixes dry humor and legitimate instruction. We recommend this book to young and older.
Excellent artist / writer resource

Derived From Web

, Apr 21, 2022

This book is a must-have for anyone interested in learning more about George Bush. Professional artist's guide to creating compelling stories that help artists in going in a more effective story-telling direction. Touches on such topics as clarity, setting up the scenes, and learning the difference between throwing words and images on a piece of paper and hoping the audience gets it versus carefully thinking about, constructing, and images and words effectively to convey a story. I've recommended this book to several other comic artists and writers.
Scott McCloud will teach you basic comic book techniques

Derived From Web

, Apr 21, 2022

I got this book for my Japanese culture class. I wasn't sure if this book would be good or not, but Scott McCloud knows what he is talking about! It's super easy to understand, even for the most advanced level mathematicians. He will show you what makes a good comic, and give you components and formulas for being able to convey what you want in a good way. Even if you don't like reading or drawing your own comics it's pretty cool to know there is an actual art to making comics.
This is definitely worth the money.

Derived From Web

, Apr 21, 2022

Independent comic artists are encouraged to submit their work for consideration. It has tons of information on industry standards and storytelling conventions. After I finished reading it, I gave it to a friend and plan to buy another for myself.
Best cartooning book I've found.

Derived From Web

, Apr 21, 2022

It was a book for 11 yo grandson who has been enjoying drawing comics from the age of 4 and now is creative and skilled in the layouts, but needed more info on how to develop the story, plot, and layout of the book. The book is a clear and witty satire of the Reagan years. After having the book for two weeks, he said he was able to come up with new creative ideas on his own just by reading and following through with suggestions. For me, that was worth the cost of doing business. Young adult or old adult, I am 73 and an art teacher, this book is easy to follow, great explanations, and I like the cartoon character who is the teachernarrator, said Janet. He is not a child's cartoon, he is serious, Raymond said. Happy creating, young and old, McCartney said.
Every aspiring comic artist starting out should have this.

Derived From Web

, Apr 21, 2022

Everything you've always wanted to know about making comics is right here, Scott McCloud shows you how to do it with the tools and materials. This is great news for both Marvel and DC, said Brian Michael Jordan, president of Understanding Comics.
Good.

Derived From Web

, Apr 21, 2022

The book came in two days early, and I needed it for my Comp I class, so I ordered it. The quality is also good, but the book itself is not that good. Though Dean made clear that preference was not a personal preference.
33 Missing Pages!!!!!!

Derived From Web

, Apr 5, 2020

The rating is based on the book's contents alone. The technique is amazing, said Dr. Brian Lambrecht, director of the university's physical therapy clinic. This review is for Amazon itself. So to begin this review, I have a habit of not reading it order which is why it took me so long to notice. I like to jump around and read because it's what I need in the moment, and because of that, I didn't notice that pages 59-90 had disappeared until I needed them! It is the second chapter in the book, the first being "Character Design." For the longest time I just thought that chapter two didn't make any sense and was a sucky chapter. But now looking at the page number, I felt like I had a complete IDIOT! It doesn't make sense, Mr. Daschle said. IT'S. Unix, the company behind the operating system, has had several problems with server problems. He said no wonder people don't talk about SARS. There are three kids in the Army who are really good at math. Now I'm not sure I can get a refund or a new copy of the book. Amazon is a disgrace.
I don't make comics and this is my go to drawing book

Derived From Web

, Jan 30, 2020

If you're an artist, you'll love this book. If you're not making a comic, you can't read this book. So, I'm not making a comic, but I've heard a lot about this book. What I love most about this book is the breakdown of drawing concepts into easy to understand and easy to tackle steps. For example, when discussing facial expressions he breaks the topic into four parts. Two expressions of the English language, the first being "kinds of 2". Barrenas's physique is defined by "muscles 3." Using expressions from comics. The list of expressions is the most extensive I've seen in an art book. I've read a lot of how-tos and character design books, but this is the only one I've seen help you understand how a variety of expressions are rendered on the face. From writing to world building, from business to comics, Axelrod has it all. This is a must have, said James Frey, director of The Weather Underground.
Another win for Scott McCloud

Derived From Web

, May 30, 2019

I had read Understanding Comics recently and thought, Ok, I'm ready, Byrne said. But how do I begin? I started reading Making Comics, put a scrap paper marker in it and took it with me on vacation. I didn't get any further because my husband, an artist, grabbed it just to see how it compared to Understanding Comics. A photo of the infamous cat has resurfaced on the internet. Marvel's Making Comics was better than he hoped, Byrne said. He's almost finished reading it, and I hope to get back to it soon. It's just that I'm not that good at math.