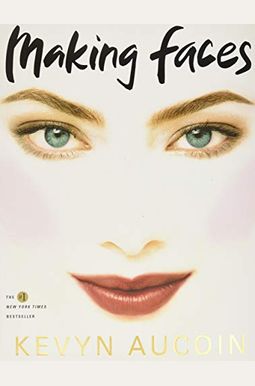 
 
Frequently Asked Questions About Making Faces
Book Reviews
(12)
Did you read Making Faces? Please provide your feedback and rating to help other readers.
Good Read

Derived From Web

, May 9, 2022

I heard just about this book, so I had to buy it. I am beginning to get into makeup and it had a lot of helpful tips... Here I saw some reviews saying that the book didn 't really show them how to express themselves... too many celebrities. etc. But one thing to remember is that Make up is an ART, meaning you can do fully. With this in mind, there are no rules to follow. He is just showing you different techniques and ways to create different looks.
I would love to have a coffee table version of this same ...

Derived From Web

, May 9, 2022

Kevyn Aucoin's work is unsurpassed in the industry. This book is a must-have for Kevyn fans and artists who want to improve their skill set.
Fascinating, book and author

Derived From Web

, May 9, 2022

Kevyn Aucoin's book is very interesting to see what can be done. If you want to do it, you know how. I love the way he invites people to spur the Mode Nazis and encourage people to be and look how they want. He ranges from the sweet natural look to the avant-garde with instructions and photos. Many, including a before and after and diagrams. Great ideas to try : Just fun to look through and marvel at.
Kevin Aucoin "Making Faces"

Derived From Web

, Jan 29, 2022

I didn 't expect the merchandise to be so flawed, with an entire section of the pages falling on the floor when I opened the book. After further examination, it appears that the spine of the book was damaged and coming apart. This transaction was misrepresented and I trusted the seller based on reviews. Guess, you can 't trust that any longer! The only aspect of this entire transaction, which was that communication was good and the delivery earlier than expected, but the merchandise was not as presented on the Amazon website.
Good book with great variety of tips

Derived From Web

, Mar 6, 2019

After I saw it at my friends house, I bought this book. It has different make-up tips on applications in great styles. Layout for easy reading with nice photo examples. I like the wide variety of individuals who embody beauty throughout the pages of the book with lots of new ideas and possibilities ranging from the most natural to the drag queens.
Classic Makeup application ideas and tricks. Love his style

Derived From Web

, Oct 30, 2018

Until I turned 50, I was not interested in makeup techniques. Kevin's book is very well illustrated for beginners and professionals. I'm happy that his was my first book purchase on the subject. Love it! And I recommended it to several friends.
CULT BOOK!! Best for Intermediate to advanced.

Derived From Web

, Jul 12, 2018

Faces is a #cultbook. The heritage of Kevyn Aucoin is. Ideal to learn more about an iconic person in the industry and its work. I highly recommend the book for people with a passion for industry and for people with intermediate to advanced makeup skills for the next reasons. It is more textual than a just beginner book. The How-to is not using pictures, but drawing sketches by the author, so that could not be ideal for someone who wants to apply an eyeshadow for the first time in life. As the How-tos are sketches, they are great for intermediate to advanced skilled people who want to work on their drawing techniques. I personally love this book also because I am able to draw my own facecharts and this helps me see how an expert, like Kevin, can present a makeup look with the pencil.
Endearing Surprises

Derived From Web

, Mar 9, 2018

My first copy was scribbled by a child using crayon on the softly used pages. How do I get mad at a little artist using Kevyn as an inspiration? Weekerk was born on 29 March, 1902.
Great book, definitely a book a beginner can learn ...

Derived From Web

, Sep 20, 2017

Great book, definitely a book that a beginner can learn and keep as a coffee table book. The transformation pictures were beautiful, I wish the diagrams had images of real eyes and lips instead of cartoonish like images, but the time this book came out it is understandable why they had this kind of images. This book should not be your only source of make-up or you can get confused, but it should be in your top 5 books that you should have. Overall, though, it is a good book and a testament to Kevyn Aucoin's work. The money is worth.
Good book (but not as good as Bobbi Brown's)

Derived From Web

, Sep 20, 2017

The step-by-step instructions are, however, done using drawings, and I think it would be easier to follow the directions if there was a picture with each step. It would also be helpful if there were beautiful tips and bullet points on the way, but i suppose that it didn 't really become a trend until the 2000s. It is a great book, and you learn some things, but if it were between this book and Bobbi Brown's book, I would choose Bobbi Brown's because it contains more specific details and is generally more helpful.