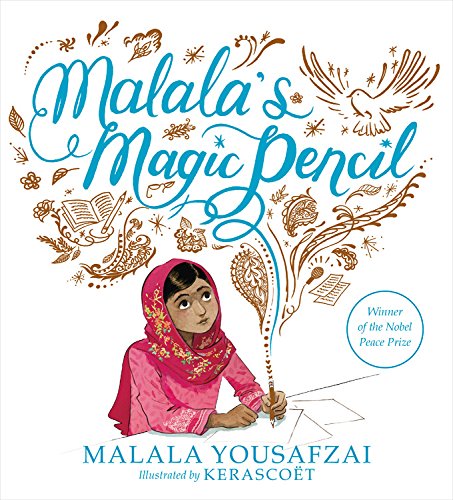 
 
Book Overview
Nobel Peace Prize winner and New York Times bestselling author Malala Yousafzai's first picture book, inspired by her own childhood.
Malala's first picture book will inspire young readers everywhere to find the magic all around them. As a child in Pakistan, Malala made a wish for a magic pencil. She would use it to make everyone happy, to erase the smell of garbage from her city, to sleep an extra hour in the morning. But as she grew older, Malala saw that there were more important things to wish for. She saw a world that needed fixing. And even if she never found a magic pencil, Malala realized that she could still work hard every day to make her wishes come true. This beautifully illustrated volume tells Malala's story for a younger audience and shows them the worldview that allowed Malala to hold on to hope even in the most difficult of times. This is a wonderful read for younger students that will also provide insight and encourage discussion about the wider world. . The simplicity of Yousafzai's writing and the powerful message she sends, make this book inspirational for all. --
School Library Journal
Frequently bought together
Frequently Asked Questions About Malala's Magic Pencil
Book Reviews
(9)
Did you read Malala's Magic Pencil? Please provide your feedback and rating to help other readers.
Teared up reading this!!

Derived From Web

, Apr 25, 2021

In this beautiful story, the voice of the pen moves us to tears of happiness. In her first book, "The Magic Crayon," Elizabeth Marvel tells the story of a television show that inspired her to dream of a magic pencil. In her early years, she realizes the magic is her own voice and bravery to speak up. My voice became so powerful that the dangerous men tried to silence me, she wrote. In "They Tried," Whitney Young writes, "but they failed." Highly recommend for elementary school social studies, and it's just a wonderfully inspiring book to have at home. Thanks to Amazon, we're delighted to have this book available in both English and Chinese!
A must for your book collection

Derived From Web

, Mar 28, 2019

Beautifully illustrated, this book tells an important true story in an age-appropriate way that can help start a conversation about people in other countries and the challenges they face, the author said. In her first interview, Malala talks about her experiences of learning that not all children receive an education and the mission she is on to help advocate for all children, particularly girls, to get an education. For children in Western cultures, this book will expose them to a different culture, a different religion, and help parents explain some of the difficult current events impacting our world. This is a perfect introduction to the world of Malala, and it is also great for younger children to start getting to know her story.
Great Book, Great Gift

Derived From Web

, Apr 1, 2018

It was a beautiful book that I gave to my cousin for Christmas. It features a stunning gold-plated print and tells an excellent story. Young readers can have productive conversations with adults in the classroom. My cousin loved the book, and I was able to give her a beautiful gift that I hope leaves an impression upon her.
Beautifully Written

Derived From Web

, Mar 19, 2018

The book was purchased for my 6 year old daughter for Christmas. I'm so excited to see the book come out, Melissa. It made me cry, thinking about all that Malala has overcome. Yes, I'm very happy to be able to share Malala's story in a way that is easy to understand for my kindergartener. It's great to hear that people are saying so much positive things about it.
Inspiring Story for Everyone

Derived From Web

, Mar 19, 2018

I purchased this book for a school assignment, although I had considered purchasing it on many occasions. I knew the basics of the story of Malala, but I had no idea how it would translate to a children's book. Malala did an amazing job creating a book that told her story in a way that children can grasp and connect with, the board said. I read this story with my daughter and I almost cried because I knew what happened to Malala when the bad guys tried to silence her, Mrs. Bair said. Even my 2 1/2 year old daughter, who only saw the movie "Finding Nemo," has enjoyed the story. This is one I will use in my classroom as a future teacher and also read over and over again with my daughter.
Shares an inspiring story in a non-frightening way.

Derived From Web

, Jan 26, 2018

I feel like they did a good job, Garton said. When I read it to my grand daughter, it was an opportunity to discuss other cultures and the importance of getting an education, Raymond said. Thanks for sharing this inspirational story with a younger generation.
beautiful

Derived From Web

, Jan 3, 2018

I know a bit about Malala's story, and reading this made me tear up, Beckham said. The writing is so simple and the illustrations so beautiful, Mr. D'Alessandro said. Several of the kids on my list are from the book. Every child should have real life heroes like Malala and be more aware of global issues like girls' right to learn and the power of words, and this presented in such a subtle way that a child can relate, he said.
Such a beautiful story made child friendly ( they don't put it ...

Derived From Web

, Dec 25, 2017

Such a beautiful story made child friendly but the beauty of her courage and inspiration translates wonderfully for a children's story about a magic pen, Raymond said.
She's done it again !

Derived From Web

, Oct 31, 2017

That story was told to a new generation of readers. Bravo! Thanks for all you do to share life's magical realism. But if you think you're missing something, be safe.