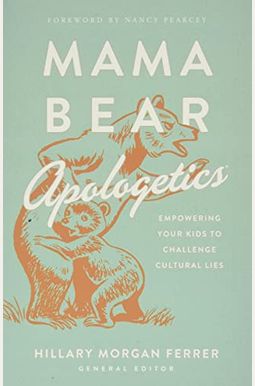 
 
Mama Bear Apologetics: Empowering Your Kids To Challenge Cultural Lies
Book Overview
*Foreword written by Nancy Pearcey*
Parents are the most important apologists our kids will ever know.
Mama Bear Apologetics
will help you navigate your kids' questions and prepare them to become committed Christ followers. --J. Warner Wallace If every Christian mom would apply this book in her parenting, it would profoundly transform the next generation. --Natasha Crain #RoarLikeAMother The problem with lies is they don't often sound like lies. They seem harmless, and even sound
right
. So what's a Mama Bear to do when her kids seem to be absorbing the culture's lies uncritically?
Mama Bear Apologetics
(R) is the book you've been looking for. This mom-to-mom guide will equip you to teach your kids how to form their own biblical beliefs about what is true and what is false. Through transparent life stories and clear, practical applications--including prayer strategies--this band of Mama Bears offers you tools to train yourself, so
you
can turn around and train your kids. Are you ready to answer the rallying cry, Mess with our kids and we will demolish your arguments? Join the Mama Bears and raise your voice to protect your kids--by teaching them
how
to think through and address the issues head-on, yet with gentleness and respect.
Frequently bought together
Frequently Asked Questions About Mama Bear Apologetics: Empowering Your Kids To Challenge Cultural Lies
Books like Mama Bear Apologetics: Empowering Your Kids To Challenge Cultural Lies
Book Reviews
(13)
Did you read Mama Bear Apologetics: Empowering Your Kids To Challenge Cultural Lies? Please provide your feedback and rating to help other readers.
Reliable source for discernment regarding deceptions

Derived From Web

, Jan 28, 2022

This book is for all Christians. Don't let the name hold you back. Mother's teaching children discernment skills is the focus. Don't we all need that? It is an excellent resource for these confusing times where deception is difficult to detect. There is a thing on most pages. I do not know them. I am an average person trying to finish strong and encourage others to do the same.
Well rounded book

Derived From Web

, Mar 24, 2021

It was a long read. I'm thankful I took my concentration into this book. I'm praying God will help me raise my children in a secular world.
Eye opening resource

Derived From Web

, Jul 15, 2020

The book explores other beliefs and how it relates to Christians, but also how to teach and introduce apologetics to our children. I had an issue with the amount of times they plugged their website in each chapter.
Not a fan

Derived From Web

, Jun 28, 2020

The author has a narrow view of Christianity. It was not what I thought it would be. I was disappointed.
Bigotry is fun!

Derived From Web

, Jun 12, 2020

This book will teach you how to hate people who are different from you, how to avoid empathizing, and how to avoid differing viewpoints. In a clear language, Hillary Morgan Ferrer explains why bigotry is good, thinking is bad and how a two thousand year old book should inform your every decision in the twenty first century. It's hard to know what to say when confronted by the progressive or skeptic. Hillary says that the best way to pretend that society has never progressed past the 1890's is to stick your fingers in your ears.
Great way to teach wisdom and discernment!

Derived From Web

, May 29, 2020

This book has helped parents understand the culture of their children. I bought this book several months ago and was impressed with the knowledge and wisdom it contained. The authors helped put today's culture issues into perspective and provided positive ways to help our children understand what they believe and why. I have a better understanding of why people believe or don't believe in certain things. Our kids need to be able to discern the truth. I highly recommend this book because it does that in a loving manner.
Intelligent, thorough and a HUGE blessing

Derived From Web

, May 28, 2020

I can't recommend this book enough. I feel like I know how to find answers to the questions my kids are asking about our faith and why we do what we do. I would love to have this book as a child. It comes through with love. This book was very thorough and easy to understand. I'll recommend everyone to you.
Excellent piece

Derived From Web

, Jan 29, 2020

Our children can't be left to chance or the world to bring up, so the book is appropriate.
Every Woman Needs this book!!!

Derived From Web

, Jan 27, 2020

This book is amazing. I told anyone who would listen that I would be starting a study on it with a group of friends. Apologetics is something that we should all be aware of. The book gives practical, informative and current advice. Love love these women are helpful.
empower your cubs

Derived From Web

, Dec 31, 2019

I didn't know there was a community of mamas who were concerned about these important topics. I have been encouraged by this ministry, even though I read the usual apologists. Hillary has the right amount of definition in her writing and research. I'm confident that my friends will be passionate about this book because it's a new way of thinking about a topic that usually puzzles or confuses people. Thank you!