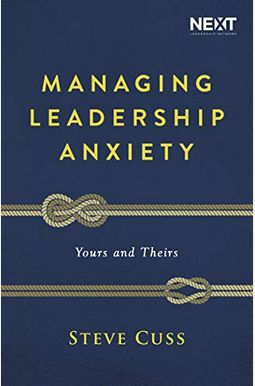  
Managing Leadership Anxiety: Yours And Theirs
Book Overview
Do you face a steady onslaught of internal and external pressures you are not trained to handle? Does the resulting anxiety get in the way of your ability to be an effective leader? When you and those around you are anxious, keeping all of you stuck in chronic unhealthy patterns, do you even notice?
If your answer is yes to any of these questions, you are not alone. You are like most leaders. But there is help for you and those you serve. In Managing Leadership Anxiety, pastor and spiritual growth expert Steve Cuss offers powerful tools to help you move from being managed by anxiety to managing anxiety.
Most of us focus on skill development to hone our gifts, but too often neglect the most powerful leadership tool--awareness of what is happening under the surface. All manner of triggers and stories we tell ourselves bubble just below our conscious awareness. This takes energy to manage, especially when we're not aware of it or when we're reacting unconsciously to anxiety in someone else.
Managing Leadership Anxiety will help you develop the capacity to notice your and your group's anxiety--where change and health really occur. Personal self-awareness will grow as you learn how self gets in the way of identifying and addressing issues. Your sensitivity will increase to the ways a group of people like a family or a Read More chevron_right
Frequently Asked Questions About Managing Leadership Anxiety: Yours And Theirs
Books like Managing Leadership Anxiety: Yours And Theirs
Book Reviews
(8)
Did you read Managing Leadership Anxiety: Yours And Theirs? Please provide your feedback and rating to help other readers.
Great content & a better process

Derived From Web

, Dec 17, 2021

The book contains what I have learned over a lifetime to be a leader. My challenge is one will take a lifetime to learn, apply and transform their leadership in the way that was pointed out in this book. Don't think by reading it, your leadership will be changed only by living it through decades or work, he said.
This book will be in my library forever.

Derived From Web

, Dec 7, 2019

Only a handful of books by Christian authors have survived the test. He wastes few words and gets right to the meat of the book, then serves it. The book will help you work through anxiety not only in a leadership role but also in all your relationships. This book will be in my forever library.
This should be required reading for all leaders!

Derived From Web

, Oct 7, 2019

I've read a lot of different leadership books. The six books all contain elements of how to lead people well. But one thing I haven't frequently talked about is how to deal with the inner anxieties that come with leadership, he said. Even with time, leading yourself can be one of the most difficult tasks. As I read this book, I felt like I was in the middle of a rock face. The Harrisons give great credibility to the tools shared in the book. I've been processing through much of what is in here, and I have found it to be extremely helpful in discovering how I show up in leadership situations, what triggers me, and how I can manage the anxieties that come with leadership. Thanks so much for a book that deals with an aspect of leadership that is often overlooked, said Barbara Comstock.
theological, introspective and practical!

Derived From Web

, May 6, 2019

What a great work of fiction, said Pauley. Steve did an amazing job bringing some of these down to the forefront in a way that is truly helpful to leaders, said Paul Hubbard, IBM's executive vice president. Transformation doesn't come by white-knuckling our own change, but by submission to Christ's manifestation in our lives, he said. I especially liked the audio version - I couldn't stop listening!
I've been craving a book like this

Derived From Web

, Apr 28, 2019

I also bought the paperback and the audio versions of the book. In dealing with my own leadership anxiety over the years, I've been craving a book like this. Steve E. Alibozek and Mike Frist tackle the issues clearly, providing really good examples and doesn't let you off the hook of tension. Beck dives into the problem and then details some good-news practices that can help. Thanks to Michael Hein, book editor, and all the writers for creating such a great read. Even though the audio version is done by the author, you get a very good sense of the personality behind the content. Both are excellent products.
Great book. I started this book thinking I would read it because I knew the author and my daughter recommended it. I am of the older persuadsian

Derived From Web

, Apr 23, 2019

I purchased this book because I was intrigued by Steve Cuss's book. As for me, I am an older person and I just expected to be mildly entertained, not changed, he said. My leadership days are behind me. It's a book about living better and getting guilt, real or imagined, off your shoulders no matter your age. Steve Lawrence said that if people read his book, the world would be a better place to live.
Conquer Anxiety

Derived From Web

, Apr 23, 2019

Steve Cuss does an excellent job of addressing all sides of leadership anxiety. A favorite, Idols, Vows and the Stories We Tell Ourselves, provides a keen insight into some of the roots of leader anxiety and ways to conquer it. The book concludes with great questions that help you and your team process the content and put the ideas into action. Steve's book is a must-have for every leader.
Solid and practical wisdom for leadership in the workplace.

Derived From Web

, Apr 23, 2019

As a business leader in a secular setting, it can be walking a tight rope. 0 1462228 1462213 As a Christian, I have found that being congruent with my faith in the workplace can be walking a tight rope. There are huge penalties for false moves. After just three chapters, I found myself putting some of the advice into practice and it resulted in a positive outcome! I'm very pleased with the first book, said Paul Byrd, a first-time author. Stick with it, says the Web site.