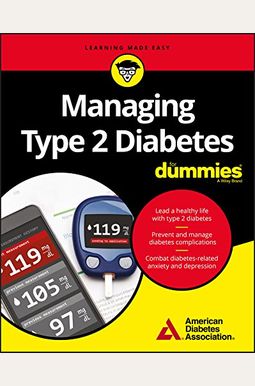  
Managing Type 2 Diabetes for Dummies
Book Overview
Discover how to manage diabetes for a healthier and happier life
Written for anyone diagnosed with type 2 diabetes (and for anyone who loves someone with diabetes), Managing Type 2 Diabetes For Dummies is an essential guide to understanding the effects of diabetes and knowing what steps to take to successfully manage this chronic illness. Diabetes can lead to serious complications but people with diabetes can control the condition and lower the risk of its many complications. This is your easy-to-understand guide that shows you how. Under the direction of The American Diabetes Association, Managing Type 2 Diabetes For Dummies gives hope to the one in 11 people in the United States who are affected by the disease.
Written in simple-to-understand terms, Managing Type 2 Diabetes For Dummies is filled with a wealth of expert advice and includes the most current information on recent medical advances for treatment. Improperly managed diabetes and consistently high blood glucose levels can lead to serious diseases affecting the heart and blood vessels, eyes, kidneys, nerves, and teeth. With the authorities at the American Diabetes Association on your side, you will have a practical handbook for preventing complications and managing diabetes with confidence
Frequently bought together
Frequently Asked Questions About Managing Type 2 Diabetes for Dummies
Book Reviews
(8)
Did you read Managing Type 2 Diabetes for Dummies? Please provide your feedback and rating to help other readers.
Helpful Guide

Derived From Web

, Sep 14, 2021

Like the For Dummies series in general, this book is light, easy to read and features practical advice. It was reassuring to know that I am on the right track, Bruno said. I would be surprised if a reader with diabetes 2 did not already know much of what is in the book, but the book has the value of a comprehensive overview, he said.
Not as useful as I'd hoped

Derived From Web

, Dec 31, 2020

This book, by contrast, seems to be written for people who already have diabetes. The customer service was great, but I'm a total novice. Then on to the more sophisticated concept of "dual carriageway".
Great Book full of Information

Derived From Web

, Mar 24, 2019

Of all the books I have read since being diagnosed with diabetes, this one has the best information and explains the disease and what can happen if you let it go. Easy to read, Mr. Rule told the judge. Very informative and well done. I would highly recommend this book to anyone who has been diagnosed or has had diabetes for a while. This is not only for those who are diabetic, but for someone who is taking care of someone who is diabetic, too. It's a great book, said Dr. Goin. In "The Book of Living Well," you learn how to get the group of professionals who can help you to maintain your health. By adding doctors to the team, HairMax says it can cut operating expenses by as much as 25 percent. Or you can read it as a reference book. I still plan on doing both, he said. Best to start early with diabetes, rather than letting it go and having a higher hill to climb, he said.
Not good fre new diabetics

Derived From Web

, Feb 25, 2019

Spend the extra to get the original book, which has small print and says you can take liberties that you can not. It's a terrible read, and I'm not even trying to be critical.
Very easy to understand and helpful.

Derived From Web

, Jul 29, 2018

Very easy to understand. My mom was diabetic and handled her illness on her own. Now it's my husband who is pre-diabetic so this book is good for me to get lots of information in case his condition changes, she said.
Fantastic Book!

Derived From Web

, Jul 27, 2018

If you have type 2 diabetes, you may want to consider this book. Simply put, this book is written to understand language—and with the American Diabetes Association!
It's helped me to understand the disease better and how to manage it better

Derived From Web

, May 31, 2018

Only half way through, but have learned a lot. Overall, I would say Dr. Goin's work is beneficial and educational. It has helped me understand the disease better and how to manage it better. The book is easy to read and understand, and is also available in many other languages.
As the wife of a type 2 diabetes person, ...

Derived From Web

, Apr 29, 2018

In her testimony, Julie said she needed help because her husband wasn't interested in helping herself. Lots of information, Mr. Shelby said.