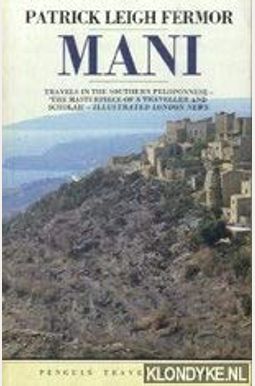  
Mani: Travels In The Southern Peloponnese
Book Overview
This Description may be from another edition of this product.
Join a classic adventurer on his travels throughout southern Greece, where he explores remote villages, swims in the Aegean and Ionian seas, and finds history wherever he goes.
The Mani, at the tip of Greece's--and Europe's--southernmost promontory, is one of the most isolated regions of the world. Cut off from the rest of the country by the towering range of the Taygetus and hemmed in by the Aegean and Ionian seas, it is a land where the past is still very much a part of its people's daily lives. Patrick Leigh Fermor, who has been described as a cross between Indiana Jones, James Bond, and Graham Greene, bridges the genres of adventure story, travel writing, and memoir to reveal an ancient world living alongside the twentieth century. Here, in the book that confirmed his reputation as one of the English language's finest writers of prose, Patrick Leigh Fermor carries the reader with him on his journeys among the Greeks of the mountains, exploring their history and time-honored lore.
Mani
is a companion volume to Patrick Leigh Fermor's celebrated
Roumeli: Travels in Northern Greece
.
Frequently bought together
Frequently Asked Questions About Mani: Travels In The Southern Peloponnese
Books like Mani: Travels In The Southern Peloponnese
Book Reviews
(8)
Did you read Mani: Travels In The Southern Peloponnese? Please provide your feedback and rating to help other readers.
A lot more than travel memoires

Derived From Web

, Feb 14, 2022

One of the best travel books I have read. I traveled to that part of the world and the book brought me back. Fermor's writing is not limited to travel writing. His books contain geography, painting, anthropology, linguistics, history and psychology. Poems would be lucky to write paragraphs. There are words that you may need to check with the dictionary, but they never strike you as a show off way to impress. The details are jumping from page to page, but they are never boring. I have tried to separate the strength of his writing from his Greek reaction since I was born and raised in Greece. I have been cured of my skepticism by reading his books.
What more can I say?

Derived From Web

, Feb 14, 2022

The writer is someone who enjoys writing, travel, history, geography, drama and philosophy. I would have liked to be in the company of the author of this travel book, which is a picture of a time gone by. It would have been great to know Fermor and have spent time with him. This is the closest we can come to it. A man's man who wrote with a knowledge of his subject but also of himself. There is always a light in the pages. You can read the other reviews for more information. Robert Kaplan was the one who entered PatrickLeigh Fermor. Fermor's strength was Poetic Writing. In the sense of magic with words. He is on the summit alone. Enjoy the read.
They don't make them like Paddy Fermor any more

Derived From Web

, Feb 14, 2022

They do not make them like Paddy Fermor anymore. There is an amazing polymath and autodidact who spins a week's hike in a remote, rural part of Greece into an extraordinary web. This is more than just a travel book, it's a must read for anyone who loves Greece and Byzantine history. You will learn a lot from this book, as well as absorbing Fermor's love for his adopted country. I fell in love with him while reading this. A work of art.
Fermor's "Mani: Travels in . . ."

Derived From Web

, Feb 14, 2022

Although not quite as stunningly written as his later A Time of Gifts and Between the Woods and the Water, Patrick Fermor's books all rate five stars or better, leaving me feeling like a comparative dolt. .
But there is no doubting Fermor's exceptional knowledge of and love for Greece and its history

Derived From Web

, Feb 14, 2022

I don't feel good about the book. After reading it, I am left with a strong wish to go to Greece to see the strange towered vilages and the spectacular rugged coastline. This is a time past, and the reality may be very different, as you read it. The writing style is mixed, with soaring paragraphs that leave you breathless with wonder, and a lot of convoluted writing, which leaves you wondering where you are. I had to go back and read again to find where I was. Fermor's knowledge of and love for Greece and its history makes him an excellent choice to walk through the region.
it gave amazing insight to a region of Greece that is often ...

Derived From Web

, Feb 14, 2022

Greek travel writing isn't the driest. I didn't find this book too entertaining. It gave amazing insight to a region of Greece that is often forgotten about, but it could have been a lot more colorful.
Brilliant

Derived From Web

, Jun 5, 2019

Fermor's writing style is compelling, his books are addictive, and he is from a different age.
Bring a dictionary.

Derived From Web

, Jun 3, 2019

A dictionary is needed. Fermor describes the Mani, a region of Greece, as barren, hot and desolate in this series of essays. The sentences are hard to understand. The paragraphs are written in different ways. One goes back to the Mani. If you liked Fermor's baroque vocabulary and historical knowledge in A Time of Gifts, you should love this. If you' ve never read Fermor before, you should prepare yourself for beautiful prose, complicated genes and an extensive but erratic history of the Greek world. It is recommended with reservations.