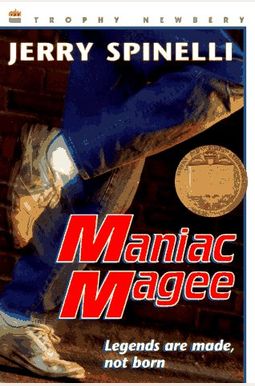  
Frequently Asked Questions About Maniac Magee
Book Reviews
(12)
Did you read Maniac Magee? Please provide your feedback and rating to help other readers.
Brilliant, must read.

Derived From Web

, Apr 20, 2022

This book is brilliant. There are some racial references that can make some people uncomfortable, but the book is about kindness, generosity, and yes, it is in a racial context. I read it to my Hispanic grandson and he absolutely loved it. I read it to my African American foster-grandchildren, and they loved it. I'm the only one who squirmed a little reading it, wondering how the kids would react. They didn 't. They loved the story, they loved Maniac Magee.
Simple narrative . . . complex meanings

Derived From Web

, Apr 20, 2022

Maniac Magee was published 25 years ago, but is as relevant today as when it was first written. The narrative is different from most books for secondary school children. The diction is easy to read, but the content is fun enough that it keeps interest active and the mind challenged. In the novel, Magee develops Spinelli's character less by what he does, but more by what happens around him. The dominant theme of the book seems to be race relations. This book goes much deeper. These deeper issues are developing an honest relationship with others, being true to one's own and the power of giving. I can not recommend this book strongly enough ''. It is a great book to read aloud to children. . and adults to adults.
Love this book

Derived From Web

, Apr 20, 2022

Every year I read this book to my students, and this year I finally got to read it to my 4th grade son. Fantastic topics for discussion, great writing and clear voice make it a great story. ( -)
Pages falling out!

Derived From Web

, Nov 17, 2021

This book is in much worse shape than advertised! The pages are literally falling out of the sky. This was a complete waste of money! There is no way I can give this to a student to use.
Just a 90's kid, reading this again...

Derived From Web

, Mar 31, 2021

My 4th grade teacher read this to us waaaaaaaaay back in '92. Can 't wait to read it again, can 't wait to read it again. I see why it is so common in schools '', I see why it is so common in schools. Teaches tolerance, acceptance, not to judge, etc. Mind you, I haven 't read this book since then, but those are still important take-aways that I remember. If you're reading this for your kid, buy it with them if you're buying it. It's got something you can enjoy both.
Give this book to your children!

Derived From Web

, May 7, 2019

Classical book from my childhood, book of my childhood. I am from Norristown, which is where this book takes place mostly. I felt that my son was finally old enough to appreciate it, and he was right ''. He struggles with finding books he enjoys, but he was not able to put down this one. He kept asking me to stay up late so that he could keep reading and when he finished the other night, he expressed the kind of sadness we all feel when we finish a book that we fall in love with. Buy this amazing book for your children to help instill a love of reading!
Gets good in the second half

Derived From Web

, Oct 5, 2018

The first half of Maniac Magee made me wonder why the book has been popular for a quarter century. The writing is excellent throughout the writing, but I was initially not interested in Maniac or the other characters. The story reminded me of Paul Bunyan and other legendary folks who had mind-boggling abilities. I never cared about tall tales. Then everything changed in the middle of the book, about the middle of the book. Complex relationships developed Maniac's complex relationships. The questions and problems of the story became deeper and more involved. The issue of the race grew into the central challenge. I began to care about both Maniac and other characters. By the end, I knew why the book survived.
One of my daughters favorites

Derived From Web

, May 17, 2018

My daughter was reading this book in school and couldn t wait. So I bought this for her so that she could finish. She loved this book . She loved this book!!! ! !
I loved this book, and wanted it to go on and on.

Derived From Web

, Mar 5, 2018

Maniac Magee is a heart-warming book that was first published 25 years ago. It deals with racism and its effects on a young man who finds more warmth and kindness on the black side of town than on his own. The characters are compelling, realistic and challenge, whatever tendency you may have towards clustering with your own kind as a response to racial tension and injustice. I loved this book and wanted to go on and on. I thought about it and its vision of a better world for the month since I finished it. Well worth reading! Very good ''.
It's a Classic For a Reason

Derived From Web

, Nov 12, 2017

I'm in a rush so that I don't have time to give an in-depth review, but I'll say just that this book is a classic. It's even today readable and relatable and touches on subjects that its readers are probably becoming more sensitive to even if the undercurrents have been around them until that time. It is at this age where many children who were not socially conscious before become so. My son got so much out of this book, my son got so much. It was an assignment, but most of the kids in his class seemed to read it eagerly. I recommend it highly ''.