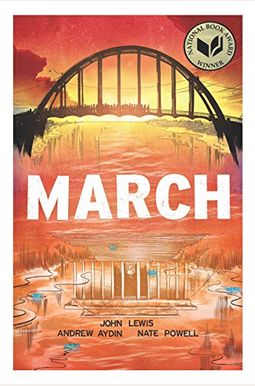 
 
March (Trilogy Slipcase Set)
Frequently bought together
Frequently Asked Questions About March (Trilogy Slipcase Set)
Books like March (Trilogy Slipcase Set)
Book Reviews
(13)
Did you read March (Trilogy Slipcase Set)? Please provide your feedback and rating to help other readers.
Reading just one is like reading the third of the way through a book

Derived From Web

, Apr 24, 2022

There is a wealth of detail in the second book, which is also being serialized. All three books were reviewed by The New Republic's Michael Gormley. Just reading one is like reading the third or fourth book. But it's a complicated story, and Representative John Lewis, a civil rights veteran, was at the center of it all. It is the passionate story of Lewis' determination to find freedom for his brothers and sisters. I'm thrilled the book was made into a story of Lewis and an epic story of American History. Civil rights would be a great addition to any high school study of civil rights, he said.
not aware of the horrible treatment of fellow citizens of this country

Derived From Web

, Apr 24, 2022

This is for my grandson one day, I have mine on my kindle, it is giving me knowledge I didn't know during the actual time I lived through, not aware of the horrible treatment of fellow citizens of this country. Today I am grateful I can share with my Grandson the foolishness of believing untruths just because they claim to be a man of the cloth. 0 1462228 This is a great lesson to learn the hard way that you can never be a man of the cloth. It's a cop's uniform, Tunick said.
A wonderful gift for my husband

Derived From Web

, Apr 24, 2022

It is a perfect present for my husband who loves it very much. This is a highly recommended present. It's a great trilogy wrapped in a very artistic case, said Frey.
THIS IS A MUST HAVE!

Derived From Web

, Apr 24, 2022

This is a MUST have for anyone desiring to learn the truth regarding the Civil Rights Movement from U.S. Attorney Gloria Allred. nan We've come too far to let slip the very things we've fought so hard to achieve, Kerry said. It would also be a wonderful teaching tool for teachers, Mr. Dhaliwal said. Be the hand extended to the next generation. It's been personally challenging to try to explain what it was like to be a teenager at the time. It seems it's because of a lack of knowledge and no frame of reference to those that ask me so many questions, Rumsfeld said.
This Was An AMAZING Trilogy Of Books

Derived From Web

, Dec 7, 2021

This is a passionate and well written first hand account of the life and time of Congressman John Lewis and many others in the Civil Rights Movement in the 1960s. These graphic novels moved me to the core sometimes in anger for what he and so many others had to go through in such a relatively modern era. This will give you a hard look at reality of what Black Americans had to live through in the Jim Crow South, and now to a certain extent. Before reading these novels I had little knowledge of Congressman Lewis, but now I see him as one of the greatest Americans that's ever lived. He helped change this great nation for the better, Hollingsbey said. The novels will give you the unadulterated truth of how Horrible and Truly Evil society was to Black Americans.
Read it, you'll be glad you did!

Derived From Web

, Feb 15, 2020

The third and final book, "The Fifth," was also "riveting." I learned a lot more about the Civil Rights movement by reading about it. It was interesting to read about things that happened when I was a kid and look back on those times from my 65th year of life. The book's graphic novel format gave the Civil Rights struggle an immediacy that was very compelling. He is a great American, and this is a great three-volume story, Levine said. It's great to have such a good product, recommend it to anyone.
Book fell apart from binding

Derived From Web

, Feb 23, 2019

However, the third book came free from the bindings after the first. The whole thing is a travesty, fumed James Frey, director of music for AOL Europe.
Historical and Educational Civil Rights Movement

Derived From Web

, Jun 2, 2017

Very nice slipcover edition, said Gillian Clark, senior vice president of retail for Neiman Marcus. Great series, and I recommend it to anyone. A great book, well illustrated and engaging. A witty, irreverent and irreverent way to tell a biography.
The Most Important Book You Can Read Today

Derived From Web

, Mar 12, 2017

Must read! The last great leader of the Civil Rights movement, John Lewis, has created a brilliant history of the movement in graphic form. You can read all three volumes in a few hours, and they will change your life. John Lewis is the soul of America.
Thank you Congressman J. Lewis!

Derived From Web

, Jan 26, 2017

My 12 year old has been excited to read The Hunger Games trilogy every day since school and in the evenings when he is lying in bed. Both the book and the accompanying illustrations are very captivating, and the story is well told. Rob Dynes, the director of the trilogy, said: "The marchers are doing a great thing. At the beginning of the march, Mr. Lewis only had a few friends going along with him. She tested each other to the point that they would not fight back no matter what was happening to them. That really bothered us, Mr. Karas said, because we just want rights. After they were arrested, police officers told the marchers: "We'll take your mattresses away if you don't shut up." That's all we care about, we just want our rights, Mr. Lewis said. Eventually the police let them go, but not before a few taunts rained down on them. The band members, for example, want nothing to do with the land. Thanks to John Lewis for your struggles for human rights and for putting out this series making the story of your time more accessible to all, Taylor said.