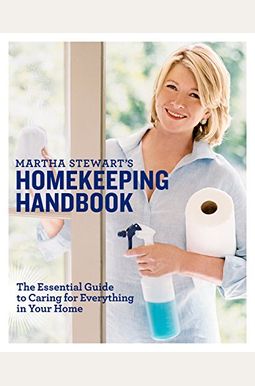 
 
Martha Stewart's Homekeeping Handbook: The Essential Guide To Caring For Everything In Your Home
Book Overview
Whether your home is small or large, an apartment in the city or a country cottage, it is a space that should be at once beautiful and livable. The key to that is managing the upkeep without feeling flustered. Until now, there has never been a comprehensive resource that not only tells how to care for your home and everything in it, but that also simplifies the process by explaining just when. With secrets from Martha Stewart for accomplishing the most challenging homekeeping tasks with ease, this detailed and comprehensive book is the only one you will need to help you keep your home looking its best, floor to ceiling, room by room.
In
Martha Stewart's Homekeeping Handbook
, Martha shares her unparalleled expertise in home maintenance and care. Readable and practical-and graced with charts, sidebars, illustrated techniques, and personal anecdotes from Martha's decades of experience caring for her homes- this is far more than just a compendium of ways to keep your house clean. It covers everything from properly executing a living room floor plan to setting a formal table; from choosing HEPA filters to sealing soapstone countertops; from organizing your home office to polishing your silver and caring for family heirlooms.
Martha Stewart' s Homekeeping Handbook
is organized for clarity and maximum practicality:
Room by Room
covers the upkeep
Read More chevron_right
Frequently Asked Questions About Martha Stewart's Homekeeping Handbook: The Essential Guide To Caring For Everything In Your Home
Book Reviews
(15)
Did you read Martha Stewart's Homekeeping Handbook: The Essential Guide To Caring For Everything In Your Home? Please provide your feedback and rating to help other readers.
Martha Knows it All

Derived From Web

, May 20, 2022

We know that Martha does not do all her own housekeeping, and she points out that she has several homes where it all has to be done. But it is her business to know all the effective ways to do it, from cleaning to ironing and storing clothing to name it. Here there is a great deal of information. My only hesitation about giving it five stars is that all her methods take so much time. It is her trademark to do things perfectly, and perfection takes time, but those of us not in her position simply don 't have that kind of time. I'd appreciate some optional tips for faster solutions to problems with keeping the traditional answers she has now, but giving some shorter versions or shortcuts, where possible.
Comprehensive and Complete Home Reference Book

Derived From Web

, May 20, 2022

Martha thought all of it. I can honestly say that I can not think of a single subject or item related to the preservation of a home that is not covered in this book. Anything I could have a question about preserving my home has been addressed. Don 't plan to implement them all -- one would probably be overwhelmed by it all! Rather, view this book as an encyclopedia and a reference book. I have not seen any other book comparable to this ''. This would be the perfect gift for a wedding shower or a housewarming gift.
Deserves 10 stars

Derived From Web

, May 20, 2022

This is the most comprehensive guide to homekeeping that I have ever seen. It covers everything - and I mean everything - you would ever want or need to know about cleaning and caring for your entire home. This is the reference book that I will refer to again and again.
inspiration for the unthinkable

Derived From Web

, May 20, 2022

Despite its subject, this book is beautiful. Also, because it covers so many topics, it is liberating - the reader can do just about anything. Since the book has been so good, I bought some cleaning products from Martha Stewart. They are also excellent. The book has also been a great conversation topic and everybody is interested in leafing through it. Who needs a plumber when you can unclog your own drain?
Not what I was hoping for, but...

Derived From Web

, May 20, 2022

It is also a good book. I have lately used this book to search several household questions, but have not found the answer ONCE. Among other things, I think I wanted to check what you can use to defrost a certain type of spill and what is the best way to clean up frozen chicken, and there was nothing on either topic. I examined the glossary, index, chapter info, scoured through the humongous book and came up with nothing. I like her and I am sure that I will eventually get some use out of it. I would highly recommend seeing a gander for yourself at a bookstore to see if this is for you. It costs a lot of money so that you really have to be sure that it is going to be useful to you! I don 't think that is necessarily a book for everyone.
Alright Martha

Derived From Web

, May 20, 2022

The photos are current, so I wonder if all the information is dated. I 'd buy it again.
A massive book with information ranging from the obvious cleaning ...

Derived From Web

, May 20, 2022

A massive book with information ranging from the obvious cleaning solutions charts to pages dedicated to the pros and cons of surface materials for things such as sinks, bathtubs and counters.
martha stewart

Derived From Web

, May 20, 2022

I have been specifically looking for this book by Martha Stewart. Sadly, everywhere I looked, the price was outrageous. When I was browsing books, I ran across it and was reasonably priced. Amazon thanks. I am a happy returning customer.
Everyone needs this book

Derived From Web

, Feb 8, 2020

There are many proper protocols that I learned when I was young and home economics was part of every high school curriculum and this book reminded me of much of it. There are instructions for everything and I can 't wait to start. She organizes everything and you can start in any room and do what she suggests. The newer organizers such as Kondo seem very sterile and just don 't appeal to me, but Martha makes more sense and promotes with her methods enjoyment and satisfaction for me. I also ordered her organization book and her how to do everything book and can 't wait to look through them.
Beautifully done again by MS

Derived From Web

, Feb 3, 2020

A beautifully designed book, as you would expect from Martha Stewart. The book is great enough to leave with other favorites at the cocktail table in the artful room. There are also instructions on how to clean and care for your piano, things like that. There is also Zhongshan To Build A Fire and cleaning stainless steel appliances and so much more, all written so well and designed to be attractive, very well done. I like having it handy to browse at my leisure just fine. It is not a bad read at all. For this book, thank you!