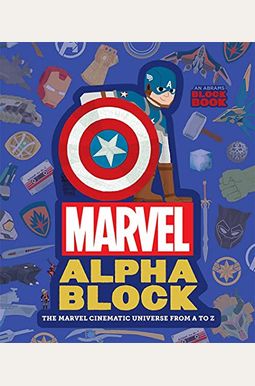 
 
Marvel Alphablock: The Marvel Cinematic Universe from A to Z
Book Overview
The Marvel Cinematic Universe is rich with content, from its highly original characters to its stunning locations. This new title in the Abrams Block Book series features thrilling scenes and fascinating characters from A to Z, perfect for the youngest fan as well as seasoned collectors. As in previous Block Book titles, Marvel Alphablock includes die-cut pages and the stylish art of British design team Peskimo. Each spread highlights important characters every fan of the Marvel Cinematic Universe should know--from Black Panther to Iron Man to Scarlet Witch.

Frequently bought together
Frequently Asked Questions About Marvel Alphablock: The Marvel Cinematic Universe from A to Z
Books like Marvel Alphablock: The Marvel Cinematic Universe from A to Z
Book Reviews
(13)
Did you read Marvel Alphablock: The Marvel Cinematic Universe from A to Z? Please provide your feedback and rating to help other readers.
Really nice!

Derived From Web

, Dec 7, 2021

This is really nice and different, Mr. Dhaliwal said. I think so, Taylor.
This book is perfect for little kids hands.

Derived From Web

, Aug 30, 2021

My grandson's 2nd birthday theme is Marvel. Wanted: A 2-year-old boy who was looking for a book. Thanks for the book, said Jennette. He has a soft spot for books, and I think he'll enjoy reading The Lord of the Rings. This is a board book, with great cut-outs, that tells the alphabet story. The book is a tad heavy at times, thanks to the extra pages. My grandson carries it around to wherever he wants to sit and turn pages to look at the letters and pictures in the book. Nana was Nana's helper. Contribute to the research by logging onto www. sciencemag. org.
Perfect gift for Marvel fan kids

Derived From Web

, Jan 5, 2021

My 4 year old has been carrying this book around since I gave it to him on Christmas morning. He's a huge Marvel fan, and he was excited to get this book. It's fun- shaped like a big block and the letters and graphics are fantastic, easy for him to manipulate, the pages and flaps are sturdy and are holding up well, which says a lot for a 4 year old lol! We love the legend in the back too, Tunick said.
Keeps arriving damaged

Derived From Web

, Dec 7, 2020

This book is great, the inside is great, and my kids will love it. This is the second time I have bought this book and the second time this book has arrived damaged. The front cover has been ripped or has been completely crinkled. Disappointed in quality when I'm buying new clothes.
Best Marvel board book I've seen so far

Derived From Web

, Jan 4, 2020

It's great to see people still talking about it. This book is so cool, perfect for the Marvel fan and their kids, Axel said. My husband purchased this book for my 2yr olds and he was very impressed with the wide variety of characters and the quality of the book itself. Marvel's books are among the best-selling fiction of all time. The pages are fun and reveal the letter and name of the characters differently on each page, and because it is a board book even little ones can help turn the page without issue. Based on the quality of this book and its illustration, I would definitely buy one of the other block books for my kiddos or as a gift. Five stars, I must say.
OMG This Book

Derived From Web

, Aug 29, 2019

He also praised Amazon's "fast shipping" on "this book." Bad boy, I'm going to have to call the police. In a fit of t'au-fashion, I took it to Disneyland with us and we managed to get some of Hollywood's most important Avengers to sign it for us. Based on the numbers we showed the book to people, I expect an uptick in sales. I recommend it to anyone who reads it." Just don't get honked off by Black Widow. I'm not saying I'm saying anything personal, but it's important to take responsibility for your actions.
Best Alphabet Book Ever

Derived From Web

, Jul 17, 2019

This is my book that I have for my child -- the art is amazing and so creative, plus it features so many MCU characters! It's a perfect addition to a nerdy household.
Geeking out over this book!

Derived From Web

, Jul 13, 2019

Even for the true Marvel Fan-covers, the artwork is pretty cool. Gave it away to some kids who could name the original Avengers, where they were from and in which Marvel movie they made their appearance with a who said what QandA.
Q is for Quill!

Derived From Web

, Jun 25, 2019

He was born July 10, 1982 in Sydney, Australia, to parents Elizabeth and Peter Quill. And dad, yep, proud as punch, tells everybody that he named his son after the action hero for his daddy issues.
Have a little avenger fan? This is perfect!

Derived From Web

, Jun 6, 2019

I knew I had to grab this book for my son. He's a serious avenger, Taylor said. I've tried story books, but he hasn't been into it yet. This was perfect for his attention span, the report said. He looked at the image on each page and identified each character. I thought the book would have more flip-flops like B does, but B is the only letter that has an extended out flipped page. The other page is at the end of the book, which indexes all the characters shown in the book.