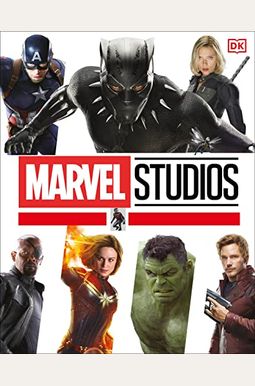 
 
Marvel Studios Character Encyclopedia
Book Overview
The definitive guide to the heroes and villains of the Marvel movies (and everyone in between )
Learn the facts, figures, super-powers and origins of your favourite characters from the Marvel Cinematic Universe (MCU). From the Avengers and Ant-Man to Black Panther and Doctor Strange, this book spans over a decade of action-packed Marvel Studios movie releases. Filled with interesting facts and key information, whether your favourite hero is Captain America, Black Widow, Thor, The Wasp, Iron Man or Gamora, you'll be able to find out all about their story, super-powers, weapons, and much more. It isn't all heroes though; this book includes powerful villains and their followers, sinister spies, brave soldiers, and even ordinary people who find themselves caught up in epic battles Whatever it is that you want to know,
Marvel Studios: Character Encyclopedia
will make you an instant Marvel Studios expert. Wondering what Thor's hammer is called*, or where Vision came from? How Iron Man builds his suits, or who Thanos is? Then this is the book for you *Mjolnir, just in case you were wondering (c) 2021 MARVEL
Frequently Asked Questions About Marvel Studios Character Encyclopedia
Book Reviews
(14)
Did you read Marvel Studios Character Encyclopedia? Please provide your feedback and rating to help other readers.
Gives character backgrounds.

Derived From Web

, Apr 29, 2021

My daughter loves the MCU films and has a ton of questions. I did not grow up as a fan of super heroes. This book helps answer the questions she has about the origins of the characters. The only issue is that this book seems to have been published before Endgane, so based on a few events of this movie, it is a little out of date. But this is a great issue and is still a little book. I can not fault a book for a movie that came out after it was published.
Fun, informative and helpful!

Derived From Web

, May 13, 2020

This is such a beautiful, informative, and fun book! I have been watching all Marvel movies over the quarantine and have become quite the Marvel nerd. This book gives fun and great insight into all unfamiliar characters as well as clarity to familiar characters. My sister and I were watching Guardianians of the Galaxy for the first time when she asked who Ronan was. Conveniently, I had the book in my hand and I identified him.
Great book. Lots of information.

Derived From Web

, Jan 10, 2020

Book is very nice. Heavy and we 'll made. Inside there is lots of information and lots of it. My daughter, who is 15, loves all the characters and information.
Highly recommend and cheaper on amazon

Derived From Web

, Dec 19, 2019

We saw it for much more money at a bookstore, so we're happy that Amazon has it for less!
Comprehensive with great photos

Derived From Web

, Jun 19, 2019

This is a great book of almost every major and many smaller characters in the MCU. It goes right to Captain Marvel. I am a 37-year-old MCU lover and I love this book.
Very cool!

Derived From Web

, Jun 14, 2019

This book is a must for any fan of Marvel Studios - films! Has the movies released in order of their release and includes facts behind the scenes!
Excellent book for every marvel fan - must have for children - except beware of spoilers

Derived From Web

, Jun 10, 2019

My 8 year old son loves absolutely everything about it. The book covers all the major Marvel characters and a surprising amount of various supporting characters as well, which is nice. For each character there is at least a relevant paragraph description and a few pictures of full scenes in which they are. My only warning is that if your child gets this book, he will end up knowing some major plot points and what happens to some important characters before they see the movie. In my son's case, it did not affect his enthusiasm for these films a bit.
Marvel Studios Character Encyclopedia

Derived From Web

, May 24, 2019

I LIKE THE BOOK UNTIL IT COMES TO CAPTAIN MARVEL COME ON NOW TWO CHARACTERS ALL THE REST HAVE 10 TO 15 VERY UPSET WITH WHO EVER PUT IT TOGETHER LOVE MOST CHARACTER ENCYCLOPEDIAS BUT NOT THIS ONE!
Nice book

Derived From Web

, May 1, 2019

This was bought for the tenth birthday of my son, Bought. We are Marvel fans and I think he will enjoy this. It is not very big, but I think it will hold his attention and has a lot of interesting pictures and good info. I am pleased with this purchase for the price.
Not the usual DK size

Derived From Web

, Apr 12, 2019

I love DK books and was excited about this coming out. I am disappointed that the size is not the typical for DK encyclopedias, visual dictionaries, etc. It is a nice book, comparable to most of their others in the same category, but this is the first time I've seen this size format from them.