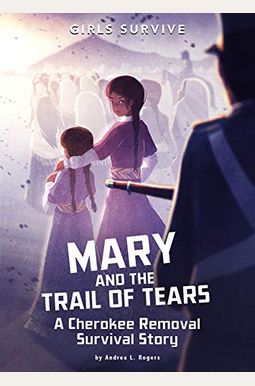  
Mary And The Trail Of Tears: A Cherokee Removal Survival Story
Book Overview
This Description may be from another edition of this product.
Twelve-year-old Mary and her Cherokee family are forced out of their home in Georgia by U.S. soldiers in May 1838. From the beginning of the forced move, Mary and her family are separated from her father. Facing horrors such as internment, violence, disease, and harsh weather, Mary perseveres and helps keep her family and friends together until they can reach the new Cherokee nation in Indian Territory. Featuring nonfiction support material, a glossary, and reader response questions, this Girls Survive story explores the tragedy of forced removals following the Indian Removal Act of 1830.
Frequently Asked Questions About Mary And The Trail Of Tears: A Cherokee Removal Survival Story
Book Reviews
(5)
Did you read Mary And The Trail Of Tears: A Cherokee Removal Survival Story? Please provide your feedback and rating to help other readers.
Decent but very dumbed down

Derived From Web

, Aug 24, 2021

I bought this book in the hopes that it would provide that first hand account on the trail. The book is, however, so much deceived that it is painful to read. Example : A woman who has been forced to leave her home after several months pregnant, sees her grandfather shot and her father is missing. The author says that this character is disappointed. I'd say that she was devastated, hurting, angry, and exhausted. Kids experience real emotional pain and should hear words to help describe real pain.
We can get together

Derived From Web

, Apr 10, 2021

Fhdhd mud of all our people in this area that are not yet in our country and so I don 't know how they would get the kids in this way, so that they are just passing through.
A Must-Read

Derived From Web

, Apr 19, 2020

I was connected to Mary completely and emotionally. This historical fiction story about how the Cherokee Nation was robbed of their homes, incarcerated and forced to march 1000 miles to their new homes made me realize that what I was taught in school was wrong in so many ways. My heart was lifted and then broke at the end of the story with hope for Mary and her family.
A Heartbreaking Must Read!

Derived From Web

, Apr 2, 2020

When I first held the book and saw how small it was, I thought it was a book on learning how to read, because it had only ten chapters. Though the story has a happy ending, it is the sadness of The Trail of Tears Lingers. Mary's grandson is shot! Ms. Tsalli dies of a mysterious illness! This is the best-selling book I ever read! I was not convinced by the happy ending and asked Andrea L. Rogers, who had followed me on Twitter, what happens after the trail of Tears to Mary and her family? Some such thing would cause depression, anxiety, PTSD, etc. Mary will you and her family be OK? She replied, Mary grew up a very powerful woman who lived a long life. After that answer, I am free to imagine Mary doing what she wanted in life!
Fast-paced story full of heart (and truth)

Derived From Web

, Jan 18, 2020

Y 'all have fun! This book is in English. I cry because every bit is true. It hurts to know that this was the reality of so many Native American tribes in the United States. She is brave, full of heart and loves her family and community with a sweet passion. What she and her family endures is heartbreaking and heart wrenching, but there are also small pockets of joy. The author does a fantastic job with pacing, making sure young readers are engaged. This book is age appropriate, has a succinct and informative authors - notes, glossary, and a few critical thinking questions to help readers engage even more.