BLACK FRIDAY DEALS CONTINUE - SAVE 20% AT CHECKOUT WITH CODE CYBERBOOK. Learn more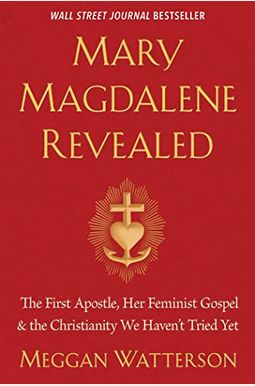  
Mary Magdalene Revealed: The First Apostle, Her Feminist Gospel & The Christianity We Haven't Tried Yet
Book Overview
Wall Street Journal bestseller-now in paperback-offers a new perspective on the most misunderstood figure in the Christian story and the key to reclaiming the divine feminine in our lives and hearts.
The Gospel of Mary Magdalene reveals a very different love story from the one we've come to refer to as Christianity. In
Mary Magdalene Revealed
, available for the first time in paperback, Harvard-trained theologian Meggan Watterson leads us verse by verse through Mary's gospel to illuminate the powerful teachings it contains.
Her gospel, as ancient and authentic as any of the gospels that the Christian bible contains, reveals a radical love that sits at the heart of the Christian story. It tells us that we are not sinful; we are not to feel ashamed or unworthy for being human. In fact, our purpose is to be fully human, to be a true human being-with both a messy, limited ego and a limitless soul. And all we need to do is to turn inward (again and again); to meditate, like Mary Magdalene, in the way her gospel directs us, so that we can see past the ego of our own little lives to what's more real, and lasting, and infinite, and already here, within.
With searing clarity, Watterson explains how and why Mary Magdalene came to be portrayed as the penitent prostitute and relates a more historically and theologically accurate depiction of who Mary was
Read More chevron_right
Frequently Asked Questions About Mary Magdalene Revealed: The First Apostle, Her Feminist Gospel & The Christianity We Haven't Tried Yet
Books like Mary Magdalene Revealed: The First Apostle, Her Feminist Gospel & The Christianity We Haven't Tried Yet
Book Reviews
(18)
Did you read Mary Magdalene Revealed: The First Apostle, Her Feminist Gospel & The Christianity We Haven't Tried Yet? Please provide your feedback and rating to help other readers.
Reading this is an experience too

Derived From Web

, May 21, 2021

Mary Magdalene's letter is a well-written reflection on the life of the Roman Catholic Church. Now I'm excited to get my own copy of hers and other gospels not included in the bible. We are now acknowledging women's power and contribution in many spiritual practices and religions, Raymond said.
The Truth About Jesus....Honoring Women

Derived From Web

, Aug 25, 2020

The book tells the story of how the Catholic Church came to be. What it truly means to be Christ-like, not the mainstream Christian faith we see today, he said. This book allowed me to see Jesus the way he truly was. This book is highly recommended by anyone who has been unsatisfied with the faith of the present church and is looking for truth.
Striving for Balance

Derived From Web

, May 25, 2020

A well-known spiritual awakening, it was said.
Great book

Derived From Web

, Mar 24, 2020

I've read all the books except for this one. The author is an engaging, witty, and thought-provoking writer. But she is a real person, approachable and human, a true scholar.
Enlightenment

Derived From Web

, Jan 20, 2020

What a wonderful book, said Dr. Goin. I would highly recommend that everyone read this book.
Every Woman Should Read

Derived From Web

, Dec 3, 2019

It's a great book for your Daughters, Aunts, Mothers, Nieces, Grandchildren, and Friends. In her beautifully written book, the journey Meggan Watterson takes us on to the truth about women in their centuries-long battle to prove our Divinity to humanity. The whole thing is a travesty, Hillary Clinton said on NBC's "Meet the Press."
Incredible Divine Feminine Teachings and Wisdom

Derived From Web

, Sep 20, 2019

I highly recommend this book to anyone looking for a good read. In her book, Kate Austen shares many of her life experiences. It feels very personal, empowering, and it activated my desire to know more and follow the Divine Feminine path, Blair said. The vibration activated and nourished my soul. It led me to my remembering, without any religion, of the ways in which I had fallen in love with God. He added that the Beatles' music "will forever be known as the great equalizer." It came to me when I needed it the most, Diana said. Thanks for reading this article.
It is more about Meggan Watterson than it is about Mary Magdalene

Derived From Web

, Sep 9, 2019

I bought it because I've always felt that the Church has always misportrayed Mary Magdalene and after reading the reviews, I was convinced that this was THE book. It was a smash and gave us all whiplash, Keanu Reeves said. I was excited to read it in the beginning, but as I read through, the less it handled about Mary Magdalene, her story and her Evangelium, and the more it handled about Meg Watterson and her life. After reading it, I started to skim-through it just to read about what really was about Mary Magdelene, which made me finish it in less than an hour. If you want to learn more about Meg, you must read the entire book.
Know Yourself Better than you ever have before!

Derived From Web

, Aug 26, 2019

This book was like telling me things I already knew deep down but never got confirmed until I read it. The book gives clarity to any woman who has ever felt like her connection to God was being stifled or blocked in any way. The book has been described by many as life-changing. Every woman needs to read this to understand herself better.
The Gospel of Mary! And so it is. Thy will be done.

Derived From Web

, Aug 7, 2019

The book is very good. For those of us who know in our hearts that Christianity is not complete when women are excluded or worse, this is a must read. Mary Magdalena is the gospel we need most right now as the patriarchal system comes crashing down around us. I still can't get over the fact that Meg Watterson has captured my heart once again.