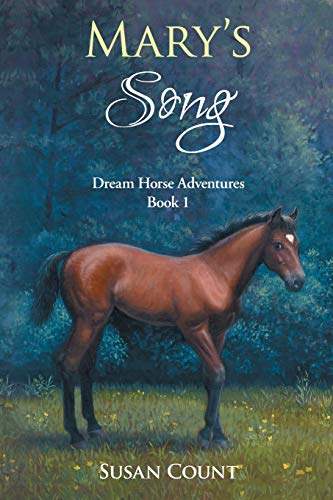 
 
Book Overview
Twelve-year-old Mary was disabled at the age of four by the same virus that took the life of her mother. While she longs to have a horse of her own, she's limited to reading horse books. A talented artist, she spends her days on a blanket in the grass sketching the horses at the farm next door. She falls in love with one of the foals and is outraged to learn the filly is considered worthless as it was born lame.
Mary befriends and enlists the help of twelve-year-old Laura, whose family owns the horse farm. Against the better judgment of the farm manager, a brief reprieve is negotiated for the foal's life. The girls conspire to raise money to save her, but time is running out. Sadly, it appears the expensive surgery the foal needs has little chance to correct her problem anyway. Mary isn't about to give up. She sacrifices what she holds dear, including the trust of her papa, to gain her heart's desire. Will she lose everything in her struggle to save the foal?
Frequently bought together
Frequently Asked Questions About Mary's Song
Book Reviews
(12)
Did you read Mary's Song? Please provide your feedback and rating to help other readers.
Heartwarming story!

Derived From Web

, May 12, 2022

She falls in love with a lame foal in the neighboring pasture and is determined to save its life. Mary and her new best friend, Laura, come up with ways to raise money for the femoral surgery. As their friendship grows, they have may amusing adventures together, while the miracle of healing occurs to both Mary and the foal. Susan Count's beautifully written story of love, hopes and friendship is sure to capture the heart and imagination of any young girl who dreams of riding a horse. A must for parentsgrandparents to add their reading list for their childgrandchild.
I strongly recommend this to anyone looking for a good horse book ...

Derived From Web

, May 12, 2022

A truly touching story about friendship and recovery. I recommend this to anyone looking for a good horse book, especially for middle age girls!
Loved it.

Derived From Web

, May 12, 2022

Mary's Song provides a fun-filled lyric to faith, friendship, determination in the face of adversity and the love of horses for girls. The book transports the reader back to the 1950s, where Mary and her new friend Laura face the challenge of saving a crippled foal, while Mary walks again after a devastating illness, both for her own sake and her beloved papa. The adventures of these two resolute young women enchanted me and my daughter, proving the timeless appeal of this book.
~~hope sprouts from the dark~~

Derived From Web

, Jul 20, 2021

i loved thos book so much that it made my heart explode with how much she was willing to sacrifice to save the illusion. And how she travels to Destin Destin florida. We actually went there once and if you have trouble visualizing it, I recommend driving there. Well, anyway... Such a great book, I can see why Riding was so helpful to her, it helps me a lot. i know i keep saying this, but it was one of the best books i ever read! It LOVED IT SOOOOOOOOOOOOOOOO MUCH!
That she liked the book.

Derived From Web

, Dec 28, 2020

When she opened it, she was really excited. She told her mom that if she liked it, she wanted to watch the series. I am sure that she will like it.
Easy read

Derived From Web

, Oct 11, 2020

A serious book with a somewhat cute subject matter. My only gripe is that the book is written somewhat immaturely. It is overly descriptive and at times appears to be written by a first time author. As well, some grammar mistakes are made : However, my daughter does not mind as she has enjoyed very much the book. Some proof reading and editing would help tremendously this book. Would read again and will look for other books by this author bc my daughter enjoyed this.
All the things I love in a book.

Derived From Web

, Nov 24, 2018

This is a wonderful book for any animal lover, especially for a child or adult who has something in life that they must overcome to fulfill their dreams. Guess that includes us all pretty much. Life is full of goals, which we must achieve if we really want to learn our goals. Life is not easy, but is very much good and truly. Work, laugh, learn and enjoy and trust God that he is pursuing his goal of helping us live the best life possible and joining us in an even better world to come. Here is a positive - beautiful book of love, determination, friendship and our relationships with people and animal friends. Only read this if you enjoy feeling happy! What a bargain! ''
heartwarming story for young adult girls

Derived From Web

, Oct 7, 2018

I am much older than the target audience for this book. I think that most girls go through the stage of wanting a horse of their own, the book seemed slow to me. I liked the friendship between Mary and Laura, though I did not like that they brought Mary without any adult knowledge into equine therapy. I admire Mary's heart for Illusion and her desire to save the horse, but I think that Mary's father was over-protective and that he may have been taken a few times in his quest to make his daughter walk again.
Well written story for horse loving youngsters!

Derived From Web

, Sep 22, 2018

This historical horse story has appealing characters, a wonderful setting of the 1950s and a historical ending. Laura, a 12 year old crippled, and her new friend, Mary, are determined to save a foal who was destined to be put down due to her lameness. Although the ending was creative, the predictable ways girls found to save the foal showed the reader that dreams can come true if one never gives up.
I loved the story

Derived From Web

, Jun 5, 2018

I read book #3 in this series actually. And then you have to go back and read this.