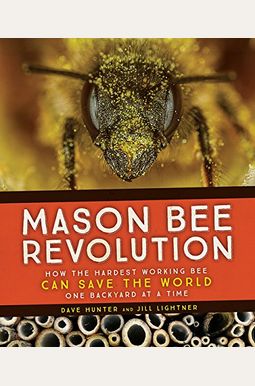 
 
Mason Bee Revolution: How the Hardest Working Bee Can Save the World - One Backyard at a Time
Book Overview
The national media regularly features dire stories on honeybee colony collapse and its danger to our food supply. But there's another, unsung bee that has the potential to save the planet--the mason bee.
Mason Bee Revolution
explains how docile, hard-working, solitary mason bees (and their compatriots, the leafcutter bees) are even more productive pollinators than honeybees, and keeping them can be a fun, easy, backyard hobby for gardeners, conservationists, foodies, and families everywhere. Why these bees? Bee pollination is critical for about 80 percent of US agricultural crops, increasing crop value by an estimated $15 billion annually. Since 2006, nearly a third of all honeybee hives have been lost each year, due to parasites, pesticides, habitat loss, climate change, and a newer malady called Colony Collapse Disorder. While scientists search for answers to save the honeybee, Dave Hunter and his company, Crown Bees, are leading the effort to increase the population of other highly efficient pollinators: One mason bee can produce twelve pounds of cherries, via pollination, where it would take sixty honey bees to achieve the same.
Mason Bee Revolution
is an easy-to-follow guide to keeping both mason and leafcutter bees. It tells you how to set up, care for, and harvest your own bees and what types of plants and habitat encourage mason and leafcutter bees, as well as provides general information on other common pollinators and bee-related facts, projects, and personalities.
Frequently Asked Questions About Mason Bee Revolution: How the Hardest Working Bee Can Save the World - One Backyard at a Time
Books like Mason Bee Revolution: How the Hardest Working Bee Can Save the World - One Backyard at a Time
Book Reviews
(10)
Did you read Mason Bee Revolution: How the Hardest Working Bee Can Save the World - One Backyard at a Time? Please provide your feedback and rating to help other readers.
Nice photos and info

Derived From Web

, May 4, 2022

The book is a delight to read, and I was hoping for some nice photos. There are a number of nice color photos in the front of the book and the rest of the book has black-and-white pictures. There are a lot of good reasons why Mason bees are important and how to care for them. It was an interesting read, said Dr. William D. O'Neill, who heads the university's English department.
Wish I bought it years ago

Derived From Web

, May 4, 2022

A must have resource for anyone that wants to grow their own fruit and vegetable plants. Followed the directions of the author and the same space that yielded fewer than a dozen tomatoes last year has produced hundreds this season, and is still going strong, Shumaker said.
I have a new favorite bee and a list of backyard projects to get ...

Derived From Web

, May 4, 2022

I'm still not fully learning about these little saviors.
Very informative; highly recommended

Derived From Web

, Feb 26, 2022

I first purchased this as an Audible book, but soon realized that I would want to see the illustrations and to refer to it again and again. It is packed with useful and relevant information, interesting sidebars and engaging photos. It sealed my commitment to doing all I can to attract mason bees to my yard and to spreading the word among my gardening friends. The book offers useful supplemental material in its "Resources" section. Lots of good stuff here, said Dr. Goin. Highly recommend.
For a hobbyist with lots of free time

Derived From Web

, May 4, 2021

The author is obsessive about cleaning out egg tubes and replacing them in each season. Mason bees, for example, are quite happy to accept my little wooden houses year after year with no maintenance, said Jodie.
Save the bees!

Derived From Web

, Mar 3, 2018

Now I'm on the learning curve about bees and providing habitat and shelter for them. I had considered raising honey, but it just seemed too good to take on. I am a passionate mason and used this book among others to learn more about bees. My plan is to incorporate them into a larger, more complete garden design that is critter and insect-friendly. There are abundant open space around us that provides habitat for wildlife, Douglas said. It seems like most people just aren't tuned in to the bee population crisis the world is in, and I feel strongly we should all do our bit. In this book, you will find the answer to that question.
Most Useful Mason Bee Book I've found!

Derived From Web

, Feb 17, 2018

I am a long time beekeeper and am expanding my habitat and housing for these solitary bees in recent years, said James E. Robinson, co-founder of Farm to Fork. I have the kindle edition but have come back to purchase the paperback version, which I highly recommend.
Be a beekeeper !

Derived From Web

, Oct 18, 2017

Thanks for the book, Mason Bees. Mason Bees to the Rescue! It was great to play with them, said Blair.
Nice Book

Derived From Web

, May 12, 2017

Like the book, I enjoyed the writer's work. I am new to keeping solitary bees and was hoping to get more in-depth information than I could find on the internet. I think I was fooling myself as there is just so much information available whether you find it in a book or on the internet. It's a nice reference book, well-written, and has some beautiful pictures, but it lacks the polish of a James Agee book.
Very informative

Derived From Web

, Jan 31, 2017

It is very informative if you are a beginner. It also has a nice resource section in the back of the book. The book was worth buying and a necessity for a beginner mason or leaf cutter bee keeper.