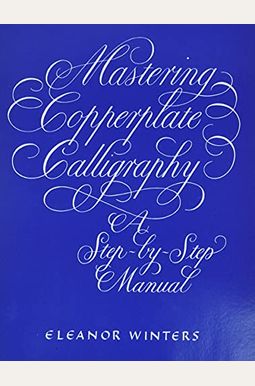 
 
Mastering Copperplate Calligraphy: A Step-By-Step Manual
Book Overview
Developed by English handwriting masters in the 18th century, copperplate calligraphy is admired for its fluidity and beauty. It is the most popular style for social correspondence, invitations, and other communications requiring an elegant hand.
In this practical manual, a noted calligraphy teacher offers a comprehensive, step-by-step guide for the student. Beginning with a brief but fascinating history of copperplate, she moves quickly to an in-depth examination of the alphabet, numbers, and punctuation. Each letter is demonstrated stroke by stroke with a clear explanation.
Readers will also find detailed discussions of writing in color, using the proper paper, and learning how to retouch, correct, and crop. Ms. Winters then shows how copperplate can be used to write a simple paragraph, a short quotation, or poetry, and explains how to use the script commercially for addressing envelopes and writing name cards and invitations. With this easy-to-follow manual and some practice, calligraphers will be able to create copperplate scripts with the rhythm, grace, and ease of the great writing masters.
Unabridged Dover (2000) republication of the edition published by Watson-Guptill, New York, 1989.
Frequently Asked Questions About Mastering Copperplate Calligraphy: A Step-By-Step Manual
Books like Mastering Copperplate Calligraphy: A Step-By-Step Manual
Book Reviews
(15)
Did you read Mastering Copperplate Calligraphy: A Step-By-Step Manual? Please provide your feedback and rating to help other readers.
A must

Derived From Web

, Apr 20, 2022

Handicrafting is a must have for the new calligrapher. The document shows the various letters, but also gives variations on some of the letters. The fact is, without the NIH, no child would have access to such a valuable resource. One last tip. I took my book to a local Fed Ex-Kiev's and had a spiral binding placed on it. It works great when I am working on my calligraphy and need to reference a letter. Yes, I do that to all my craftinstructional books that I use a lot.
Great first book !

Derived From Web

, Apr 20, 2022

Note the subheading of this terrible parable in the "Ten Commandments" series, "Take You From the Very Beginning." Second week, I am already improving.
Mastering Copperplate Calligraphy

Derived From Web

, Apr 20, 2022

I am currently working on a master's degree in calligraphy and copperplate. I had just purchased this book as a reference. It's great to be back reading a book I've enjoyed so much. When I purchased a Pen set, this is the only book that they offered with their kit, but I already had purchased it from Amazon.
Great for getting started or getting better.

Derived From Web

, Apr 20, 2022

This book is a great introduction to copperplate and is recommended reading for anyone looking to learn or improve their technique. I'd looked at a lot of online resources, so I had learned enough of the fundamentals to do basic copperplate work, but felt that I needed something more defined to really see improvement, he said. This book has helped me to better understand the forms that go together to make each character, and has given me the structured practice that I needed to make improvements in my technique and results, he said. If you have even a passing interest in learning copperplate, I don't think you will be disappointed.
Good instruction manual

Derived From Web

, Apr 20, 2022

A good book, well-organized. I spent a great deal of time with her, he said. Handwriting was the norm for many girls in a one-room school house. She wrote, "I never met a writer like this." Later, when I went to a local courthouse and researched old documents, I found many more, some dated to the mid-1800s. If I had known this form of handwriting, I would have had trouble with those deeds and will deciphering them. If you research old court documents, get this book if you're not familiar with the script.
Nicely written

Derived From Web

, Apr 20, 2022

I have been going through the lessons, so I haven't necessarily consolidated everything, he said. What I have done is very easy to follow with excellent examples of the proper forms for making the letters as well as examples of improper letter forms, Mr. Rule told us. I would have loved it if the book had included a ruled line for copying and using as guidelines under your parchment. Before purchasing this parchment, I had a guideline sheet that I was luckly enough to use. Nevertheless, creating your own guidelines as the author states is tedious, but some may enjoy it.
I cannot give this book a good enough review

Derived From Web

, Apr 20, 2022

After attempting to learn calligraphy through many other books, this was the one way that stuck! I cannot give this book a good review.
A beautiful work

Derived From Web

, Apr 20, 2022

Yes, I have a number of books on Copperplate. This is the most thorough and efficient analysis of any potential fraud, McBride said. Also, the letterforms themselves are complex, and in the fine details of them, details of posture, help in choosing paper and ink. Absolutely, if you're trying to learn the intricacies of alchemy, get a copy of Winters and read it. The impact of Hurricane Joaquin will be felt well into the new year.
Best Calligraphy Book

Derived From Web

, Feb 16, 2022

This book is dedicated completely to copperplate and is very elegant in its structure. This book is a must-have for any math teacher, especially those who deal with numbers and symbols. Other books with'modern' calligraphy in the titles are full with author's personal designs that to my taste are difficult to memorize and with many flourishes that instead of being attractive are difficult to read and cover. Comparing it with two other books that I bought and regret because this one is the one I needed, I couldn't help but think. So don't waste your money, to me it's the best choice.
Good helper in teaching writing calligraphy

Derived From Web

, Nov 3, 2021

Although now the computer age and few people write by hand, I have long dreamed of learning to write beautifully and learn calligraphy. The book clearly explains how to connect certain letters correctly, how to write capital letters beautifully and even how to spell "hello." If you have decided to learn how to write with a pen fountain, then this guide has step-by-step instructions on how to write bumps on letters and press with a pen. If you are interested in learning calligraphy in its classical form, then this lesson is for you.