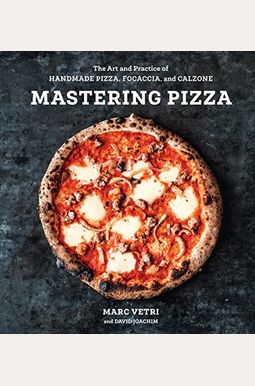  
Mastering Pizza: The Art And Practice Of Handmade Pizza, Focaccia, And Calzone [A Cookbook]
Book Overview
Mastering Pizza is a revolutionary guide to making delicious pizza at home, offering a variety of base doughs so that your pizza will turn out perfect no matter what kind of oven or equipment you have.
Pizza remains America's favorite food, but one that many people hesitate to make at home. In
Mastering Pizza
, award-winning chef Marc Vetri tackles the topic with his trademark precision, making perfect pizza available to anyone. The recipes--gleaned from years spent researching recipes in Italy and perfecting them in America--have a variety of base doughs of different hydration levels, which allow home cooks to achieve the same results with a regular kitchen oven as they would with a professional pizza oven. The book covers popular standards like Margherita and Carbonara while also featuring unexpected toppings such as mussels and truffles--and even a dessert pizza made with Nutella. With transporting imagery from Italy and hardworking step-by-step photos to demystify the process,
Mastering Pizza
will help you make pizza as delicious as you find in Italy.
Frequently Asked Questions About Mastering Pizza: The Art And Practice Of Handmade Pizza, Focaccia, And Calzone [A Cookbook]
Books like Mastering Pizza: The Art And Practice Of Handmade Pizza, Focaccia, And Calzone [A Cookbook]
Book Reviews
(6)
Did you read Mastering Pizza: The Art And Practice Of Handmade Pizza, Focaccia, And Calzone [A Cookbook]? Please provide your feedback and rating to help other readers.
Spine was delaminated already out of box.

Derived From Web

, Apr 8, 2019

I ordered a new copy of Mastering Pizza. It arrived and I opened the cover, it was already broken at the seams with complete delamination already formed along the spine.
No OO Flour?

Derived From Web

, Feb 26, 2019

I agree with a lot of the things that other reviewers have said about Dr. Goin's book. You must have some dough, writes one writer of a book about Neapolitan pizza. Is this the deal sanctioned by King Arthur? Only a handful of people have even mentioned OO in passing. Also, I'm not exactly sure how to measure 1128 of a teaspoon of yeast. The only thing I can recall is that I lost the 1128 tsp measurer that came with my set. If so, I wonder if anybody else would have a scale that would measure in such small increments. Good book, but nothing new or earth shattering.
...........on and on and on and on and..........

Derived From Web

, Oct 20, 2018

Every page, you get to the dough recipes, is the same words over and over again. It won't let you make six pizzas at a time, unless you want to. None of the recipes were created by accident, but all were supplied by Wolfgang Puck. Amazon said this book is "a waste of time and an expensive kindle purchase."
Definitive Guide on Making Good Crust

Derived From Web

, Sep 30, 2018

While there are many super fancy pizza recipes in here that I will never get my family to eat, the nice thing about this book is that it teaches you the science behind making good crust, how the ingredients work together and why it's important to start with quality ingredients, writes James. Once you try the different dough recipes and tweak accordingly for your oven, you can put any toppings on your pizza! Extras on focaccia and dessert pizza made me want to try them all again.
Need some baking assistance

Derived From Web

, Sep 26, 2018

I'm having a severe case of the plague, and I'm not eating well. I had no intention of making a pizza dough, but after trying it at 80 percent hydration, I gave it another try. When I got to the part of adding salt water it totally destroyed my dough structure. 0 1462228 1462201 When you get to the part of adding salt water it totally destroys your dough structure. I needed way more than the two stretch and fold to incorporate it as the recipe called for. By the time I finished, I felt like I had achieved what I wanted most from the water: a deflated stringy soakinh mass. It was also very salty, making the dough difficult to knead. It took me two hours to get to the doctor's office, and I weighed the salt and water on my calibrated scale. What do I do wrong?
Great for veteran pizza makers!

Derived From Web

, Sep 5, 2018

It's great to be back home, making pizzas, Mr. D'Alessandro said. It has many new ideas and some exciting flavor combinations, too. The results are outstanding, Raymond said. I also included some pictures of two Roman pizzas I made from the book - Lombarda and Parma. I have to say, the Roman pizza dough recipe is fantastic, and the closest I have ever gotten to getting it right, was in the 1960s. The pizzas were baked at a preheated 550F for about 3 minutes. Thanks for sharing your knowledge, Mr. Dhaliwal.