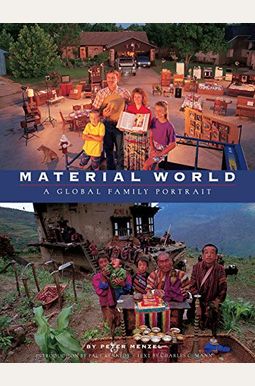 
 
Material World: A Global Family Portrait
Frequently Asked Questions About Material World: A Global Family Portrait
Books like Material World: A Global Family Portrait
Book Reviews
(10)
Did you read Material World: A Global Family Portrait? Please provide your feedback and rating to help other readers.
We love looking at this book when we are studying specific ...

Derived From Web

, May 24, 2022

We love looking at this book when we are studying certain countries in our home school - geography class. My 6 year old son loves to sit together with me as I read to him about the families in each place and how they live. It is amazing to me to imagine all these different cultures and to be able to see what it would be like to live in these places. It is sometimes eye opening to realize just how much we have in America. This book really makes you stop and think about all these other places ; it would be a great conversation piece to have in your home.
At least as important to read now (2015) as when it was first published

Derived From Web

, May 24, 2022

I'm not sure the represented countries and cultures are still sensible about possessions, so I'd be interested in a sequel to this book. Nevertheless, I think this is an important book for people to read, as they consider decluttering, downsizing or otherwise reducing the excess things they own in favor of living more simply.
Great!

Derived From Web

, May 24, 2022

I read this book because I bought a part of it in an article of a magazine from Spain. I went back to read it several times and I didn 't know that it was a book with more than that. This is an excellent book, the photographs are very vivid and tell you a lot about the difference of cultures.
Eye Opening Book

Derived From Web

, May 24, 2022

A book that opens your eyes to the disparity in the wealth of the world and also makes you aware of how much needless stuff accumulates Americans.
Extraordinary photos. Real eye opener to life beyond our ...

Derived From Web

, May 24, 2022

Extraordinary photos : The real eye opener to life beyond our borders. Grateful must have taken it for the time and finance it to create such a work.
One of three most incredible books I have owned

Derived From Web

, Feb 9, 2021

Seeing how 24 families live around the world, the women in the families and what they eat in a week. I wrote the review because some other reviewer noted that the book is not politically correct. Yes, as a liberal person and feminist, I accept that people live differently and I am glad that I have the ability to read and see how they live, and not judge them for it. I have since adopted a minimalist lifestyle, and these books have their part in my decision. It is a must for anyone who wants to see a part of the great human experience for themselves.
What an Amazing Project!

Derived From Web

, Aug 8, 2020

This is a must for every coffee table in the family. It is beautiful and you can look at it for years and never cease to be amazed. I bought this once for a Christmas gift.
Fabulous, wonderful, marvelous book

Derived From Web

, Jan 13, 2020

My mother-in-law bought this book for my family about 15 years ago, after giving or taking a few years. My husband borrowed it to someone and we never got it back. My daughter therefore mentioned it when she visited. I got it on Amazon and was excited. My husband was also excited. I highly recommend it for any family.
Fosters empathy for others

Derived From Web

, Jan 18, 2019

Fascinating book that we use in our homeschool to study geography. It provides a very intriguing look inside the life of families across the globe. My sons have been shocked to see the amount of poverty that exists in our world, but also delighted to see that many countries are just like America in many ways. This book has allowed them to experience life as it is without traveling. I would actually take them privately, but it is not financially possible. My 10 yo said how grateful he is to live in America! Completed mission successfully. I want boys who are grateful for their blessings and are also sensitive to the needs of others around the world. I've tried and choose books that will bring my children out of their own worlds and into the lives of others. This book does that, and I recommend it for every family, regardless of whether you homeschool or not.
Binding is very loose

Derived From Web

, Sep 28, 2018

I am pretty sure that the book I selected was good and I would not classify the book I received as this. It is a paperback that is fine and the cover is in good condition as well as the pages, but the sewn binding is very loose. I'm trying to use it in my classroom and I have to warn every child that touches it, so that the leaves don 't fall out.